21 Reasons to Use Lightroom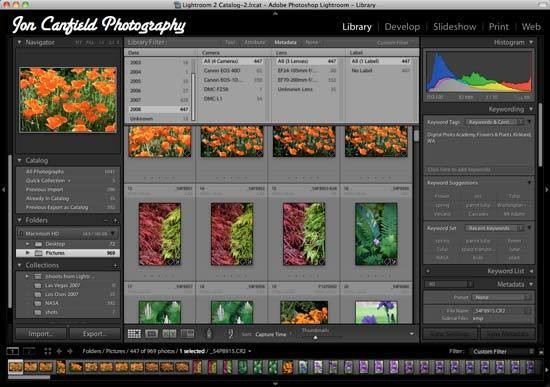 15. 64 bit.
If you're running a computer with lots of RAM, Lightroom can take advantage of all of it in 64 bit mode. Both the Mac and Windows versions of Lightroom work in 64 bit mode (Windows requires the OS to be 64 bit), taking advatage of more than 4GB of RAM if available. Searches, imports, and other operations work faster with more memory.
16. Better printing.
With Lightroom, print packages, contact sheets, and specific layouts are easy to create. Lightroom 3.0 takes this even further with more customization for picture packages with different images on the same page. You can add text labels, watermarks, borders, and features like crop marks and metadata if desired. Lightroom also supports 16-bit output for smoother tonal gradations on supported printers. The one weakness for many pros is the lack of soft proofing. I still head to Photoshop for this feature. Also, as mentioned earlier, you can easily create new presets for your own output requirements.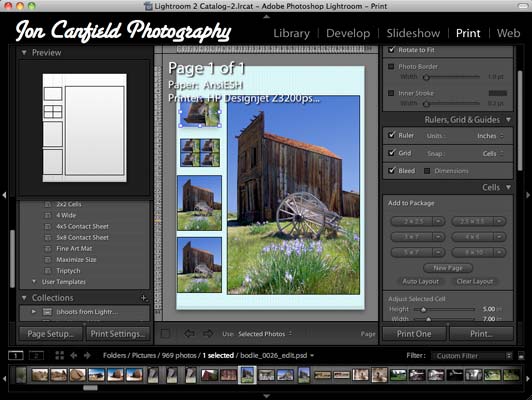 17. More export options.
Rather than just saving an image in a specific format, Lightroom only saves your images when you export them – until then, everything is reversible. File formats supported are JPG, TIFF, PSD, DNG, and original. You can choose to add the exported images into the catalog, stacking with the original if wanted. Other options include sizing the image on output and sharpening (or not) based on the type of output. If desired, you can burn to CD/DVD on output, embed profiles, and create presets. There are a number of export presets already available, including iPhoto, Flickr, and Facebook.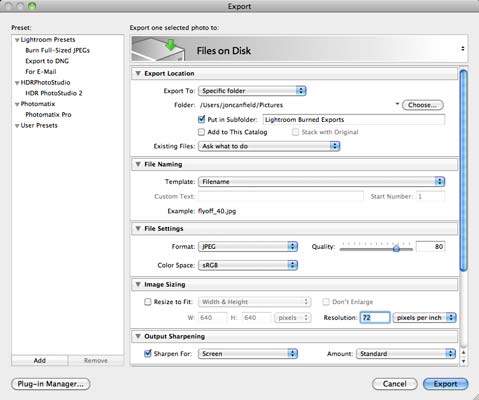 18. Easily work from multiple computers..
With Lightroom, I can have a working catalog on my laptop during a workshop or shooting trip, and merge the images and metadata into my master catalog when I return to the studio. Just select File > Import from Catalog. All structure, such as collections, will come over with the images.
19. Hot Folders.
Even if you don't shoot tethered, you can still take advantage of automatic importing by using the Hot Folders feature. This works great if you have multiple computers you're working from – just copy all the images to a designated folder, and Lightroom will import them for you. I use this feature when traveling and want to upload my images from my laptop to my server. When I get back to the office, the images are already loaded into Lightroom and ready for me to begin working.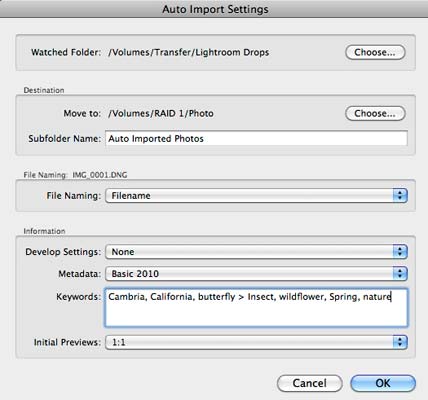 20. Embed watermarks.
If you post images online, you already know that protecting them from copying is important. While you might not be able to prevent them from being copied, you can make them less useful, as well as promote yourself, by using the watermark feature in Lightroom. Just check the Add Copyright Watermark box in the Export dialog, and every image will have a watermark applied on export.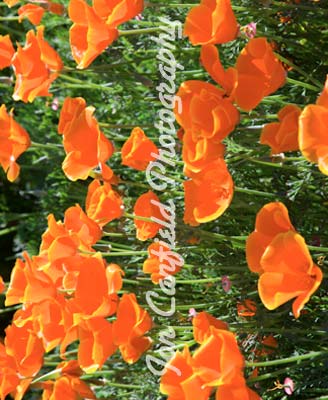 21. Cheaper.
Let's face it, money is tight these days, so if you can do your work with a single application that costs $299 versus one that costs $699, that $400 can be put to other uses. Today, I don't feel Lightroom is a 100% replacement for Photoshop but it's getting there. I still prefer Photoshop for cloning and healing work, and the availability of filters like OnOne PhotoFrame and Nik Silver Efex keep me using Photoshop on a regular basis. But, everything that can be done in Lightroom is done there prior to going into Photoshop.
Your Comments