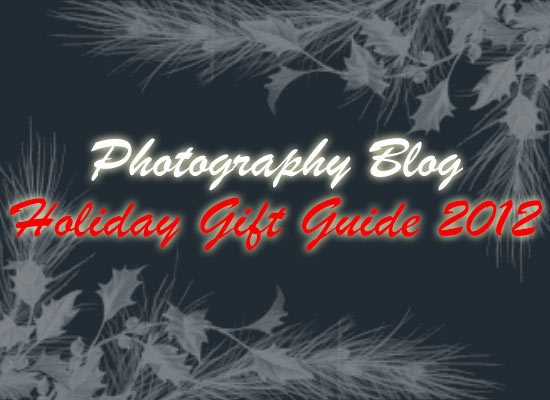 We've selected our top camera picks for 2012's Holiday season, all the way from the cheapest digital compact up to the most expensive DSLR and everything in between.
And we should know what to recommend - we've reviewed no less than 86 new cameras of all shapes and sizes so far in 2012.
So no matter what your budget, make sure that you consult the Photography Blog Holiday Gift Guide for 2012 before splashing out your hard-earned cash on a new camera, whether that's either for yourself or a loved one!
Budget Digital Compact Cameras
 
 
 
"We got a lot of pleasure from the little Canon PowerShot A4000 IS. It's a digital compact that works well as a day tripper camera - something to throw in a bag pocket or slip in a coat before setting out with the family."
Read Review
You might also like...
 
 
 
"...the Fujifilm FinePix Z1000EXR manages the tricky task of marrying style and substance, with the new wi-fi options making it the perfect partner to your smartphone. Given the affordable price-teg, there's little to quibble about , earning the Z1000EXR our coveted Highly Recommended award."
Read Review
 
 
 
 
 
 
"The Canon PowerShot SX160 is a low cost, big zoom point and shooter that will have an option or mode for pretty much anything that a photographer can throw at it."
Read Review
Mid-Range Digital Compact Cameras
 
 
 
"The Sony CyberShot DSC-HX20V is a more capable and more refined version of our favourite travel-zoom camera from 2011, the HX9V, with a longer lens, higher resolution and extra features helping to maintain Sony's lead over the competition in this ultra-competitive part of the camera market."
Read Review
You might also like...
 
 
 
"You might have guessed by now that we really like the new Lumix DMC-TZ30. It puts Panasonic back at the top of the travel-zoom tree, and with its 20x, 24-480mm lens it should also justifiably attract people who are considering a much bigger ultra-zoom camera."
Read Review
 
 
 
 
 
 
"Anyone looking for a pocket camera that can shoot high quality stills and video both near and far should seriously consider the exciting new Canon PowerShot SX260 HS."
Read Review
Premium Digital Compact Cameras
 
 
 
"The Sony Cyber-shot DSC-RX100 takes a clear shot at the popular Canon PowerShot S-series and in most ways clearly beats it, resulting in the best pocket camera that avid photographers can currently buy."
Read Review
You might also like...
 
 
 
"...that F/2.8 lens is a technical triumph that will make a real difference to your photography - hand-holding a camera at 600mm and getting sharp results and blurred backgrounds has never been so easy..."
Read Review
 
 
 
 
 
 
"So if you want an all-in-one fixed-lens camera that offers a tried and trusted user interface, excellent image quality, full HD video and a versatile screen, the Canon Powershot G1 X is easy to recommend."
Read Review
Budget Compact System Cameras
 
 
 
"The E-PL5 essentially offers the heart of the flagship OM-D model inside a much smaller, lighter and crucially cheaper body. If you can live without the OM-D's built-in electronic viewfinder, dust- and splash- proof body, 5-axis gyro image stabilisation system, and more hands-on interface, the E-PL5 delivers the best image quality from an Olympus mirrorless camera at a price that won't break the bank."
Read Review
You might also like...
 
 
 
"The J2 may only be the junior member of the Nikon 1 family, but its significantly cheaper price and more targeted approach make it a better choice than the V1 for compact camera users looking to upgrade to a more advanced system."
Read Review
 
 
 
 
 
 
"The Panasonic Lumix G5 is an accomplished mirrorless camera that upgrades its excellent predecessor in a number of significant ways in order to keep up with the fast-moving competition. A higher price tag means that it's not quite the bargain that the G3 was, but we can still highly recommend this realistic alternative to a bigger and bulkier DSLR."
Read Review
Premium Compact System Cameras
 
 
 
"The OM-D E-M5 is the best Olympus compact system camera to date, and also a strong contender for best compact system camera full stop. It delivers a compelling mix of classic looks, excellent image quality, an extensive feature set and immediate responsiveness..."
Read Review
You might also like...
 
 
 
"Smaller, lighter and significantly cheaper than the X-Pro1, whilst offering the same outstanding and image quality and impeccable handling, there's certainly an awful lot to like about the new Fujifilm X-E1."
Read Review
 
 
 
 
 
 
"The Sony NEX-7 is a fantastic compact system camera that firmly delivers on its early promise, delivering a remarkably customisable camera that really can be configured to suit many different users."
Read Review
Budget DSLR Cameras
 
 
 
"The Sony A37 is a compelling entry-level DSLR camera with features, still and video image quality, and overall performance that beat its main rivals."
Read Review
You might also like...
 
 
 
"...we can highly recommend the new Nikon D3200 as a great camera for beginners who want a little more oomph from their DLSR, and who are prepared to spend a little extra to get it."
Read Review
 
 
 
 
 
 
"The Pentax K-r adds a few new features, most notably the 6fps burst shooting mode and expanded ISO range, to the proven user interface of the cheaper K-x and the high-resolution screen and illuminated AF system of the more expensive K-7, to create a compelling mid-range DSLR. It's also significantly cheaper than its main rivals."
Read Review
Mid-Range DSLR Cameras
 
 
 
"We've always had a soft spot for Pentax DSLRs and the new K-30 is no different, clearly building on the strengths of the more expensive K-5 model. This is an appealingly well-specified, intuitive, weatherproof and customisable DSLR with few real drawbacks."
Read Review
You might also like...
 
 
 
"The Nikon D7000 is a successful crossbreed of the cheaper D90 and the more expensive D300s, borrowing features from each model and adding enough new highlights to surpass them both in many ways."
Read Review
 
 
 
 
 
 
"The Sony A65 represents a significant upgrade for Sony's mid-range DSLRs, offering a feature-set and performance that few other rivals can match. The new 24.3 megapixel sensor offers greatly increased resolution without impacting on low-light performance or operational speed..."
Read Review
Premium DSLR Cameras
 
 
 
"...the Nikon D700 looks and handles closer to the D300 than D3, in terms of controls and layouts, whilst of course featuring the D3's full frame capture ability, but in a lighter and smaller design. As such it comes across as a kind of 'greatest hits' of Nikon DSLRs."
Read Review
You might also like...
 
 
 
"If you think you can live with that and a few other limitations / omissions versus the D800; the smaller, lighter and cheaper Nikon D600 will serve you just as well as the more expensive model - and even give you faster frame rates and more manageable raw file sizes as an added bonus."
Read Review
 
 
 
 
 
 
"At a time when compact system cameras are the centre of attention, it's great to see some real innovation in the DSLR world, and for that innovation to result in a truly exceptional camera like the new Sony A77."
Read Review
And a Must-have Accessory That Won't Break the Bank...
 
 
 
"The Triggertrap v1 is a high-end device with a series of built-in high-speed sensors, including laser, sound, and light sensors. The device also incorporate a timer, for flexible control of Timelapse photography, and supports a wide range of external sensors, to encourage further DIY and high-end photography applications."
Read Article
Your Comments