How to Capture the Perfect Exposure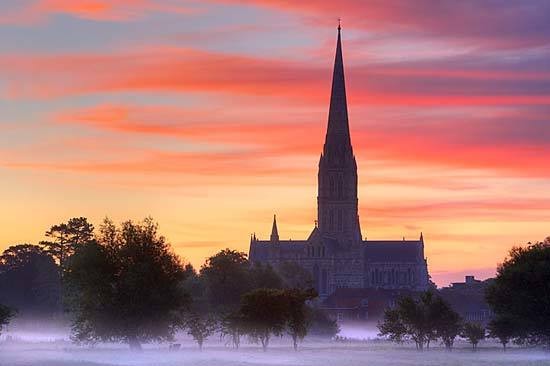 High Dynamic Range images are made using specialist software to merge anything up to 5 multiple exposures. It is a technique that is very much in at the moment; the camera mags are full of it. The software such as CS4 or PhotoMatrix is very clever and the contrast range that can be dealt with is amazing.
There's just one problem; it looks crap. OK, now I know I'm being contentious here, but I can't stand HDR images. They look false, surreal, of another world. There's no doubt it's a unique look, but I think images have to appear essentially real to connect with the viewer. If a picture seems to be a triumph of computer wizardry over photographic perception in my experience viewers discount the image no matter how much impact it has. I think in a few years time we'll be looking back at this HDR phase and thinking how dated it looks.
But now I'm going to contradict myself completely by revealing that I have and do use HDR occasionally. Nine times out of ten I'll try it and reject the results. There are horrid artefacts in the sky and the image just looks gruesome. But as an exception to prove the rule this image of Salisbury Cathedral was made using HDR (eg salisbury7663 below). As with all techniques subtlety is the key. So, don't take my word, try it and see. No doubt you'll disagree with a lot of the above, but that's what this game's all about isn't it? Evolving your own unique way of working and style. Enjoy.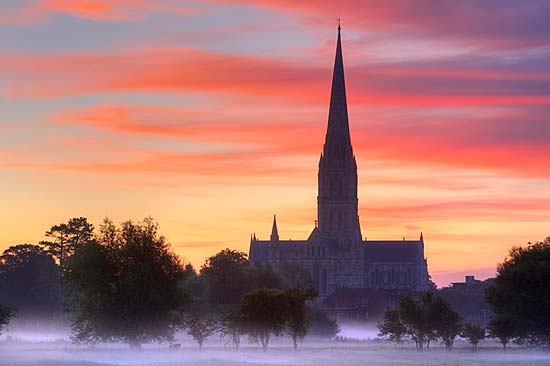 Salisbury Cathedral at dawn rising above the mist lying on Harnham Water Meadows, Salisbury, Wiltshire, England. Canon 1Ds mkIII, 70-200mm lens, ISO 100, f11. The exception that proves the rule. HDR software was used here to merge 5 exposures.
Biography
Born in England in 1957, David spent much of his youth travelling with his family between the UK, California and Canada. After leaving school David joined the Navy in search of further travels and adventures – and it was while sailing the seven seas that his interest in photography grew. After several years at sea he decided to pursue his passion for photography and returned to study in Gloucester, England.  After leaving college in 1985 he began work as a freelance photographer specialising in landscape and other travel subjects, which over the last 25 years, have taken him to almost every corner of the globe.
David is now established and recognised as one of the UK's leading landscape and travel photographers. His images sell all over the world – both as fine art photography and commercially in advertising and publishing. He has won international awards for: British Gas/ BBC Wildlife Photographer of the Year Awards in 1985,1989 & 1990 and also writes regularly about landscape and travel photography for a number of national and international magazines. David has worked for numerous clients including British Airways, Sainsbury's, Geo, Toyota, Qantas, Sunday Times and the Telegraph.  During the last twenty years he has also worked extensively for the National Trust covering much of the UK's landscape and coastline, which has featured in many high profile publications and several highly acclaimed photographic exhibitions. Most notably:
'New Vision' Contemporary Art Photography – AOP Gallery
'The Coast Exposed' – Maritime Museum Greenwich and the Lowry
'Climate Change – in Britain's Back Yard!' – London, Nottingham, Wales, Belfast, Bristol
"l'm still passionate about photography. All aspects fascinate me; from capturing the first light of day on a frosty landscape or making the most of a bustling market in Vietnam to portraying the dignity of a wrinkled face in China."
David spends much of the year travelling with his wife Wendy. When not travelling they live in England, near Sherborne in Dorset.
DAVID NOTON'S CHASING THE LIGHT ROAD SHOWS
David has confirmed the first in a series of inspirational evening events – billed as 'an evening of photographic discovery' - taking place at the Olympus Theatre, WISE Campus, Filton College in Bristol, on 9th & 10th September. So to see David in action and find out more about his photography, book your tickets online now at http://www.davidnoton.com/roadshow.htm
All images in this article © David Noton
Your Comments