How to Create a Watermark in Photoshop
13. Now, we embed the copyright info into the file itself.  In the file menu, choose file info which will bring up the File Info Dialog box. 
Type in a copyright notice (as shown in the screen shot) and your website address (if you have one) as shown. 
Click OK.
14. Flatten the files by clicking Layer > Flatten Image. 
15. Okay, now we'll create an action to automatically do this entire process in one click. 
Open a new photo, go to the Actions Panel in the Window Menu.
Then click on the Create New Action icon at the bottom of the panel. 
When the dialog box appears, name your action (as shown) Choose F11 for the way to activate it and click the Record button to start the process.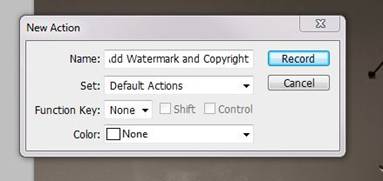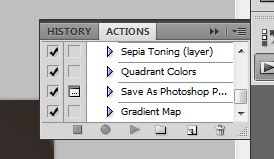 16. Now, go through all the steps of adding the copyright symbol and copyright info (Photoshop is going to record every step as you do it, as seen here in the actions history panel.)  Start at Step 1 and stop after step 7 (you stop after Step seven because you may not want to flatten your file.) 
17. When you are done, press the little black square next to the red circle that indicates you are recording an action.  This completes the action. 
18. Now it's important to test that your action works.  Open a different photo and click F11, which should add your copyright instantly.  If it adds the copyright watermark you created, you've done it!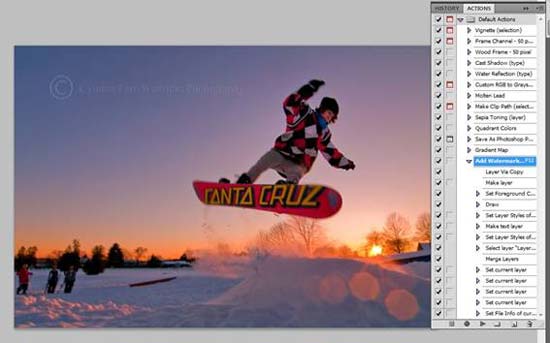 The other wonderful thing I promised, is to teach you how to batch copyright an entire folder of images.  Before you batch watermark an entire folder however, you will have to go back through the process of making a watermarking action and include the flattening of each file in number 8 of the tutorial.  Otherwise, it won't work.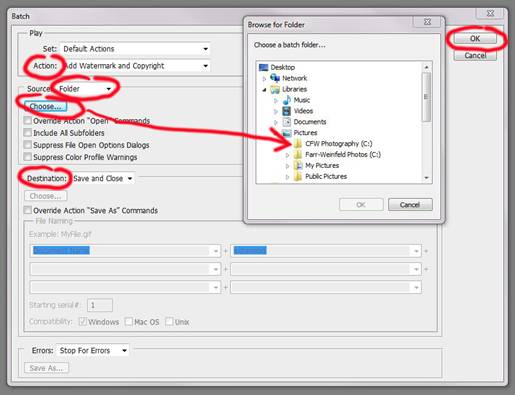 19. Then, in the File menu, go to Automate>Batch.   Then, you would choose "Add Watermark and Copyright" in the Action area.  The Source would be "Folder." 
20. Now, you click Choose under the Source area and choose your folder of pictures you want to watermark.
21. Under Destination, you will choose "Save and Close". 
22. Finally, click OK and your action will take care of watermarking all of the photos in that folder!  Voila!
Biography
Cynthia Farr-Weinfeld of CFW Photography has been an artist her entire life, but photography was the first medium that truly "clicked" with her. She is a commercial photographer based in Portland, Maine, USA. She is the Contributing Photographer for Portland Magazine http://www.portlandmagazine.com/ a glossy publication devoted to the goings-on around her city and state as well as the arts and food& restaurant reviews.
Cynthia has also had work in England's Digital Camera Magazine, Maine Food & Lifestyle, and most recently, Popular Photography in the US. She is a regular contributor to StockFood - The Food Image Agency, an international food photography stock agency based in Munich, Germany.
Cynthia was chosen for the Pentax Professional Program. She uses a Pentax K20D, multiple filters and Pentax lenses from the macro to the ultrawide range, and a Bogen 3011 tripod to achieve her photographic vision.
Cynthia specializes in Landscape, Architectural, Panoramic, Portraiture and Food & Restaurant photography.
You can see more of Cynthia's work at http://www.cfwphotography.smugmug.com and for what she's been working on the most recently, her blog, Photo Quest, at http://www.cindysphotoquest.blogspot.com .
Your Comments