How to Take Great Travel Portrait Photos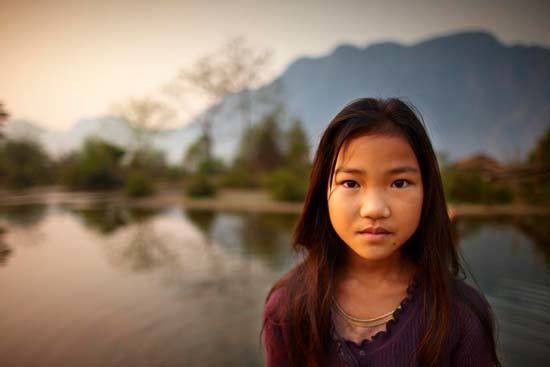 Preparation is everything in photography. Have some idea of how you're going to tackle a subject before it happens. Don't wait until the moment is upon you. Think, use your eyes, imagine. So I'm planning this shot before I know who or what my subject is going to be. I want to use the river setting as a backdrop, but out of focus. How out of focus? Well with my 16-35mm wide open at f2.8 there's still quite a lot of detail evident in backgrounds, which is why I'm keen to test this new 24mm f1.4. I'll shoot wide open, using single shot auto focus. I'll need a 0.9 ND grad on to hold the sky, but I'll have to be careful with the composition to avoid a "grad head" situation where the effect of the gradation intrudes on the crown of the subject. ISO? At this aperture 100 is plenty fast enough. I do a test exposure, and dial in +2/3 exposure compensation.  I'm ready.
All I need is a subject, but in the rural backwaters of Asia I've rarely long to wait. Take one obvious westerner with a big camera, plonk said homo sapien down by a ford in Laos and very quickly I become an object of curiosity to the locals. It works every time. So before I know it I'm shooting kids as they pass by on their way to school. A few frames are exposed and they all jostle around to see the glowing image on the monitor; shrieks of recognition and laughter, how did we do this in the film era? There's much gesturing and fingers behind heads, it's all part of the game but not really the shot I want. But the image will come to me, I can feel that. The light is great; soft, directional and tropical. One girl stands apart from the group, watching me intently, seriously. She is the face of Laos. As I kneel down to position her in the frame her expression changes not a bit, her eyes boring into my lens. At this focal length I need to be uncomfortably close but it bothers her not a bit. I half depress the shutter, lock focus and recompose. Done. Five frames, all virtually identical, with that slightly haunting look.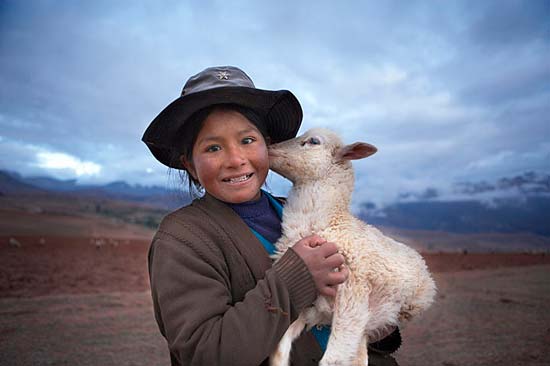 I ride back to Vang Vien, thoughtful. In the market rats and Ritz crackers will be on offer. The backpackers will be watching endless repeats of Friends in the bars. For me the future's bright and orange as we're moving on to Luang Prabang, the Monk Capital of Laos. I like this 24mm lens. It's super sharp and fast. Wide open the coverage isn't uniform, unsurprisingly. A touch of vignetting is apparent, but it's a relatively easy factor to dial out at the RAW conversion stage. Actually, with this shot I chose not to, the slight "tunnel" effect of the darkening of the corners helps to concentrate the attention on the subject. I'm realising I'm developing an expensive taste in super fast lenses, but you just can't beat that fuzzy background feel in life and photography.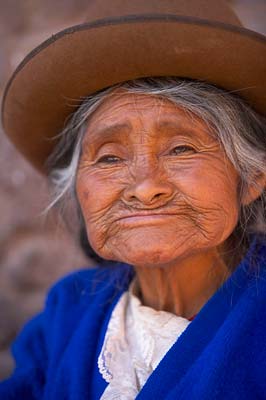 Biography
Born in England in 1957, David spent much of his youth travelling with his family between the UK, California and Canada. After leaving school David joined the Navy in search of further travels and adventures – and it was while sailing the seven seas that his interest in photography grew. After several years at sea he decided to pursue his passion for photography and returned to study in Gloucester, England.  After leaving college in 1985 he began work as a freelance photographer specialising in landscape and other travel subjects, which over the last 25 years, have taken him to almost every corner of the globe.
David is now established and recognised as one of the UK's leading landscape and travel photographers. His images sell all over the world – both as fine art photography and commercially in advertising and publishing. He has won international awards for: British Gas/ BBC Wildlife Photographer of the Year Awards in 1985,1989 & 1990 and also writes regularly about landscape and travel photography for a number of national and international magazines. David has worked for numerous clients including British Airways, Sainsbury's, Geo, Toyota, Qantas, Sunday Times and the Telegraph.  During the last twenty years he has also worked extensively for the National Trust covering much of the UK's landscape and coastline, which has featured in many high profile publications and several highly acclaimed photographic exhibitions. Most notably:
'New Vision' Contemporary Art Photography – AOP Gallery
'The Coast Exposed' – Maritime Museum Greenwich and the Lowry
'Climate Change – in Britain's Back Yard!' – London, Nottingham, Wales, Belfast, Bristol
Your Comments