How to Take Infra Red Photos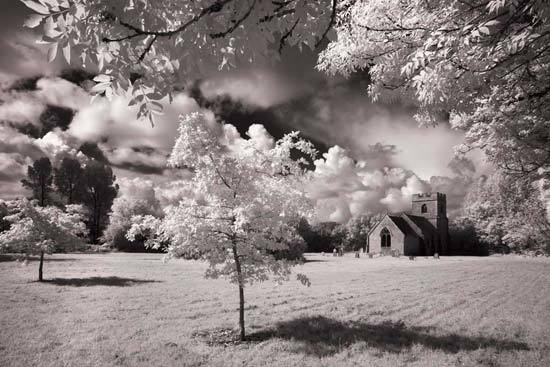 OK, a bit more theory, then I'm done. Digital sensors are actually sensitive to infra red. This is generally undesirable for normal photography, it can cause nasty fringing, so the manufacturers build into the sensor a filter to block those infra red rays. So to make a camera sensitive to infra red only the IR filter needs to be removed and replaced with one to cut out the visible spectrum. The focusing plane also needs to be off set to deal with the longer wavelengths. Simple really, but not a job you'd contemplate attempting with tweezers on the kitchen table. So the camera has to be sent off for a professional conversion. I used Advanced Camera Services, (link to http://www.advancedcameraservices.co.uk/) they were slow and insisted on calling me Norton but now it's done. Once I'd decided to go for The Change it was a lot less traumatic then going to the dentist or cleaning the sensor.
This summer here in Provence and down the leafy lanes of Wessex I shall be pushing the boundaries of my infra red vision. It is a strange game. I'm composing pictures using light I can't see. Practice and experimentation is the order of the day. Leafy trees against black skies work well. As with all photography simple bold compositions always stand out. Of course the direction and angle of the light is still key, but there's been a big change from my normal way or working in landscape mode at dawn and dusk. The fact is IR photography doesn't really work with the subtle low contrast lighting of Happy Hour, strong, bright sunlight is needed. I'm finding myself exposing in the middle of the day! The high contrast nature of the light at lunchtime normally makes that a complete no no, but IR work needs that contrast. Skies are crucial, towering fluffy cumulonimbus can make the shot. Those of you who have watched my DVD Chasing the Light (link to http://www.davidnoton.com/ctlfilm.htm) will know all about the whole routine of how my pictures come together;  that process of scouting locations, previsualising an image then returning when the conditions and light are just right. All of that holds true for IR photography, it's just that the previsualisation is that much more difficult and the type of lighting that works best is different.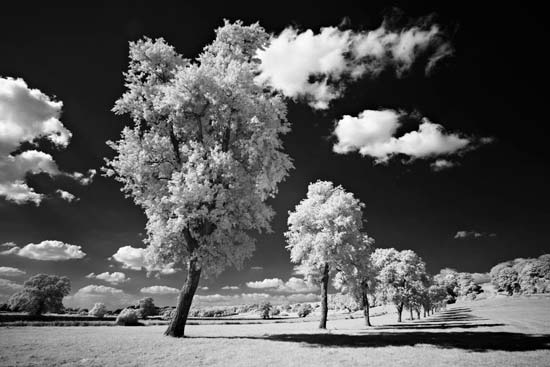 Exposure-wise things are so much easier than my Parisian Walkway days of guessing and bracketing. I use AE evaluative metering and check the histogram after every shot. Beware; it is very easy to clip the highlights in the red channel. As for assessing the image on the monitor, well, it's not easy. If you've a Mono Picture Style setting on the converted camera that will help. I don't, so I'm looking at a petty flat red image displayed on the now seemingly tiny 1Ds mkII monitor. As all photography it goes without saying the way to go is to shoot RAW. The image will need a bit of work doing on it both at the RAW conversion stage and in Photoshop to convert it into a punchy black & white print.
Back in the digital darkroom I try and do as much as I can to the image at the RAW conversion stage. I use Phase One's Capture One 4 Pro (hands up, who dreamt that name up?) There are lots of theories about how best to convert a colour image to monochrome; essentially it boils down to the options of using the channel mixer or simply desaturating. In this case virtually all the information is in the red channel so there's no point in using the channel mixer, a simple destauration of all the IR images in one batch is a good way to start to asses which pics have balls. Even when all the images are shot in strong bright light the first impression is of a flat set of pictures. But just look at those clouds, and skies, and trees! Even after nearly 25 years as a pro I still get a buzz from this, it's the same magic that transfixed me watching the first image appear in a dish of developer under the safelights in the college darkrooms in 1982.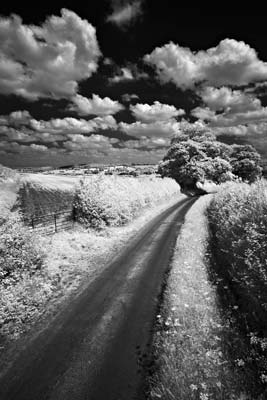 It's easier to put contrast into a picture than it is to take it out, so those flat IR RAWs don't worry us too much, do they? Some judicious tweaking of curves and adjusting of black and white points still in the RAW convertor goes a long way to producing the goods. In Photoshop I'll then selectively tweak areas of the image to introduce local contrast. It's all a bit similar to the old game of dodging and burning under the enlarger, but with loads more control. Et voila, the image is done, ready to be printed and uploaded for the world to gasp at. How much of this IR stuff will I do? I guess there's definitely a novelty factor which will wane, and it's probably a project that works best at only certain times of year, chiefly spring and early summer, but now I've had the conversion done I'm going to carry on experimenting. I've a lot to learn.
Biography
Born in England in 1957, David spent much of his youth travelling with his family between the UK, California and Canada. After leaving school David joined the Navy in search of further travels and adventures – and it was while sailing the seven seas that his interest in photography grew. After several years at sea he decided to pursue his passion for photography and returned to study in Gloucester, England.  After leaving college in 1985 he began work as a freelance photographer specialising in landscape and other travel subjects, which over the last 25 years, have taken him to almost every corner of the globe.
David is now established and recognised as one of the UK's leading landscape and travel photographers. His images sell all over the world – both as fine art photography and commercially in advertising and publishing. He has won international awards for: British Gas/ BBC Wildlife Photographer of the Year Awards in 1985,1989 & 1990 and also writes regularly about landscape and travel photography for a number of national and international magazines. David has worked for numerous clients including British Airways, Sainsbury's, Geo, Toyota, Qantas, Sunday Times and the Telegraph.  During the last twenty years he has also worked extensively for the National Trust covering much of the UK's landscape and coastline, which has featured in many high profile publications and several highly acclaimed photographic exhibitions. Most notably:
'New Vision' Contemporary Art Photography – AOP Gallery
'The Coast Exposed' – Maritime Museum Greenwich and the Lowry
'Climate Change – in Britain's Back Yard!' – London, Nottingham, Wales, Belfast, Bristol
"l'm still passionate about photography. All aspects fascinate me; from capturing the first light of day on a frosty landscape or making the most of a bustling market in Vietnam to portraying the dignity of a wrinkled face in China."
David spends much of the year travelling with his wife Wendy. When not travelling they live in England, near Sherborne in Dorset.
DAVID NOTON'S CHASING THE LIGHT ROAD SHOWS
David has confirmed the first in a series of inspirational evening events – billed as 'an evening of photographic discovery' - taking place at the Olympus Theatre, WISE Campus, Filton College in Bristol, on 9th & 10th September. So to see David in action and find out more about his photography, book your tickets online now at http://www.davidnoton.com/roadshow.htm
All images in this article © David Noton
Your Comments