How to Take Perfect Long Exposures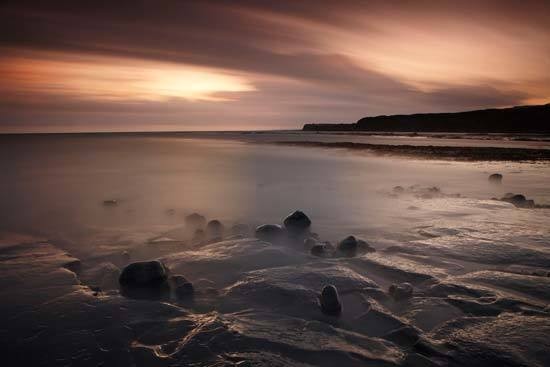 Water is different. Long exposures on the Dorset coast with water lapping around the rocks isn't exactly cutting edge stuff any more; it's a tried and tested technique and look. It is of course great fun though and done well can be very effective. Ever since as a student photographer in 1984 I went down to Portland Bill and got myself and my OM1 doused with salty spray I've been secretly hooked on this game. I try and avoid it now, I think it has been done to death, but every so often I get the calling and can't resist, as with this shot on La Digue in the Seychelles one balmy tropical dusk (below). In this case an exposure of some 4 seconds keeps some detail in the water.
The look of a long exposure on surging waves resulting in a dry ice or sea of mercury look is another approach. To achieve this exposures in excess of 15 seconds are necessary. I have done 30 minute exposures before. On a Cornish beach on a winter's evening I could almost open the shutter, go for a pint and a pie before returning to close the shutter. Nowadays I think I prefer to see a bit of texture to the surface of the water, some sort of form. For this effect exposures of about 1-10 seconds are the order of the day. But it all depends on how angry the seas are and is completely subjective. For this image of Scobbiscombe in South Devon (below) a 90 second exposure has produced the dry ice effect, whilst the waves breaking on the beach at Durdle Door (below) leave a pleasing sweeping signature with an exposure of 10 seconds.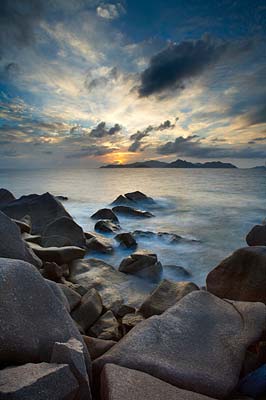 Twilight over Praslin from the northern tip of La Digue, Seychelles. Canon 1Ds mkII, 16-35mm lens @ 17mm, ISO 50, 2.5 secs @ f22, 0.9 ND plus 0.6 ND grad filters
Clearly a photographer needs in an ideal world to be able to use exposures ranging from several minutes to thousandths of a second to creative effect, but with modern DSLRs it is difficult to achieve the really long exposures. It shouldn't be this way. Now I hope that the engineers beavering away in Japan on the next 1Ds mkIV or D4x are reading this, cos what a lot of us people who spend our lives shuffling by tripods waiting for the light really need is not ever increasingly sky high ISOs but the ability to dial in a really low value like ISO 4 and get really slow. OK, we can stick NDs in front of the lens and stop down to f22, but it's a crude solution. Even doing this it's really difficult short of waiting for nightfall to achieve exposures longer then 30 seconds. Are you listening Messrs Canon and Nikon?

Twilight at Scobbiscombe, Devon, England. Fuji GX617, 90mm lens, Fujichrome Velvia, 0.9 ND grad filter, 90 secs @ f32
My life has just changed though. I have a 10 stop ND from B&W filters, and its ace. OK, you can't see a thing through it, and is only available so far as a 77mm screw on, but it is so, so useful. Kimmeridge Bay (main picture) on a November afternoon. The sun's dropping over the Jurassic Coast behind a layer of cloud that marches in relentlessly from the west. I frame up my shot, take an exposure reading in manual mode then mentally calculate an extra 10 stops of exposure; 6 minutes at f11. Fit the 10xND, position a 0.9ND grad by eye in front to hold back the sky, set the camera to bulb setting, then open the shutter, and pace for 6 minutes. This is jus like the old days; mentally calculating exposures with filter factors and applying running adjustments during the exposure as the light changes. Eventually I release the cable release lock and check the image's histogram; too dense. Open up, go for a walk, chat to a few people, stroll back to the camera 10 long minutes later to close. Look at that image glowing on the camera's monitor in the gathering gloom. It's like magic.
Durdle Door, Dorset, England: Fuji G617, 105mm lens, Fujichrome Velvia, 0.9ND ND grad filter, 10 secs @ f32
Biography
Born in England in 1957, David spent much of his youth travelling with his family between the UK, California and Canada. After leaving school David joined the Navy in search of further travels and adventures – and it was while sailing the seven seas that his interest in photography grew. After several years at sea he decided to pursue his passion for photography and returned to study in Gloucester, England.  After leaving college in 1985 he began work as a freelance photographer specialising in landscape and other travel subjects, which over the last 25 years, have taken him to almost every corner of the globe.
David is now established and recognised as one of the UK's leading landscape and travel photographers. His images sell all over the world – both as fine art photography and commercially in advertising and publishing. He has won international awards for: British Gas/ BBC Wildlife Photographer of the Year Awards in 1985,1989 & 1990 and also writes regularly about landscape and travel photography for a number of national and international magazines. David has worked for numerous clients including British Airways, Sainsbury's, Geo, Toyota, Qantas, Sunday Times and the Telegraph.  During the last twenty years he has also worked extensively for the National Trust covering much of the UK's landscape and coastline, which has featured in many high profile publications and several highly acclaimed photographic exhibitions. Most notably:
'New Vision' Contemporary Art Photography – AOP Gallery
'The Coast Exposed' – Maritime Museum Greenwich and the Lowry
'Climate Change – in Britain's Back Yard!' – London, Nottingham, Wales, Belfast, Bristol
"l'm still passionate about photography. All aspects fascinate me; from capturing the first light of day on a frosty landscape or making the most of a bustling market in Vietnam to portraying the dignity of a wrinkled face in China."
David spends much of the year travelling with his wife Wendy. When not travelling they live in England, near Sherborne in Dorset.
DAVID NOTON'S CHASING THE LIGHT ROAD SHOWS
David has confirmed the first in a series of inspirational evening events – billed as 'an evening of photographic discovery' - taking place at the Olympus Theatre, WISE Campus, Filton College in Bristol, on 9th & 10th September. So to see David in action and find out more about his photography, book your tickets online now at http://www.davidnoton.com/roadshow.htm
All images in this article © David Noton
Your Comments