How to Travel with Photo Gear
For landscape work I need a camera bag that is big enough to carry a pro spec DSLR, 4-5 lenses plus all the other bits and pieces we need; filters, rings, cable release, extension ring etc. On top of that there are the layers of thermal and waterproof clothing that are as important as the lenses, water, phone, head torch etc. My main criticism of most camera bags is there simply isn't enough cargo space devoted to all the extras we do need to carry. For landscape work a sizeable bag is required. There are some gargantuan bags available, in which everything but the kitchen sink can be portaged.  In the film era I used to routinely carry two camera systems in a Lowepro ProTrekker which weighed well in excess of 25kg fully laden; a weight that's nothing to a soldier in Afghanistan but still a sizeable bulk to lug around all day for us mortals. It took me a spell in Spoleto Hospital with a dislocated elbow after a top heavy tumble in Umbria to realise that I couldn't just keep adding to the amount I carry on location; taking too much is a mistake. It was slowing me down, restricting my mobility and making the whole process a feat of endurance rather than an enjoyable liberating experience. Maybe I'm just getting on, but I no longer load such a burden on my back; one camera system is quite enough. After all I can only use camera at a time, and when the light is perfect I need to be making the most of it, not messing around switching systems. My current bag of choice in the hills is the Pro Trekker 400 AW, which has enough space for my 1Ds mkIII, 70-200mm f 2.8 or 100-400mm, 17mm & 24mm TS-E tilt & shifts, 24-70mm and 14mm super wide. That's enough, isn't it? The side and back pockets have enough room for the layers and flask and the backpacking harness makes it comfortable when pounding out the miles. All of which make it very well suited for landscape work. But there's one problem; loaded up it's just too big to fly with as carry on. Lowepro would dispute this, there's a little symbol of a plane on their website page for this bag, but I've just had too many confrontations at departure gates to  feel with any confidence I and it could make it on-board together. The prospect of watching through the window as the steroid popping weight lifters practise their basketball with it is an experience I'll pass on. The trouble is airline regulations regarding carry on luggage are permanently changing; we poor passengers never know where we are. The budget carriers are particularly difficult. Flying RyanAir with photography kit is akin to enduring a bad hangover; soul searching remorse is followed by vows of never again. And to add to the uncertainty every airport is different. It's a minefield.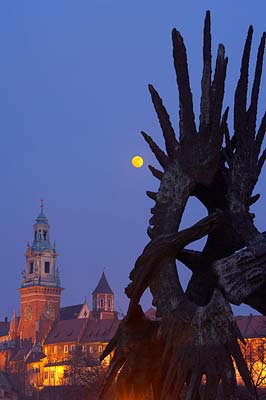 The Wawel with the moon over the towers of the Royal Cathedral at dusk and the War Memorial to WWII Polish soldiers in the foreground, Krakow, Poland. Canon 1Ds mkIII, 70-200mm lens. Taking advantage of no frills flights to places like Krakow is tempting, but the airline restrictions on what can be taken make these trips a headache.
In truth there is no camera bag that is right for every purpose. Designing a bag for the hills of Snowdonia and the vagaries of air travel involves contradictions and compromises. And for us photographers one bag is never going to be right for all situations. A bag loaded up for a landscape shoot is a cumbersome liability in a crowded marketplace. That's why I currently have 6 different bags lined up in the office. I'll admit that's rather excessive, but they do all get used. Let's consider what we need from a photography bag. Expensive gear needs to be protected from the knocks and bumps of life on the road, so adequate padding and flexible compartmentalisation is mandatory, as is all weather proofing. Bags also need to be portable and comfortable to carry, which is where photo backpacks score so highly. The equipment needs to be accessible, and the bag should be compact and easy to stow. It's these last two   needs that cause problems. Photo backpacks require the user to take the bag off, lay it on the ground and grapple with clips and zips to access the hardware; difficult to do in a rush when a momentary shaft of light paints the landscape.
If we should ever bump into each other you'll recognise me, I'm the guy with the muddy back. When the moment is right for soaring inspiration my backpack comes off and is plonked down unceremoniously onto the soggy ground, collecting grot and sheep poo in the process. Theses souvenirs are destined to be transferred onto my back when the shot is done and I'm on my way again, it's inevitable and a unique photographer's look. In terms of access  shoulder bags such as the Billingham are far more convenient. For the likes of wedding photographers who need to get in and out their bags quickly for the flash when doing the cutting the cake shot they're just the job. Indeed before backpacks were available this is what most photographers used, but they were always useless for carrying any distance. All pros of the 70s and early 80s without exception had chronic back problems as a result of lugging heavy Nikkors and Hassleblads on one shoulder; I'm glad those days have passed. On balance for those of us who have to carry our kit over the hills and far away the price of a muddy back is well worth paying. I just wish I could get into mine quicker sometimes. And whilst we're on the subject, does anyone actually use the system for attaching tripods to these bags? I've never seen anyone do so on any of our workshops, we all march purposefully with tripods on the shoulder. A tripod attached to the back of an already weighty camera bag makes the whole ensemble ridiculously unwieldy and pendulous whilst climbing over styles. It's one of those design ideas that look great on the drawing board but is totally impractical in the field.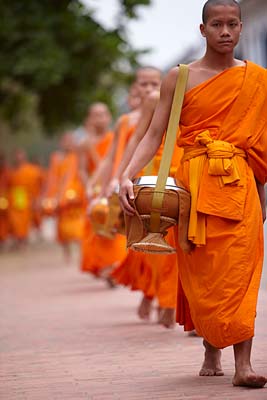 The procession of monks at dawn through the town to collect gifts of food, Luang Prabang, Laos. Canon 1Ds mkIII, 70-200mm lens. There's a lot to be said for keeping things simple and travelling light. With One body, a 24-70mm & 70-200mm a roving photographer is well equipped for most situations.
Your Comments