PMA seems to be in contraction - fewer companies attending, most notably Canon and Leica, and even fewer product announcements being made. That's not to say that there is nothing new to see, or that the photo industry is slowing down when it comes to product development. CES has taken some of the spot-light now that digital photography is mainstream, and new products are being announced in the weeks leading up to PMA.
If there is one clear trend, it's smaller is better. Camera bodies continue to shrink in size while adding features like HD video, in-camera HDR, and sweep panorama. Thankfully, the megapixel race seems to be over. Here's a brief look at some of what I did see that is either new or interesting at PMA 2010.
Sony
Although it was hands-off and a prototype, Sony has an interesting new Alpha interchangeable lens system coming out in 2010. Not much larger than many of the compact Cybershot models, the new camera will feature a new lens mount system, all designed as a compact and light weight alternative to a traditional DSLR, or the newer compact models from Olympus and Panasonic. The new camera (no name yet) has an APS-C size Exmor HD CMOS sensor with full AVCHD video.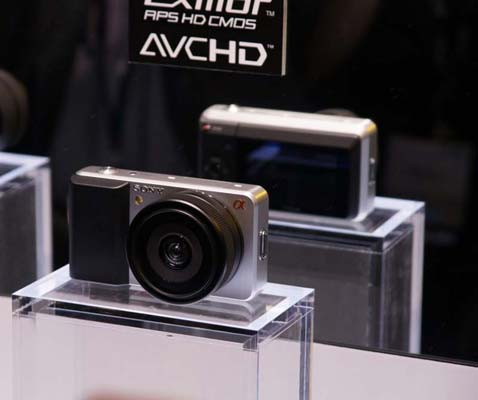 Sony also announced a replacement for the A700 they are targeting at advanced users, and two new lenses for the Alpha system - a Zeiss Distagon T 24mm f2, and a 500 f4 G telephoto.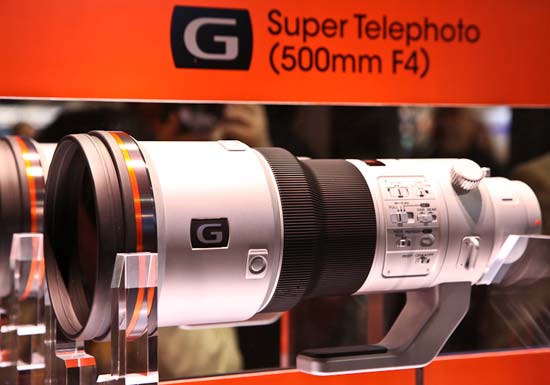 There were a number of new Cybershot models introduced as well.
Samsung
The Samsung booth had a few new models on display, including their EVIL (Electronic Viewfinder Interchangeable Lens) NX10. The NX10 features 14.6 MP in a APS C size sensor, dust reduction, various shooting modes, full HD video recording, and a 3.0" AMOLED display. The new displays are very easy to see and give the user a nice bright screen useable under a wide range of lighting situations.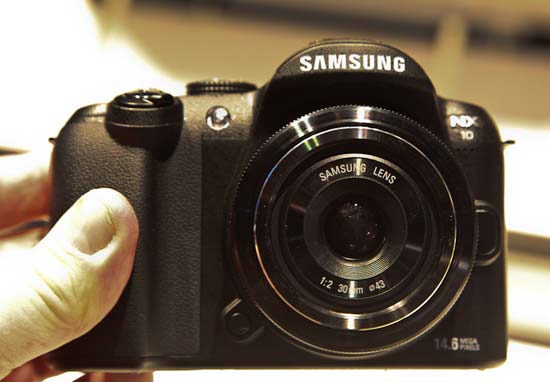 The TL500 is a compact camera with 10 MP, a 24mm wide angle lens and a articulating AMOLED display. All are good, but what makes the TL500 stand out is the ultra fast aperture of f1.8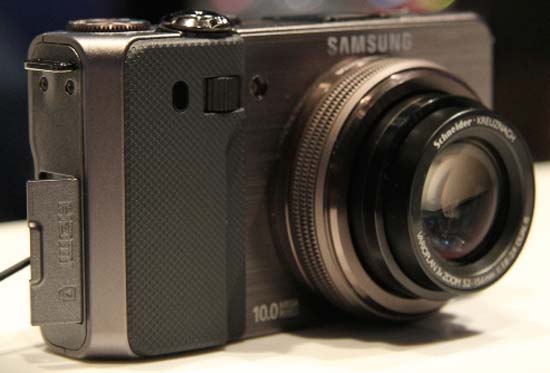 The TL350 is a more traditional pocket sized camera with 10.2 MP, 5x optical zoom with a 24mm wide angle, and aperture of f2.8-f5.8. This one brings in a retro looking control deck with analog gauges for battery and card space. The video side has some interesting options – full 1080P at 30fps, or 720P with 60fps. You can even drop down to in resolution and grab 240fps for viewing slow motion video.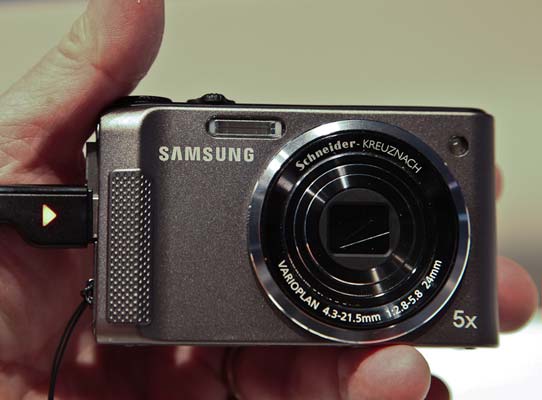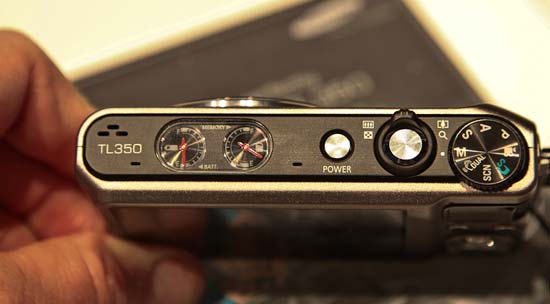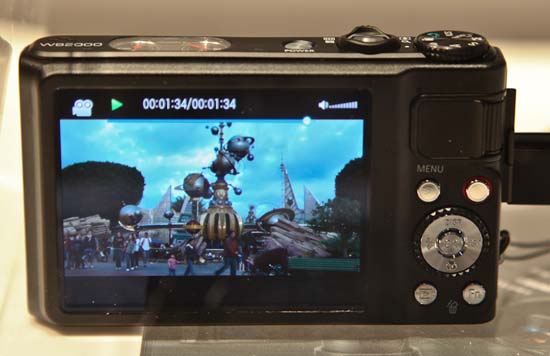 Panasonic
Panasonic has updated the Lumix DMC-TS2, their rugged compact. This would be a great compact travel camera, with waterproof use down to 10 meters, full HD video, and a wider angle lens.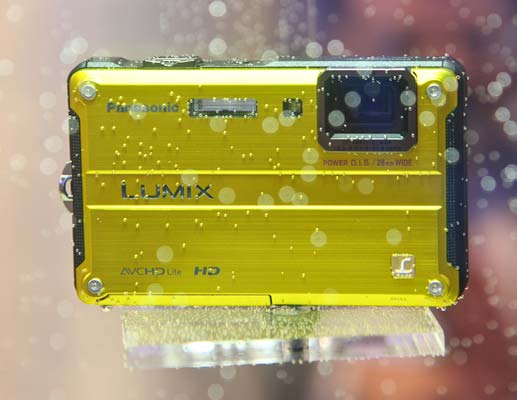 Other new Lumix models focus more on wide angle, like the DMC-ZR3 with a 25mm Leica lens, 8x zoom, and AVCHD Lite (720P) video, and the DMC-ZS5 with the same 25mm wide end and a 12x optical zoom range.
Panasonic is also promoting their new SDXC memory card format with current capacities up to 64GB, with a maximum of 2TB coming later. These cards are not compatible with the current SDHC format, so immediate support is limited - many of the new Lumix cameras support SDXC, but Panasonic isn't talking about other companies yet.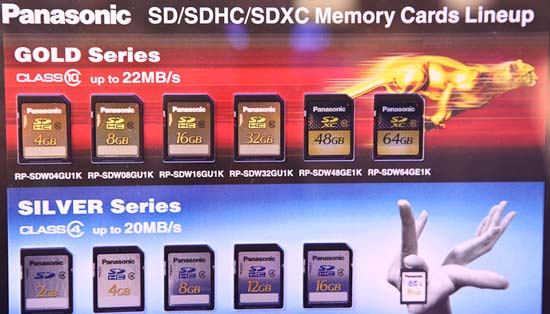 Nikon
The main attraction for Nikon is the Coolpix P100. With the first CMOS sensor used in a Coolpix, the 10.3 MP P100 includes full 1080p HD video, 10 frames per second capture rate at full resolution, and an articulating 3" LCD. Also included is a stereo microphone, in-camera HDR that merges two exposures to create a single image and a Night Landscape mode that combines eight images to build a single image with lower noise and more detail. Perhaps more interesting though is the zoom range - a full 26x optical zoom with a equivalent of 26mm - 678mm using ED glass and vibration reduction. Along with the 10 fps capture at full resolution, you can capture 120 fps at a 1.1 MP resolution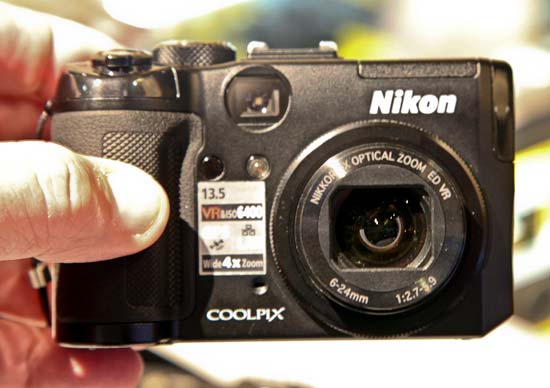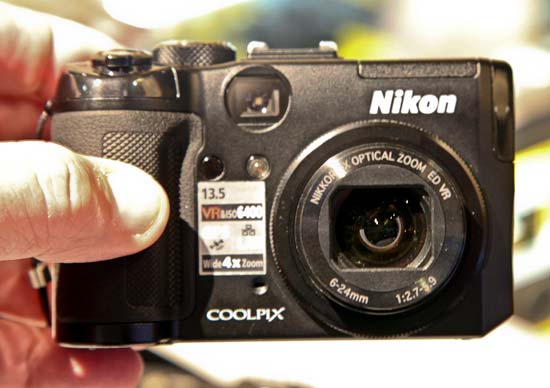 Nikon also showed two new lenses for the FX (full frame) DSLR models. The first is a AF-S 16-35mm f4G ED VR. With a lower aperture of f4, the lens is the widest angle Nikkor with VR. Also shown was the new 24mm f1.4G ED lens. On a full frame body, the lens has a 84 degree field of view, and the fast f1.4 aperture gives you the ability to shoot in lower lighting situations, or give you more options with the shallow DOF.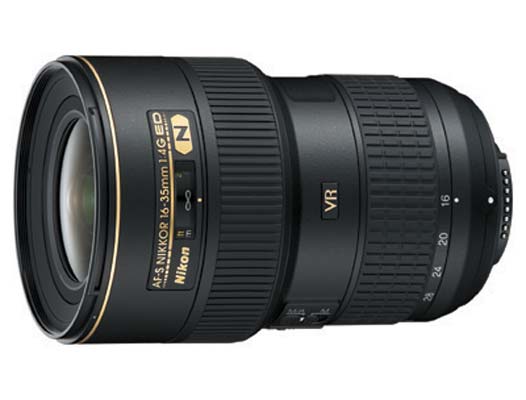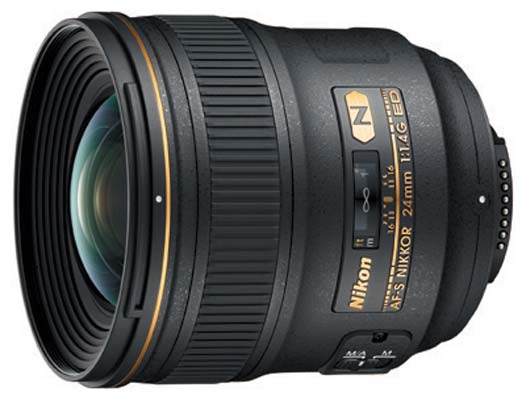 Olympus
Olympus is really pushing the Micro Four Thirds system with the EVIL PEN E-PL1 playing a major role. A prototype of the 14-150mm zoom was shown, as well as a number of adapter mounts for using Nikon, Canon, Novoflex, and a rumor of a Contax adapter, and a pop-up flash. You also get HD video recording, which seems to be a standard requirement in new cameras. The UI has changed, using what Olympus is calling Live Guide. With this system, you can easily change settings to a image, seeing the results on the LCD before capturing.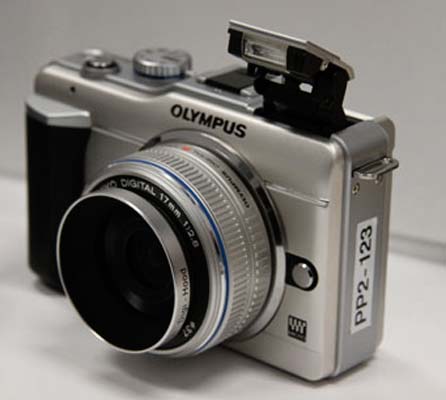 Also new to the Olympus line in their compact body cameras is the SP-800UZ with a 14MP sensor, 720p video capture, and a huge 30X optical zoom, and the Stylus Tough 8010, designed to handle 2 meter drops and 10 meter underwater use.
FujiFilm
A new film camera? Yep. Fujifilm is finally planning on releasing the GF670 medium format camera after a couple of years of previews, prototypes, and silence. The camera is a folding model with an 80mm Fujinon lens, electronic metering and rangefinder and shooths either 6x6 or 6x7 film.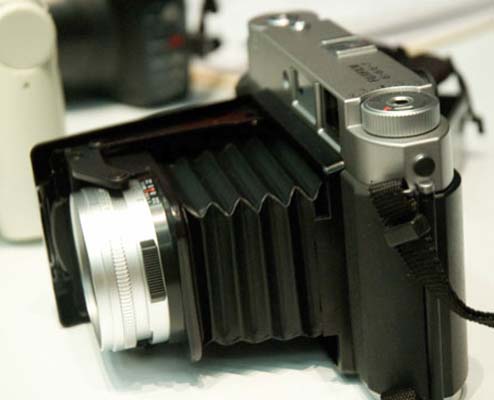 The FinePix HS10 is a more expected offering - 10MP CMOS sensor, 3" LCD articulating display, EVF, and full HD 1080p video. Added to this mix is a 30X zoom with a 24mm-720mm range, 10fps capture at full resolution, motion panorama for automatically stitching images together, and a RAW mode for full control and higher quality output.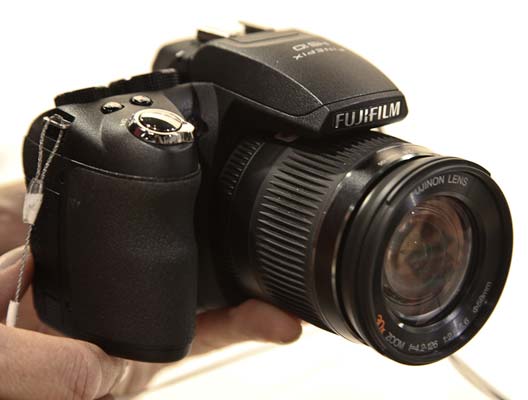 Entry Tags
sony, olympus, fujifilm, panasonic, samsung, photography, 2010, PMA 2010 Show Report, show, trade, photo marketing association, PMA