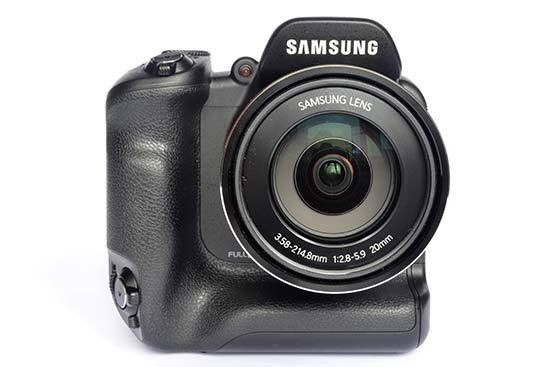 At a recent press event held by Samsung at Sandown Racecourse, we got our hands on the company's new WB2200F bridge camera. It doesn't take long to spot that this isn't your typical bridge camera though. Sure, it sports an impressive 60x zoom lens with a 35mm-equivalent focal length range of 20-1200mm, but this is somewhat overshadowed by that secondary grip on its base complete with dual controls for added ergonomics. Packed into this beefy body is a 16.4-megapixel back-side illuminated sensor with a sensitivity range of ISO80-6400, as well as Wi-Fi connectivity with NFC pairing. The camera will also record Full HD video with stereo sound and it boasts an electronic viewfinder. So let's take a look at some of these features in more detail.
Dual Grips
The big news with the WB2200F is that secondary grip. It's traditionally something you only see on top-end DSLRs and makes shooting portrait-format shots a much more ergonomic experience thanks to the additional vertically-orientated shutter release and zoom ring. A locking switch can disable the latter should you find yourself making accidental focal length adjustments and there's even a third neck strap mounting point too. Dual grips in the DSLR world usually has the added bonus of extra space for a bigger battery. Although the WB2200F is fuelled by a fairly potent 1410mAh Li-ion cell, we can't help feel the extra body space could have been used to house an even longer-lasting power pack.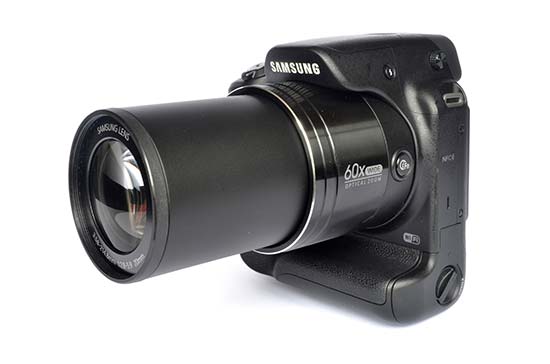 60x Zoom Range
There's only one aspect of the WB2200F that has a shot at dwarfing the camera's physical size, and that's its whopping 60x zoom range. There's no doubting a 1200mm-equivlaent telephoto length is mighty impressive and will fill your frame with subjects that'll go almost unnoticed by the naked eye, but the 20mm-equivalent maximum wide angle capability is equally impressive. An extra millimetre of wide angle coverage is far more noticeable than the same increase in telephoto reach and gives the WB2200F the ability to capture bigger group shots and more expansive landscapes than virtually any other bridge camera. A two-speed zoom control means you can zoom fast or make fine focal length tweaks, whilst the customisable function button can be set to extend the lens to its maximum zoom with one flick of the zoom ring.
Wi-Fi with NFC Pairing
Fed up with faffing around trying to set up a Wi-Fi link between your camera and a smartphone or tablet? NFC lets you create the link by simply tapping the WB2200F against your smart device. Use it to 'beam' photos straight from the camera to your phone or tablet with just a tap, automatically share images as you shoot them, or control the camera remotely. All you need is an NFC-equipped smartphone or tablet.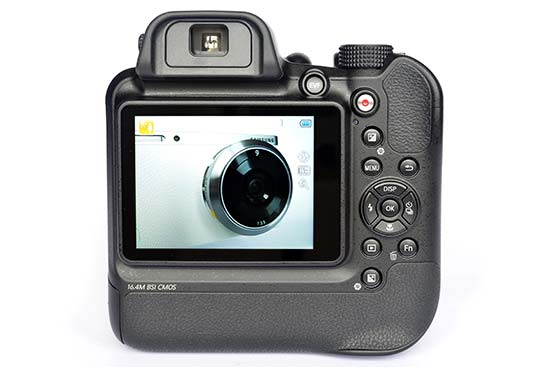 Electronic Viewfinder
The WB2200F's 3.0", 460k-dot LCD monitor does the job but it lacks touch sensitivity and isn't blessed with great viewing angles. All is not lost though, as the camera also features an electronic viewfinder to give you a through-the-lens view similar to that of an optical viewfinder on a DSLR. Unfortunately whilst some cameras will automatically activate the EVF when they detect your eye's presence, the WB2200F has to make do with a button to manually switch between the LCD and EVF.
Your Comments