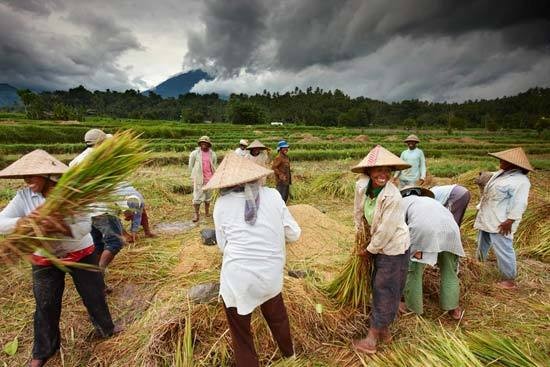 It's a whole week later and my mood isn't quite so chirpy. I'm sat on a balcony at Tirtagangga in eastern Bali watching the rain dripping from the lush vegetation all around me. It's been raining incessantly for days. I'm hardly testing the capacity of my back up hard drive, I've shot virtually nothing since that first muddy foray. I had to move on from Ubud to preserve my sanity; too many evenings were being spent balefully losing the will to live in restaurants sparsely patronised by honeymooning couples staring into each other's eyes. When things are going well these trips develop a momentum, which is unstoppable, and good photo sessions come thick and fast. Life is never better than during those rare and all too brief interludes. Conversely when the Gods of Light are in a strop a trip can stall fatally. Well OK, not fatally, we're only talking pictures here, but when you've travelled across the globe just to stand by the tripod in a rice field it's difficult to be philosophical about the endless black clouds and futile vigils. This trip has stalled. It's not working. What can I do? Drink beer whilst sinking into a morose torpor? Or stay positive and keep doing what I do; plugging in the location searches, never letting an opportunity pass, using my time productively and just trusting that sooner or later the clouds will part at the right time to bathe the verdant landscape of green terraces tumbling down to the Lombok Strait in gorgeous golden light? My phone bleeps. It's a text from home; Wendy is out shooting in perfect snowy winter conditions in Dorset. That's it, tonight the beer option wins.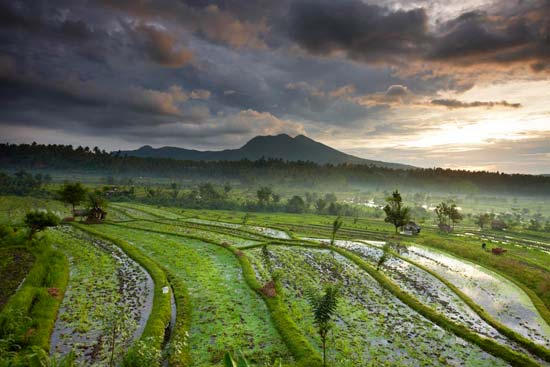 The terraced rice fields near Tirtagangga at dawn with the sun rising over the volcanic peak of Gunung Lempuyang, Bali, Indonesia:. Canon EOS 1Ds mkIII, 16-35mm f2.8 II L lens @ 22mm, 1/85 sec @ f6.3, ISO 100, Lee 0.9 ND graduated filter
The day dawns on the last morning of the trip; tonight I fly home. I'm back on my rooftop near Ubud for one more try. The intervening 2 weeks since I first did this have not been a total waste, I've shot images, mostly under grey skies, and caught up with the writing. There will be some images and tales from Bali for the Road Show (http://www.davidnoton.com/roadshow.htm). But it will be a bugger to leave without shooting this one location that I found on the first day; it's a belter. I trudge up the steps in the darkness more out of habit then hope, there's heavy cloud overhead. Another dawn patrol, another tripod vigil; these are the routines of my life. I set up the Giotto but opt to keep the camera under cover; more rain is inevitable. Or is it? To the west the sky is clear. Will that gap reach the eastern horizon in time for a rendezvous with the rising sun? There is hope. To the north the pyramidal peak of Gunung Agung looms large, dominating the landscape. I know exactly the shot I want; the first direct sunlight of day side-lighting the rice fields with a dramatic sky and a slightly long lens perspective emphasising the scale of the volcano on the skyline. This in a nutshell crystalises how I work; start with an idea, do the legwork, find the location, previsualise the image, plan the shoot and then keep coming back until Mother Nature obliges. It usually works. Sometimes it doesn't, and I leave rueing the shot that got away. Right now, at 5.30am on a rooftop in Indonesia, waiting for the light with my iPod on, shuffling by the tripod, I'd say I've a 50% chance of exposing this morning. I'm now getting the buzz of a possible shot coming together.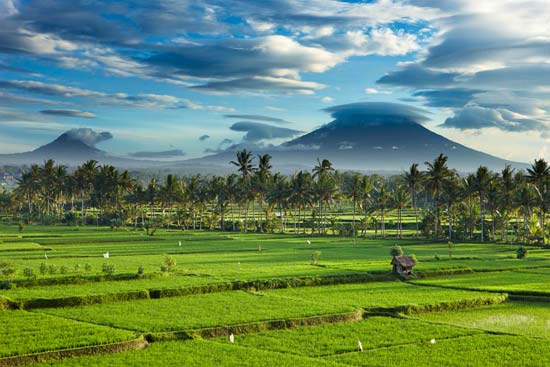 A dramatic sky with lenticular clouds over the volcanic peak of Gunung Agung and the rice fields near Ubud, Bali, Indonesia. Canon EOS 1Ds mkIII, 24-70mm f2.8 L lens @ 62mm, 1/50 sec @ f8, ISO 100, polarising filter
The dawn sky is evolving into a masterpiece of nature. Lenticular clouds are forming over Gunung Agung. The camera is on the tripod now, with a spirit level in the hot shoe, the cable release on, all framed up and composed with the 70-200mm f2.8 IS L lens on, mirror lock activated, aperture priority AE, a polariser and a twitching photographer. Check all settings; ISO at 100? Check the tripod is tight. Check again. Look to the east. The light is coming. Happiness.
Persistence is a landscape photographer's greatest asset. So, two weeks and some 16000 miles of travel for one shot... Worth it? You bet.
Biography
Born in England in 1957, David spent much of his youth travelling with his family between the UK, California and Canada. After leaving school David joined the Navy in search of further travels and adventures – and it was while sailing the seven seas that his interest in photography grew. After several years at sea he decided to pursue his passion for photography and returned to study in Gloucester, England.  After leaving college in 1985 he began work as a freelance photographer specialising in landscape and other travel subjects, which over the last 25 years, have taken him to almost every corner of the globe.
David is now established and recognised as one of the UK's leading landscape and travel photographers. His images sell all over the world – both as fine art photography and commercially in advertising and publishing. He has won international awards for: British Gas/ BBC Wildlife Photographer of the Year Awards in 1985,1989 & 1990 and also writes regularly about landscape and travel photography for a number of national and international magazines. David has worked for numerous clients including British Airways, Sainsbury's, Geo, Toyota, Qantas, Sunday Times and the Telegraph.  During the last twenty years he has also worked extensively for the National Trust covering much of the UK's landscape and coastline, which has featured in many high profile publications and several highly acclaimed photographic exhibitions. Most notably:
'New Vision' Contemporary Art Photography – AOP Gallery
'The Coast Exposed' – Maritime Museum Greenwich and the Lowry
'Climate Change – in Britain's Back Yard!' – London, Nottingham, Wales, Belfast, Bristol
"l'm still passionate about photography. All aspects fascinate me; from capturing the first light of day on a frosty landscape or making the most of a bustling market in Vietnam to portraying the dignity of a wrinkled face in China."
David spends much of the year travelling with his wife Wendy. When not travelling they live in England, near Sherborne in Dorset.
All images in this article © David Noton
Your Comments