Category:

Bargain Bucket
Monday, January 21, 2013
JP Distribution have been announced as new authorised distributors of enlight photo products in the UK. These include the Orbis ring flash (£179.99) and ring flash arm (£49.99), the Frio cold shoe (£9.99) and the ioShutter cabled SLR shutter release accessory for Canon and Nikon (£59.99, pictured).
Tuesday, June 6, 2006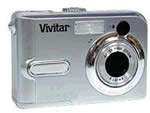 "All right me ol'son, who want's a shiny new digital camera? I've got the latest 5 Megapixel model goin' for a steal. I mean it'd cost me more in petrol to drive to the warehouse and back to nick you one of these. They've got a pop out zoom for crystal clear close ups of every 'air on Uncle Alberts 'ead, they're that good! Now they sell in the shops for an 'undred nicker, but I won't even ask you for half that! I'm not even asking for forty! If you give me thirty five quid, I'll even give you a penny change. And for the ladies I've a lovely pink slimline model to match those mobile phones I sold you last week. And I'll even do these cameras at a special price of £24.99. Rodders has even bought one for Cassandra, haven't you?"
If the above statement sounds too good to be true, let me assure you it's not. However, it's not Del Boy from "Only Fools and Horses" doing the selling, but UK high street chain Superdrug! They are offering the Vivitar 5385, a de-featured Pentax Optio 50 clone with a 1.75 inch LCD, for the amazing price quoted above, because they're clearing out all digital cameras at half price.