10 Megapixel Vivitar ViviCam X30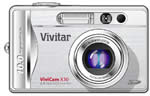 PMA 2006: The Vivitar ViviCam X30 is announced today, proving that the megapixel race isn't over yet. 10 megapixels, 2.5 inch LCD, 3x optical zoom lens, available in Q2/3 2006.
Vivitar Press Release
Oxnard, California–(February 13, 2006) – Vivitar today announced the launch of the new ViviCam X30, their new 10MP digital camera. According to Alan Tsao, Vivitar's Vice President of Sales and Marketing, "The ViviCam X30 and the ViviCam X60 represent the epitome of Vivitar engineering for truly extraordinary photography. The ViviCam X30 provides the photographer with a 3x optical and an 8x digital zoom and a large 2.5" color LTPS screen for easy viewing."
"In addition to high resolution stills, this camera captures movie clips at 640 x 480 @ 15 - 30fps allowing the photographer to become a videographer at will."
"Our market research," Alan continued, "confirmed what the serious photographer was looking for in a serious camera – ease of use with sophisticated capability. These cameras meet those needs and more."
Key Product Specifications
Model ViviCam X30
Class 10MP
Resolution 3650 x 2736
Housing Metal
Lens Auto focus zoom
Zoom 3x optical; 8x digital
LCD Display 2.5" color LTPS
Internal Memory N/A
External Memory SD to 1GB (not included)
Flash Built-in 4 mode auto flash
Other PictBridge support
Power Lithium-ion Rechargeable
Availability Qtr.2/Qtr.3 2006
About Vivitar Corporation
Vivitar Corporation, a leading manufacturer of both digital and film cameras, hosts a complete line of photographic products including digital cameras, 35 mm zoom cameras, auto focus cameras, 35 mm SLR cameras, manual and automatic lenses, flashes, binoculars, projectors, and camera accessories.
Vivitar has an extensive line of affordable digital cameras ranging from entry-level VGA cameras to ten-megapixel digital cameras with zoom optics. The ViviCam series of digital cameras is one of the broadest product lines of digital cameras on the market today spanning the spectrum of interest from novice through serious-amateur digital photographer. The Vivitar digital camera line is constructed on the premise of value and quality.
Recently, Vivitar signed an agreement with Kodak to market Kodak re-loadable film cameras and batteries in the United States. Camera features vary from basic point and shoot to various focal lengths desired by consumers.
Vivitar Corporation is based in the United States with offices in Hong Kong, UK, France, and Canada. Vivitar products are distributed worldwide through a wide-variety of stores, merchants, and dealers. Vivitar products are found in specialty stores, photo stores, mass merchants, drug store chains, warehouse super-stores and on-line.
Contact Information: 520 Graves Avenue, Oxnard, CA 93030, USA. For information, please visit our Web site at http://www.vivitar.com or phone us at 805-988-0463.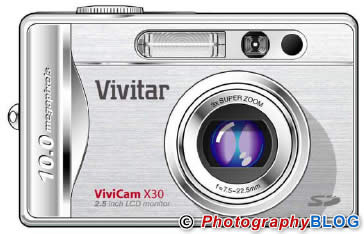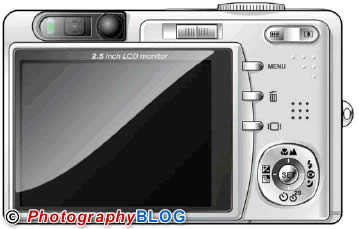 Published: Monday, February 20, 2006
Compare Prices
Support PhotographyBLOG: Buy this product from one of our affiliate retailers (US first/red, UK second/blue):
Reader Comments
Hi there,

I would just like to info you people that, I have this camera since alomost 1 year and its a amazing camera for its range of functions and price.

The info I would like to give out here is that the camera though mentioned here says can use 1GB SD card, I have been using a 16GB SDHC Integral card on it, without any problem. At the highest resolution I get for my 16GB card approx 2444 pictures or 60:13 minutes video shoot.

It's the most easily digital camera I have ever purchased with many features, such as manual focus, aperture, video, and many more.

I would recommend anyone who is not into high fi DSLR camera and want one simple one, should buy this one for sure.

Overide at 12:30am on Sunday, May 03, 2009

I tried a 4gb SDHC card in my ViviCam X30, and it didn't work.

james at 07:56am on Saturday, June 26, 2010

I would like to know how to set the timer.

chris at 11:54pm on Sunday, May 22, 2011