Epson CX5000 and Epson CX6000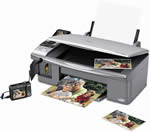 Epson America Press Release
New Epson 'More-in-Ones' Give Home and Small Office Users the Most Value-Packed Set of Features for Printing, Scanning and Copying - The Epson Stylus® CX5000 and CX6000 Produce Long-Lasting Prints With DURABrite® Ultra Ink, Copy With Ease, Scan at Remarkable Resolutions, and Restore Faded Photos
LONG BEACH, Calif., Aug. 29 /PRNewswire/—Whether printing or copying client-ready documents, enlarging photos for reprints, or restoring color to old photos that have faded over the years, Epson's new "More-in-One"™ products offer more unique features than any other all-in-ones priced less than $150. The new Epson Stylus CX5000 and CX6000, priced respectively at $99.99 and $149.99 (estimated street prices), provide versatile office and home printing solutions that can be used for everyday printing and a wide range of color and photo projects. "When it comes to choosing an all-in-one for your home or small office that gives you the most ideal combination of performance, quality, ease-of-use, and affordability, nothing beats an Epson—the brand overwhelmingly preferred by professional photographers," said R. Craig Allen, product manager, consumer ink jet printers, Epson. "Offering more than just printing, copying and scanning, these products have aptly earned the nickname 'more-in-ones' because they're packed with more unique features and benefits for end-users than any other all-in-ones at these prices."
Epson "More-in-One" Advantages and Benefits
The new Epson Stylus CX5000 and CX6000 more-in-ones provide users with more of what they want, including:
* Vibrant-looking output for a multitude of home and small office
needs—Epson's exclusive DURABrite® Ultra ink is optimized to
produce vibrant-looking graphics and sharp text for client-ready
documents or long-lasting photos out of the box; print on all supported
media types, including glossy, matte and even plain/recycled paper,
without the need to switch or use specialized cartridges
* Powerful performance to speed through copying and printing—Print up
to 27 pages per minute in black and color and copy at up to 26 copies
per minute in black and color(1)
* PC-Free copying and printing convenience—Convenient one-touch
copying with auto reduction and enlargement makes it easy to copy
important black and white or color documents and high-quality photos
quickly; also print in multiple sizes and paper types without a
computer using high-speed built-in card slots and easy-to-use control
panels
* Scanning capability for documents, records and images—Scan graphics,
text and images quickly and easily with 48-bit, 1200 x 2400 dpi
resolution for vivid reprints and enlargements; restore the color of
faded photos back to their original brilliance with Epson's innovative
Easy Photo Fix® software
* Pigment ink gives flexibility to conquer all projects—Epson's
revolutionary DURABrite Ultra ink is water, smudge and fade-resistant,
and dries instantly, making it great for double-sided printing tasks,
and long-lasting photos
* Home office convenience and control—Individual ink cartridges can be
replaced as needed; plus, innovative Epson technology extends black ink
printing when the cartridge is running low, giving users the option to
continue printing black text using a combination of color inks—a
life saver when you're on deadline or stores are closed
* Frame-ready photo printing—Deliver BorderFree® photos in popular,
frame-ready sizes such as 4"x 6", 5"x 7", 8"x 10", and letter with no
perforations or edges to trim; print a BorderFree 4"x 6" photo in as
fast as 28 seconds(1)
More About the Epson Stylus CX5000
The Epson Stylus CX5000 is designed to be the most value-packed more-in-one on the market for less than $100, delivering brilliant photos, professional presentations and high-quality everyday documents. Users can easily print high-quality photos from memory cards, PictBridge-enabled cameras or phones without a computer by using an index sheet to select the images, as well as the number of copies.
More About the Epson Stylus CX6000
The Epson Stylus CX6000 is the step-up model from the Epson Stylus CX5000, featuring a built-in, 2-inch color display to view, enhance and select photos from memory cards, PictBridge-enabled cameras and mobile phones all without a computer. In addition, the Epson Stylus CX6000 even restores the color of old, faded photos back to their original brilliance for beautiful reprints and enlargements without a computer. This versatile performer is an ideal solution for everyday printing, scanning, copying, and more.
Availability and Support
The Epson Stylus CX5000 and CX6000 are Windows and Macintosh compatible and will be available in September in major computer, office, mass merchant, and electronic superstores, a variety of retail stores nationwide and can also be purchased through mail order, PC manufacturers, the Internet and Epson's own retail site, http://www.epsonstore.com/. Both models are backed by the one-year Epson Limited Warranty and are supported by the EPSON Connection(SM), a customer support and technical assistance line. For more information about Epson and its products, call 1-800-GO-EPSON (1-800-463-7766) or visit the Epson Web site at http://www.epson.com/.
About Epson
Epson offers an extensive array of award-winning image capture and image output products for the consumer, business, photography, and graphic arts markets. The company is also a leading supplier of value-added point-of-sale (POS) printers and transaction terminals for the retail market. Founded in 1975, Epson America, Inc. is the U.S. affiliate of Japan-based Seiko Epson Corporation, a global manufacturer and supplier of high-quality technology products that meet customer demands for increased functionality, compactness, systems integration and energy efficiency. Epson America, Inc. is headquartered in Long Beach, Calif.
Note: Specifications subject to change. Epson, Epson Stylus, DURABrite, and Easy Photo Fix are registered trademarks of Seiko Epson Corporation. BorderFree is a registered trademark, More-in-One is a trademark and Epson Connection is a service mark of Epson America, Inc. All other products and brand names are trademarks and/or registered trademarks of their respective companies. Epson disclaims any and all rights in these marks.
(1) Pages/copies per minute speed measured after first page, based on
black and color text patterns in Draft Mode on plain paper. Color
photo in Draft Mode on Premium Photo Paper Glossy measured from start
of paper feed. Additional print time will vary based on system
configuration, software application and page complexity. See
http://www.epson.com/printspeed for more information about print speed.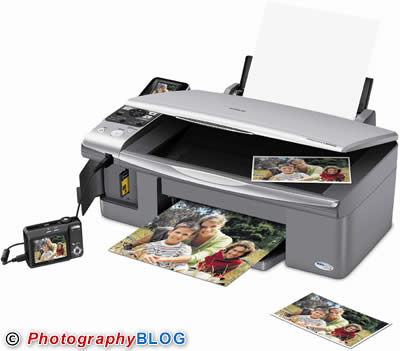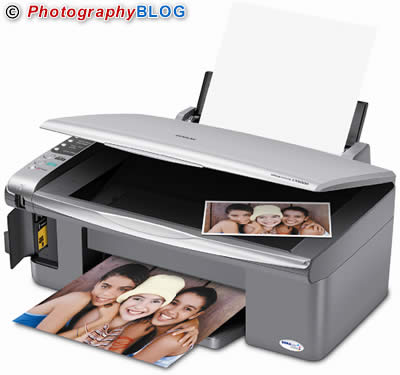 Published: Tuesday, August 29, 2006
Compare Prices
Support PhotographyBLOG: Buy this product from one of our affiliate retailers (US first/red, UK second/blue):
Reader Comments
super small ink carts will run out befor you
need to add paper. This machine will cost
double the amount of an older Epson 4 cart
machine, maybe 3 times as much.

Jim Anderson at 04:41am on Wednesday, November 29, 2006

Ran out of ink before I could blink - BAD PRINTER - AVOID LIKE THE PLAGUE!!

James Johnson at 07:00pm on Tuesday, May 22, 2007

I've never owned an Epson printer I didn't like - until this one. On the positive side, the features and performance strikes a nice balance for the reasonable price this unit costs. Print quality is excellent, as one would expect from an Epson printer.

But there is the dreaded ink consumption issue that kills this model. Mine is setting in the garage, second set of cartridges empty, with a page count of around 25.

I keep reading that Epson has dealt with the ink reading issue, which appears to be the real problem - but my experience has not shown that to be reality. I recommend that if you do opt to purchase this model, do so locally where you can exchange for another model if you run into this ink issue.

Alan Maier at 03:30pm on Tuesday, September 11, 2007

Worst Printer Ever.

Taiyo at 06:06pm on Wednesday, June 04, 2008

Lasted for one ink cartridge, Refills show up as empty after running a cleaning cycle, of course impossible to print with. My First epson printer since the C82 which was also a total disaster.

I have a good epson photoscanner, but don't feel they have made a printer since they stopped making DOT Matrix 500 more than 20 years ago.
Their reliability is even worse than Brother. Am now stuck buying Canons, as I will not touch these epsons, with overpriced inks, that don't even working through a ream of paper before breakdown... totally the pits... sorry epson, no more business from me.

Ty Enright at 07:22pm on Thursday, June 19, 2008

Horrible printes. Total disaster. No print in black with a color cartridge empty.

Abnel at 03:24am on Friday, October 03, 2008

1. Slow printer
2. Overpriced ink, runs out fast.
3. Slow Cheap Scanner.
4. Always jams.
People who designed this printer should
suffer bad karma.

Joe Gonzalez at 10:41pm on Monday, March 16, 2009

If this Epson CX6000 prints 27 pages per minute then the world must be flat not round. How about one page per minute. Never again will I buy an Epson printer.

G Keener at 06:37am on Tuesday, December 21, 2010
Commenting is not available in this channel entry.