Epson Stylus Photo R360 and Epson Stylus Photo R265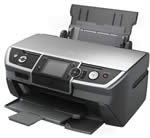 Epson UK Press Release
The Epson Stylus Photo R360 and Epson Stylus Photo R265 are Epson's latest A4 photo printers, featuring a new dye ink formulation – Claria Photographic Ink for high quality, low cost printing. It also includes PhotoEnhance, the photo expert inside your printer and Advanced Variable Sized Droplet technology for smooth tones and fast print speeds. Both printers are ideal for any home where superior print quality is required.
5th September 2006 – Epson features its latest ink technology innovation - Claria Photographic Ink, for superior photo quality, in its two new 6-colour photo printers. The Epson R360 and Epson R265 also feature Epson PhotoEnhance technology, a photo expert inside your printer that ensures you produce bright and vibrant photos every time. As with all of Epson's new consumer printer range for 2006, both new models also offer cost-effective printing with individual ink cartridges from only £6.99 each. You only need to replace the colour you have used. You won't have to wait long for your photos either as you can print a 10x15cm photo in just 13 seconds.
The Stylus Photo R360 allows you to print, edit, crop and remove red-eye from your photos without a computer. Simply insert your digital camera memory card and preview your photos from the colour 3.5" viewer. It is ideal for those ready to experiment with their digital photos. The Stylus Photo R265 includes Epson Easy Photo Print, making it easy for you to edit and print your photos from your computer. It is ideal for those new to the photo printing experience.
Epson Claria ink technology has been specifically formulated for photographic printing. When combined with Epson glossy photo paper, it delivers superior quality, glossy prints with the highest levels of durability. The six colour inkset includes; cyan, magenta, yellow, black, light cyan and light magenta. It offers 200 years durability in album storage, so your family photos can be shared for many generations to come. Claria ink is available in individual cartridges from only £6.99 each for cost effective photo printing.
With Epson PhotoEnhance technology, images featuring skin tones, landscapes and skylines are detected automatically and reproduced with enhanced colour settings to improve the overall tones and contrasts. It is particularly useful when the subject in your photo is darkened by shadow. You don't need to be an expert in software manipulation to get the best out of your photos.
The Stylus Photo R360 and R265 feature the latest in Epson's Advanced Variable Sized Droplet Technology (Advanced VSDT). With five different droplet sizes the printers can use the smallest droplet of 1.5pl for areas where fine detail is required and larger droplets where there are blocks of colour in your image. As well as allowing Epson to provide fast printing speeds, Advanced VSDT works in harmony with the Epson Micro Piezo™ print head to produce premium quality photos with smooth gradations and tonality.
Printing your photos from your computer is simple with the Epson Easy Photo Print software. Available in both printers, it enables you to further improve your photos using the crop and red-eye removal features.
You can get creative with your Stylus Photo R360 and R265 thanks to a range of additional printing features, for example, print directly onto inkjet printable CDs or DVDs to personalise your digital albums for gifts or storage. You can also experiment with a variety of presentation formats. Choose from colour, black and white or sepia photos, or insert a fun-frame to your image. If you want to make something more artistic, select the poster printing option, which adds a 'tile' effect to your photos. Flexible printing options and a range of compatible Epson glossy photo paper enables you to print your photos in a range of sizes, including 10x15cm (4"x6"), 13x18cm (5"x7") and A4.
Martin Godfrey, Product Marketing Manager, at Epson UK says, "Epson has become renowned for its photo printing technology and Claria Photographic Ink, our latest innovation in ink technology, marks a new milestone in home photo printing. The Stylus Photo R360 and R265 are premium quality, cost-effective photo printers for the home, ideal for those who want to upgrade their existing photo printer or for those who are starting their home photo printing journey. Both are packed with features to ensure they are easy to use and make the process of collecting photos of special events fun for all the family."
Epson Stylus Photo R360 and Stylus Photo R265 key features summary:
Low cost printing with individual ink cartridges from only £6.99
More Value Multipack available
Exclusive Epson Claira Photographic Ink System
6 Colour for Premium quality photo prints
CD/DVD Printing functionality
Print photos direct from PictBridge
Borderless photos up to A4 size
Your photos will last 200 years1 in your album
Achieve premium quality prints every time with Epson PhotoEnhance technology
Print your photos quickly - a10x15cm in 13 seconds (draft), 31 seconds (default), up to 30 pages per minute text printing (A4 black or colour)
Achieve vivid, life-like images with 5760x1440dpi
Creative printing with Epson Easy PhotoPrint
Stylus Photo R265 RRP £89.99 including tax
Epson Stylus Photo R360 additional features summary:
Preview your photos from the colour 3.5inch LCD viewer
Print, edit, remove red-eye, add fun-frames and crop your photos direct from your digital camera, no need for a computer
Direct connection with CD/DVD drive
Print direct from your mobile phone with an optional Bluetooth® adapter Compatible with all leading digital camera memory cards
Stylus Photo R360 RRP £149.99 including tax – available from October 2006
Preservation condition: Print stored in an album
Temperature: 23?
Humidity: 50%RH
Paper type: EPSON Premium Glossy Photo Paper or EPSON Premium Semi-gloss
Photo Paper
About Epson
Epson is a global leader in imaging products including printers, 3LCD projectors and small- and medium-sized LCDs. With an innovative and creative culture, Epson is dedicated to exceeding the vision and expectations of customers worldwide with products known for their superior quality, functionality, compactness and energy efficiency. Epson is a network of 90,701 employees in 120 companies around the world, and is proud of its ongoing contributions to the global environment and to the communities in which it is located. Led by the Japan-based Seiko Epson Corp., the Group had consolidated sales of 1549.5 billion yen in fiscal 2005.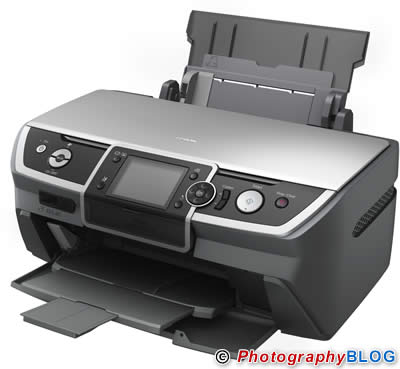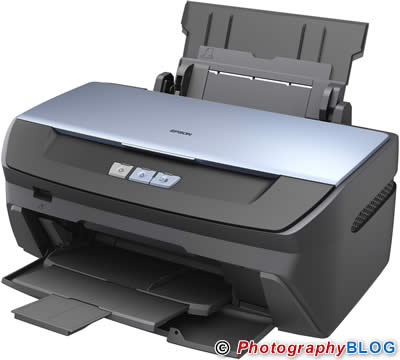 Published: Tuesday, September 05, 2006
Compare Prices
Support PhotographyBLOG: Buy this product from one of our affiliate retailers (US first/red, UK second/blue):
Reader Comments
A pile of rubbish, at first it was fine, but once it cam to changing cartridges its a pain. For example i had to change the magenta and then had to waste several sheets of paper to get the red hues down in the photos as everything was coming out pink.

Rik Bailey at 12:58pm on Sunday, January 28, 2007

What a load of garbage. I have just installed 3 new carts and two days later it's saying that two are empty! I have printed out 2 CVs since the carts went in! Epson customer support are useless.

Paul Mathias at 06:30pm on Tuesday, July 10, 2007

if you do not use genuine Epsom ink and paper the photo results are tinted. so in the end the cost of running the R360 is costly.i got far more pleasing picture results using my old Epsom c44ux using bog standard ink and paper i got from a car boot sale.

frank berridge at 11:04pm on Monday, August 06, 2007

Pile of junk, the worst model they've ever made, it eats cartridges. Results are nowhere near as good as the R300. If Epson management or alleged support department read this, you have lost a customer after many years of buying your products. When the present set of inks are finished the machine goes to the tip and I go for another manufacturer, anyone with no connections to Epson.

Rog. Hodgson at 11:07pm on Friday, November 09, 2007

Does anyone actually know approx how many A4 sheets the printer does using one set of cartradges?

Carly Elwell at 09:59pm on Monday, December 10, 2007

I have just bought the 360 and the photos are excellent quality. Yes it does seem to drink the ink fairly rapidly so I have installed a continuous inking system which makes it one hell of a lot cheaper to run.I also find it to be very fast at printing photos. Quality excellent printer

Bill Mills at 08:32am on Tuesday, February 12, 2008

I have found that I cannot use any other type of paper, only Epson Premium range. Does anyone know if there are any other papers out there that work with these printers? Thanks.

David Shortland at 04:40pm on Thursday, May 08, 2008

yer if you go onto http://www.7dayshop.com they are amazing and their standard photo paper works a treat, but i would recommend the matt effect for def beacause the end results are so much better

carly at 06:20pm on Friday, May 09, 2008

The R265 eats up ink and tells me that full cartridges are empty. Cheaper supposedly compatible cartridges do not work, or at least not for very long. Given the above, I have to say that I loathe this printer. I've spent a fortune on ink and have hardly used it. I think I'll swap it for a Canon Pixma 4500.

Alan Goldwater at 01:20pm on Monday, September 15, 2008

changed the light cyan ink cartidge and got an error warning ink cartridges cannot be recongnized make sure ink cartridges are correctly installed.
took out cartridge and replaced it but error warning comes up every time.
Has anyone else had this problim.

H Gilliland at 10:36pm on Monday, March 09, 2009

I can't understand why some folk are experiencing probs with photos on the R360.

I haven't encountered any with mine, using Epson photo paper and ink.

Two years ago I had a C42+ and it produced good photos using Epson ink. When that ink ran out, I started using compatible ink such as Phoenix, Think and JetTec and the photo quality dropped significantly.

Eventually, I kackhandedly busted the C42+ whilst changing the cartridges. The R360 is the replacement in which I use strictly Epson ink.

Anyways, just last week, I came across an old C42UX in a charity shop for £10. It had the feeder-end paper support, mains lead & installation software missing, but the latter can be dowloaded at the Epson site and I already had a spare lead. I inserted JetTec cartridges left over from the one I busted, ran the printer through the built-in maintainence procedure and got the colour quality up to a reasonable level.

Incidently, the 2 Epson cartridges for the C42 series, are prohibitively expensive.

I have just ordered another supply of Jettec cartridges together with 2 sets of cleaning cartridges for both printers.

All in all, I'm pleased with my second-hand buy which serves as a handy little back-up printer too.

Fran at 01:43am on Sunday, December 06, 2009

I nearly forgot!

I used Internet-Ink.co.uk for my printer cleaning fluid. I think they make their own.

I once used Pressit cleaning cartridges on my Epson C42+ to try and get rid of the intermittent banding that kept appearing within the printed text, but it seemed to only work temporarily so maybe it's just as well I busted the damned printer in the end.

Fran at 02:21am on Sunday, December 06, 2009

I got my R360 from CPC and have never had a problem of anything. I have refilled all the inks including light colours never a problem have had it 6 years and it is still as good as at the start. I have used my inks from Kartus Matic bulk.

John at 03:59pm on Monday, November 02, 2015

I would have a look and check out https://www.internet-ink.com they are amazing with the cartridges that are supplied and in combination of photo paper works great. With the printing make sure that you always refresh and print pages weekly to prevent and damage or clogging to your printer. Will save you money long term and a new printer!

Toby at 08:54am on Thursday, November 12, 2015
Commenting is not available in this channel entry.