Epson Stylus Photo RX560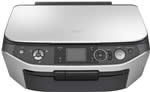 Epson UK Press Release
Epson's Stylus Photo RX560 features Epson's latest innovation, Claria Photographic Ink for high quality, low cost printing and also includes PhotoEnhance, the photo expert inside your printer. It delivers affordable, premium quality print, copy and scan functionality for photo enthusiasts and small office users.
5th September 2006 – Epson launches the Stylus Photo RX560, a six-colour premium quality All-in-One as an addition to its award winning range. It features Epson's new innovative Claria Photographic Ink for superior photo quality; Epson PhotoEnhance technology for bright and vibrant photos and Advanced Variable Sized Droplet technology for smooth tones and fast print speeds. With individual ink cartridges from only £6.99, it offers cost effective printing and copying as you only need to replace the colour you have used, a feature of all Epson consumer printer range for 2006. The RX560 also features an A4 flatbed scanner with optical resolution up to 1200x2400dpi to deliver high-quality scanning and copying.
From the colour 2.5" LCD viewer, users can view photo's on their memory cards. You can also enjoy a wide range of features without switching on your computer, for example, edit, crop, remove red-eye, add fun-frames, scan, print and copy. The Stylus Photo RX560 is ideal in a busy household or small office where premium quality photo printing, copying and scanning are a priority. In addition it is suitable for general text printing needs.
Epson Claria ink technology has been specifically formulated for photographic printing. When combined with Epson glossy photo paper, it delivers superior quality, glossy prints with the highest levels of durability. The six colour inkset includes; cyan, magenta, yellow, black, light cyan and light magenta. It offers 200 years durability in album storage, so your family photos can be shared for many generations to come. Claria ink is available in individual cartridges from only £6.99 each for cost effective photo printing.
With Epson PhotoEnhance technology, images featuring skin tones, landscapes and skylines are detected automatically and reproduced with enhanced colour settings to improve the overall tones and contrasts. It is particularly useful when the subject in your photo is darkened by shadow. You don't need to be an expert in software manipulation to get the best out of your photos.
The Stylus Photo RX560 also features Epson's Advanced Variable Sized Droplet Technology (Advanced VSDT). With five different droplet sizes it uses its smallest droplet of 1.5pl for areas where fine detail is required and larger droplets where there are blocks of colour in your image. As well as allowing Epson to provide fast printing speeds, Advanced VSDT works in harmony with the Epson Micro Piezo™ print head to produce premium quality photos with smooth gradations and tonality. You can print a 10x15cm photo in just 13 seconds and up to 30 pages of text per minute.
The Stylus Photo RX560 is also compatible with PictBridge and USB DIRECT-PRINT™ for convenient, computer-free, photo printing. You can even print directly from your Bluetoothâ mobile phone by using the optional Bluetoothâ adapter.
The versatility of the Stylus Photo RX560 allows you to print directly onto inkjet printable CDs or DVDs to personalise your digital albums. Flexible printing options and a range of compatible Epson glossy photo paper enables you to print your photos in a range of sizes, including 10x15cm (4x6"), 13x18cm (5x7") and A4. You can also get creative with the variety of presentation formats, for example, choose from colour, black and white or sepia photos, or insert a digital photo frame to your image.
Martin Godfrey Product Marketing Manager at Epson UK says, "The Epson Stylus Photo RX560 joins the award winning Epson Stylus Photo RX520 and Stylus Photo RX640 to make up the Epson All-in-One photo centre range. All models offer premium quality, printing, scanning and copying in the home or small office and by offering three models, we are able to give our customers a model to meet their needs, whether it is their first All-in-One printer, they require additional features, or prefer to have a more advanced solution."
Epson Stylus Photo RX560 key feature summary:
Low cost printing with individual ink cartridges from only £6.99
More Value Multipack available
Exclusive Epson Claira Photographic Ink System
6 Colour for Premium quality photo prints
Preview your photos on a 2.5"LCD viewer
Print directly onto your inkjet printable CDs or DVDs
No need for a computer, print directly from your digital camera memory card, PictBridge digital camera or optional Bluetooth adapter
Scan high-quality images and documents with an optical scanning resolution of 1200x2400dpi
Photocopy in black and white, and colour
Borderless photos up to A4 size
Compatible with PictBridge and USB DIRECT-PRINT™ for convenient, computer-free, photo printing
Achieve premium quality prints every time with PhotoEnhance technology
Copy and edit in standalone mode
Print your photos quickly - 10x15cm in 13 seconds (draft), 31 seconds (default), up to 30 pages per minute text printing (A4 black or colour)
Achieve vivid, life-like images with a printing resolution of 5760x1440dpi
Creative printing with Epson Easy Photo Print
Stylus Photo RX560 RRP including VAT £149 – available October 2006
About Epson
Epson is a global leader in imaging products including printers, 3LCD projectors and small- and medium-sized LCDs. With an innovative and creative culture, Epson is dedicated to exceeding the vision and expectations of customers worldwide with products known for their superior quality, functionality, compactness and energy efficiency. Epson is a network of 90,701 employees in 120 companies around the world, and is proud of its ongoing contributions to the global environment and to the communities in which it is located. Led by the Japan-based Seiko Epson Corp., the Group had consolidated sales of 1549.5 billion yen in fiscal 2005.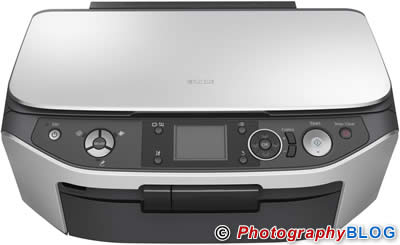 Published: Tuesday, September 05, 2006
Compare Prices
Support PhotographyBLOG: Buy this product from one of our affiliate retailers (US first/red, UK second/blue):
Reader Comments
I see on some sites (Jessops).....

http://tinyurl.com/23n87t

that the RX560 has a built in slide/negative holder for the scanner. However I do not see this on the Epson web site. Can you advise if this printer includes this facility or if the scanner can scan negatives?

Mike Green
Email: .(JavaScript must be enabled to view this email address)

Mike Green at 06:08pm on Sunday, February 11, 2007

epson do not list this as a feature specifiaclly

but it is stated on the left hand side of the page under the picture(bottom bullitin

Alex The Dude at 12:04am on Monday, July 09, 2007

http://www.epson-europe.com/internetLive/dctm/content/EU/en_GB/products/all_in_one_products/EU_product_model_RX560_EN.inter.jsp

the website

Alex The Dude at 12:05am on Monday, July 09, 2007

Am I the only person out there with negative comments about the ink consumption of the Epson Stylus RX560. I purchased mine 3 months ago and I am already on my fouth set of ink cartridges(one original set, one non Epson compatable set & two Epson manufactured sets) I print very few photos (maybe a dozen in 3months) I print on average maybe 6 sheets from internet per day(mainly text). I have spent almost £100 on replacement ink. With my previous Epson printers (Photo Stylus 870 and Colour 440) I spent a lot less than that in a year...
I have two further gripes..A) I can't get it to print in black & White & B)when any one of the colours runs out, the printer suddenly ceases to function. As a result you can't print anything until you have purchased a replacement cartridge. The previous models would still print (albeit very poorly)using the nearest simmilar colour.
I certainly wont be buying another Epson printer when this one gives up the ghost..It seems to be an extreem case of selling the printer cheaply so they can rob the punter blind with ink sales!

R.J.

Ron Johnston at 03:22pm on Friday, August 10, 2007

Epson stylus photo RX 560 is one of the best.
I would like to order a used one. I would like to have a number of them if they are available but in working order. To if RX 575 and 590.
Thanks.
JUstol. Email: justoln2yahoo.com

Justol Joel Ngurukire at 10:37am on Saturday, March 17, 2012
Commenting is not available in this channel entry.