Fujichrome Provia 400X Professional Film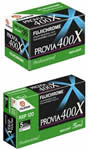 Fujifilm Press Release
New Film Features Improved Color Saturation and Image Stability, Finer Grain
PMA 2006 Booth # 3508 http://www.fujifilm.com/pma
Valhalla, NY, February 14, 2006 - Fuji Photo Film U.S.A., Inc. announces the introduction of Fujichrome Provia 400X Professional film at the PMA 2006 Annual Convention and Trade Show. The new high-speed color reversal film delivers new levels of color saturation, ultra-fine grain, rich tone reproduction and improved color image stability. Fujichrome Provia 400X features Epitaxial Sigma Crystal Technology for ultra-fine grain (RMS: 11) along with new generation couplers and new color correction technology for excellent performance and image stability. The new film will replace Fujichrome Provia 400F, a favorite among professionals for commercial and fashion photography.
"Fujichrome Provia Professional films are highly regarded among professional photographers for their versatility and quality," said Christian Fridholm, Director of Marketing, Professional Films, Fuji Photo Film U.S.A., Inc. "We 're proud to demonstrate our commitment to photographers by delivering technological and performance improvements in our new Fujichrome Provia 400X Professional film."
Features
Fujichrome Provia 400X Professional provides photographers with these outstanding features:
Brilliant color reproduction-Fujichrome Provia 400X Professional provides new levels of color saturation in ISO 400 class films.
Ultra-fine grain-Fujichrome Provia 400X Professional provides exceptionally fine grain for a 400 speed color reversal film (RMS: 11).
Rich tone reproduction-Fujichrome Provia 400X Professional produces smooth and continuous gradation from highlights to shadows, providing pleasing skin tone reproduction.
Improved color image stability-Fujichrome Provia 400X incorporates new-generation color couplers for significantly improved long-term color image stability (anti-fading characteristics) compared to current 400 speed color reversal films.
Technologies
Fujichrome Provia 400X Professional incorporates the following Fujifilm technologies:
ESC (Epitaxial Sigma Crystal) Technology- This technology provides Fujichrome Provia 400X Professional with its ultra -fine grain (RMS: 11) combined with its high sensitivity (ISO 400).
PSHC (Pure, Stable and High-performance dye-forming Coupler) Technology-The new-generation couplers used in Fujichrome Provia 400X Professional provide high color purity, stability and color formation efficiency, resulting in excellent image stability. This technology forms the basis for the high color saturation performance of Provia 400X.
MCCL (Multi-Color Correction Layer) Technology-The multi-color correction layers incorporated in Fujichrome Provia 400X Professional enable natural skin tones suitable for fashion work or portraiture while delivering highly saturated colors.
Fujichrome Provia 400X Professional will be available on an inventory turnover basis beginning late summer 2006.
About Fujifilm
Fuji Photo Film U.S.A., Inc. is a subsidiary of Fuji Photo Film Co., Ltd. and delivers technology solutions to meet the imaging and information needs of retailers, consumers, professionals and business customers. As a global leader in digital imaging, Fujifilm pioneered the development of digital medical systems, and today is the leader in digital minilab systems. The company was ranked number 15 for U.S. patents granted during 2004, employs more than 75,000 people worldwide and in the year ending March 31, 2005, had global revenues of more than $23.6 billion.
In the United States, Fujifilm is a leader in delivering high quality, easy-to-use imaging and information solutions in the following categories: Digital Imaging Systems, Film and Imaging Systems, Recording/Storage Media, Motion Picture Film, Graphic Arts and Printing Systems and Medical Imaging and Diagnostics Systems. Fujifilm is an environmentally friendly, humane enterprise and an exemplary corporate citizen.
For more information on Fujifilm products, consumers can call 800-800-FUJI or access the Fujifilm USA Web site at http://www.fujifilm.com.
Consumers also can receive news and information direct from Fujifilm USA via RSS. Subscription is free at http://www.fujifilm.com/rss.
Published: Sunday, February 19, 2006
Compare Prices
Support PhotographyBLOG: Buy this product from one of our affiliate retailers (US first/red, UK second/blue):
Reader Comments
W00T!

AJUK at 12:01pm on Sunday, December 10, 2006
Commenting is not available in this channel entry.