FujiFilm FinePix A700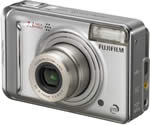 Fujifilm UK Press Release
The Fujifilm A700 is a 7.3 megapixel, user-friendly addition to Fujifilm's respected 'A' range of digital cameras.
Fujifilm today announced the launch of the Fujifilm FinePix A700 - a straightforward compact with user-friendly controls and multiple scene positions for ultimate ease-of-use. The latest addition to Fujifilm's popular 'A' series entry-level cameras, the Fujifilm A700 contains a 3x optical zoom and a powerful Super CCD HR sensor, delivering 7.3 megapixels - providing a robust package, at a reasonable price point, that the whole family can use. The Fujifilm A700 offers a no-nonsense approach to photography, making it ideal for digital camera newcomers, or those keen to maintain high image quality levels without having to deal with the complexity that comes with some of the higher end cameras. The Fujifilm A700 has been designed so that the exterior controls and menus are easy to navigate. In addition, the large 2.4" LCD monitor makes it possible to shoot and review images quickly and easily.
The FinePix A700's acclaimed Super CCD HR sensor delivers a 7.3 megapixel resolution, this means that photos can be enlarged to A4 size and above without loss of image quality or detail. With its 3x optical zoom and a sensitivity rating of 100-400, this new model will never fail to get the shot you're after, with minimum fuss.
With portrait, landscape, sport and night scene position modes users have more versatility with their picture taking. The FinePix A700 is capable of capturing quality pictures in all situations, no matter which family member is behind the controls.
For increased fun and flexibility, the entire family can capture moving images at 10 frames per second, with sound. The FinePix A700 also includes approx. 12 megabytes of internal memory built-in allowing users to record up to seven frames without a media card.
Adrian Clarke, Fujifilm's Director of Photo Products commented, "Fujifilm continues to remain committed to developing entry-level cameras that are affordable but don't compromise on image quality. The FinePix A700 is a great example of combining our expertise with sensor and image processing - a great starter camera for those who want quality not complexity."

Fujifilm FinePix A700 features at a glance:
*7.3 megapixel Super CCD HR sensor
*3x optical zoom
*Large 2.4 inch LCD monitor for easy framing and playback *Automatic ISO setting up to ISO 400 with low noise *Approx.12MB of internal memory *Captures 10 movie frames per second, with sound *Four selectable scene positions (portrait, landscape, sport and night scene)
Availability & pricing
The FinePix A700 will be available from UK retailers in October 2006. Pricing and stockists will be announced nearer to the date of retail launch.*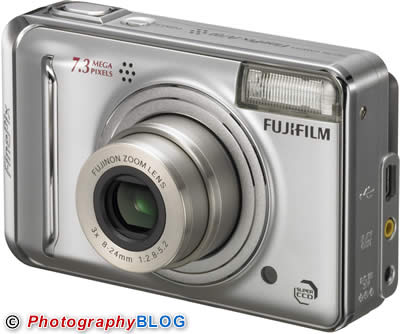 Published: Wednesday, September 13, 2006
Compare Prices
Support PhotographyBLOG: Buy this product from one of our affiliate retailers (US first/red, UK second/blue):
Reader Comments
Commenting is not available in this channel entry.