Fujifilm FinePix F20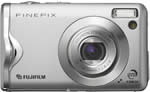 Fujifilm have announced the FinePix F20, a 6 megapixel digital camera with a 3x zoom lens, ISO 2000 and 2.5-inch LCD screen. The Fujifilm F20 will be available in the USA in August for $299.95, in Europe from mid-September for 279 €, and from UK retailers in September 2006 (price TBC).
Fujifilm UK Press Release
Fujifilm today announced the launch of the FinePix F20, an affordable and slimline 6.3 megapixel camera that reflects the company's commitment to producing a wide range of high-end, high sensitivity digital cameras that work in low light. The Fujifilm F20 refines the body shape of the acclaimed FinePix F30. However its convenient, pocketable dimensions do not prevent it from featuring the same powerful sixth generation Super CCD HR sensor and Real Photo Processor II technology as its bigger brother.
Fujifilm's Real Photo Technology cameras are among the only digital compacts to deliver ISO sensitivity of 1600 and above at full resolution. This ensures crisp, clear images that are as close as any digital camera gets to reproducing a scene just as the human eye sees it, even in low light, without the use of flash. The FinePix F20's sensitivity of ISO 100-2000 makes it five times more effective at capturing detailed, natural looking images in low light than a conventional compact with ISO 400. It's a feature that users are coming to expect from high-specification cameras.
The camera also features Fujifilm's Intelligent Flash system. This helps avoid the messy background blur of 'slow-sync' flash as well as the starkness of conventional flash. Instead, the camera automatically sets the power output of the flash to produce balanced images that combine natural foreground illumination with optimum background exposure. It spells the end for bleached-out people and blacked-out backgrounds, and brings greater depth and clarity to twilight hour photography.
In addition, the FinePix F20's innovative 'Natural Light & Flash' Dual Shot mode takes two shots in quick succession, one with flash and one without, before displaying them side by side for instant comparison. It's like a photographic safety net and means the user can be confident of getting a great image for every unexpected, spontaneous moment.
With a 300-shot battery life, 14 scene positions including beach, snow and fireworks, the FinePix F20 is a versatile and dynamic companion that guarantees the user great pictures wherever they take it.
Adrian Clarke, Fujifilm's Director of Photo Products, said, "This new camera reflects Fujifilm's photographic strategy by broadening our range of high-sensitivity digital cameras. Digital photography has moved on from megapixels, and today sensitivity is the key area of advancement. Our cameras are at the vanguard of this movement and the FinePix F20 joins a growing family of models specifically designed to produce pictures just as your eyes see them."
FinePix F20 features at a glance: a glance [to be changed]:
- ISO 2000* sensitivity at full resolution for low-noise photography in all light situations
(*On Anti Blur and Natural Light Mode or ISO 1600 on Auto and Manual Mode)
- Sixth generation Super CCD HR VI sensor delivering 6.3 million effective pixels
- Real Photo Processor II reduces noise and delivers enhanced colour reproduction
- Anti-blur button to set high shutter speed and reduce the risk of blurry images
- Intelligent Flash achieves the optimum combination of high sensitivity and natural skin tones
- 'Natural Light & Flash' Dual Shot mode
- Quick response times 0.01 second shutter lag and 1.4 second start-up
- 3x optical zoom
- Long-life battery (up to 300 shots)
- TV-quality VGA movie recording of 30 frames per second with sound
- PictBridge™ compatible for direct printing without a PC
Accessories
A range of dedicated optional accessories is available for the FinePix F20, including premium leather case. For users who want to travel with their camera, a Fujifilm World Travel Adaptor, for charging abroad, and spare Lithium-ion battery, NP-70, are also available.
The camera comes with software CDs, FinePix Viewer and ImageMixer VCD2 LE for FinePix. Also included are Lithium-ion battery NP-70, AC Power Adaptor AC-5VC, Hand Strap, and USB and A/V cables.
Availability & pricing
The FinePix F20 will be available from UK retailers in September 2006. Pricing and stockists will be announced nearer to the date of retail launch*.
About Fujifilm
Fujifilm is a global leader in imaging technology, products and services including digital cameras, photofinishing, digital storage and recording media, consumer and professional film, motion picture film, professional video, printing systems, medical imaging, office technology, flat panel displays and graphic arts. The company employs more than 73,000 people worldwide, with 178 subsidiaries stretching across four continents.
Uniquely placed to be a market leader in digital imaging, Fujifilm develops and manufactures its own sensors, lenses and processing technology. In addition to its production plants and R&D operations in Japan, the company has key manufacturing facilities in Europe and the USA for core products such as colour film, colour paper, single use cameras and CTP printing plates, and has further factories in Brazil and China. It has a global turnover in excess of £13 billion.
In the UK, Fujifilm has been supplying the imaging, printing and graphics industries, as well as consumers, professional and enthusiast photographers, with high quality, innovative products and services for over 25 years. Fujifilm UK currently employs more than 450 people and has become one of the country's most popular photographic and imaging brands.
© 2006, Fuji Photo Film (UK) Ltd. Specifications are subject to change.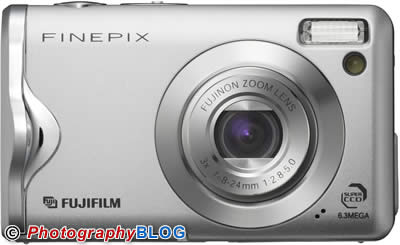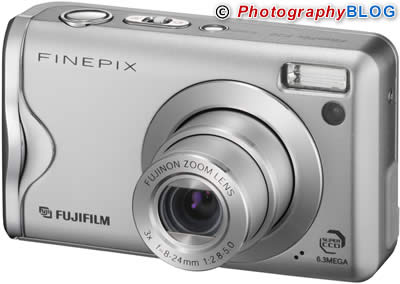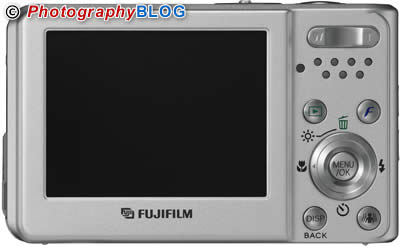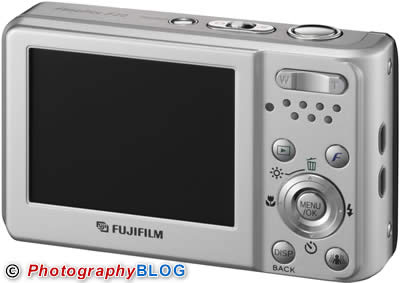 Published: Thursday, July 13, 2006
Compare Prices
Support PhotographyBLOG: Buy this product from one of our affiliate retailers (US first/red, UK second/blue):
Reader Comments
hi i wanted to no does this camera take triple a batteries AAA or double a batteries AA??

Laura at 05:50pm on Sunday, July 01, 2007
Commenting is not available in this channel entry.