Fujifilm FinePix S6000fd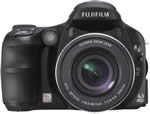 Fujifilm USA have unveiled the FinePix S6000fd, a 6 megapixel digital camera with a 10.7x zoom lens equivalent to 28-300mm. The Fujifilm S6000fd will be available in September for $499.95. The FinePix S6500fd will be available from UK retailers in October 2006, price to be announced, and in Europe from mid-September for 499 €.
Fujifilm USA Press Release
Valhalla, NY, July 12, 2006 - Fujifilm continues to make top-quality picture-taking a snap for consumers with today's introduction of the SLR-styled FinePix S6000fd, the first digital camera in Fujifilm's line-up with the company's new Face Detection Technology. Face Detection Technology operates exactly as its name implies, identifying up to 10 faces in a framed scene. Once faces are identified and prioritized, the 6.3 MegaPixel FinePix S6000fd adjusts its focus and exposure accordingly to ensure the sharpness and clarity of human subjects in the picture, regardless of background. And since it is hardware rather than software based, Fujifilm's Face Detection Technology works in as little as 0.05 seconds, faster than similar in-camera detection systems currently on the market or soon to be available. Quicker operation reduces the likelihood of missed or blurry photos, frustrations often associated with digital photography.
Photokina Update: We now have some product photos live from Photokina 2006 - just click the link below to view them.
Face Detection Technology is the latest addition to Fujifilm's suite of Real Photo Technology digital camera components that work collaboratively on the FinePix S6000fd to produce the best possible photographs. One of those components is i-Flash, the intelligent flash system introduced by Fujifilm earlier this year on the FinePix F30 compact digicam. The system reads scene conditions and adjusts its flash power output and exposure automatically, based on gathered information. The results are backgrounds with finer detail and sharp, accurate subjects without the 'washed out' look that often accompanies flash photography. Together, the Face Detection and i-Flash technologies will produce photographs with prominent subjects exhibiting pleasing, natural tones.
Like the FinePix F30, the FinePix S6000fd has a full-resolution ISO equivalency of 3200, a rarity in consumer-level digicams. Such high light sensitivities allow for faster shutter speeds, which reduce blurring caused by both camera shake and subject movement. This marriage of higher sensitivities with a faster shutter is the basis for Fujifilm's Picture Stabilization, another feature found on the FinePix S6000fd. The easy-to-access feature (selectable on the mode dial) enables the FinePix S6000fd to automatically choose the correct light sensitivity and best-matching shutter speed for the scene.
Other helpful features found on the FinePix S6000fd for top-quality picture-taking include:
* Dual Shot Mode: In this mode the FinePix S6000fd quickly shoots two images in succession—one with and one without the flash—saving both. This convenient function lets the user perform an on-the-spot picture comparison and decide which photo is the most pleasing.
* The FinePix S6000fd is equipped with a 28-300mm Fujinon 10.7X optical zoom lens with full manual control via the lens barrel. This high-quality Fujinon lens configuration offers tremendous flexibility for either zoom or wide- angle shots – almost like having two lenses in one, and without the risk of dust accumulation that comes with having to change lenses.
Due to come to market in September, the FinePix S6000fd will sell at a price of $499.95.
About Fujifilm
Fuji Photo Film U.S.A., Inc. is a subsidiary of Fuji Photo Film Co., Ltd. and delivers technology solutions to meet the imaging and information needs of retailers, consumers, professionals and business customers. As a global leader in digital imaging, Fujifilm pioneered the development of digital medical systems, and today is the leader in digital minilab systems. The company was ranked number 15 for U.S. patents granted during 2004, employs more than 75,000 people worldwide and in the year ending March 31, 2006, had global revenues of more than $22.8 billion.
In the United States, Fujifilm is a leader in delivering high quality, easy-to-use imaging and information solutions in the following categories: Digital Imaging Systems, Film and Imaging Systems, Recording/Storage Media, Motion Picture Film, Graphic Arts and Printing Systems and Medical Imaging and Diagnostics Systems. Fujifilm is an environmentally friendly, humane enterprise and an exemplary corporate citizen.
For more information on Fujifilm products, consumers can call 800-800-FUJI or access the Fujifilm USA Web site at http://www.fujifilmusa.com.
Consumers also can receive news and information direct from Fujifilm USA via RSS. Subscription is free at http://www.fujifilmusa.com/rss.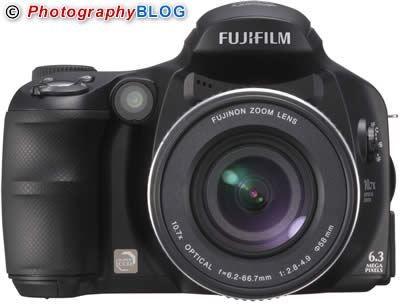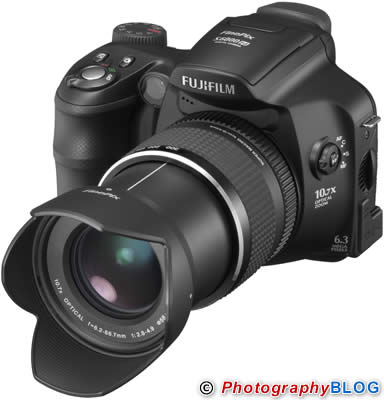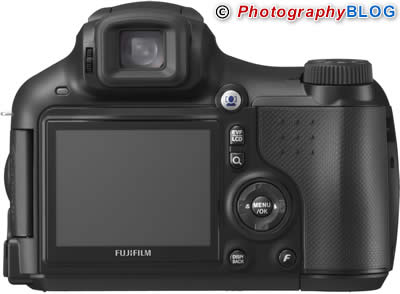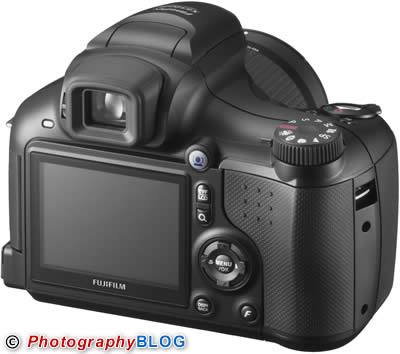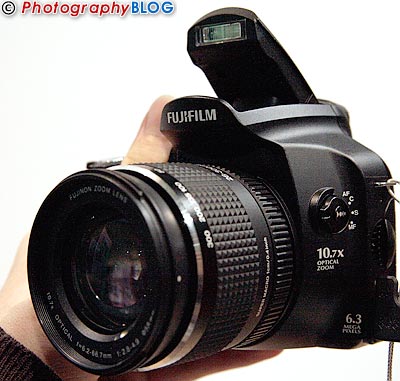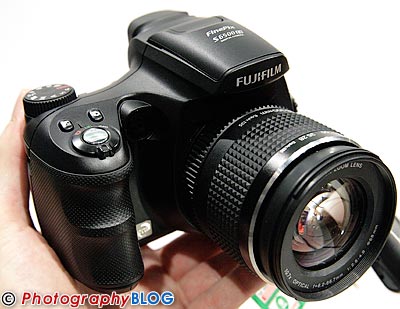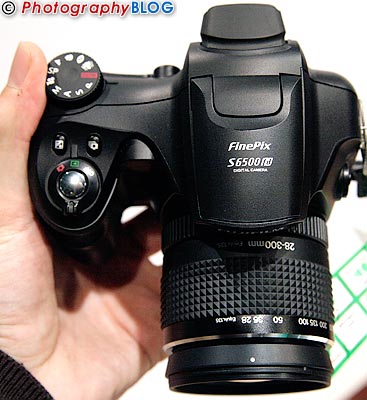 Published: Saturday, September 30, 2006
Compare Prices
Support PhotographyBLOG: Buy this product from one of our affiliate retailers (US first/red, UK second/blue):
Reader Comments
I have my doubts about photographyblog claiming the copyright in all these press images they stamp their (c) on.

Noper at 01:04pm on Thursday, July 13, 2006

Hi Noper.

We add our logo to try and prevent other websites from hotlinking our images. This is when a website links to another site's image and presents it as their own. They not only steal the image, but also use our bandwidth. You wouldn't believe some of the places where our images have appeared...

At least if a site does hotlink our images, their users will see our logo and realise that it is stolen (that's the idea anyway). So we're not claiming copyright of the image, just its publication on this website.

Mark Goldstein at 01:11pm on Thursday, July 13, 2006

You should put a watermark behind or on top of the image (the way other web sites deal with this sort of situation). If you are using a manufacturers image, putting a copyright indicator on a image is not really ethical.

dougB at 09:33pm on Saturday, July 15, 2006

IMHO.. The LAST thing a manufacturer and the consumer wants is a logo/ watermark plastered on top of their product! This blog has the great reputation it has because Mr. Goldstein has the fore-thought to display adverisement pictures PROVIDED by the manufacturer, in a clear and sharp rendering of the product itself! This connot be said for alot of sites that think their logo is more important than the product!
We are not talking about a private image that needs protecting, we are talking about a product ad that is, to the delight of the manufacturer, displayed as much as possible, in a neat, effective way!
Mr. Goldstein was permitted to represent the product, he respects that and copywrites THAT permission in a logical, discreet way.
The only ethics in question here are your attacks on this blog, are there intentions we don't know about?

nick in japan at 11:49pm on Saturday, July 15, 2006

I don't think there was any attack on this website, only because I also
thought it was peculiar that Mark puts his copyright on manufacturers'
images. Now that Mark has explained why, it makes sense. I imagine
he could have put the logo on without the copyright symbol. However,
the copyright symbol probably makes it a better deterrent. I wouldn't
worry about it though. If a manufacturer objects to it, I'm sure they'll
let Mark know.

GARY POGODA at 01:06pm on Sunday, July 16, 2006

Indicating that Mr. Golstein has done something unethical is indeed an attack, maybe not considered as such by the left-coast liberals, but it addresses his character. That charge needs to be addressed, by those that respect Mr. Goldstein.

nick in japan at 05:57am on Monday, July 17, 2006

Give me a break, when you can't really justify something, do you have to resort to name-calling...
Oh yea, I do look forward to seeing this new Fujifilm S6000fd (remember the camera). A 28mm equivalent w/a lens will be greatly appreciated. I think that is what this blog is really about (screw the personalities, just bring on the facts).

dougB at 08:21am on Monday, July 17, 2006

A $500 camera with 6 megapixels and a long zoom but no image stabilisation (other than ISO manipulation), sounds a bit much to me. I suspect people will see DSLRs as much better value in the long run.

Johnead at 11:18am on Friday, July 21, 2006

It can be had for about $330 now and image stabilization is overrated. Proffessional photographers did a great job without it for a long time.

Curtis at 07:08pm on Monday, December 04, 2006

Curtis, Image stabilization, in it's infinite forms, is one of the greatest advancements since the bean-bag and tripod!
Averaging 3+ slower speeds, cameras that have it produce images that could only be gotten with some kind of external support.
Especially appreciated by me for alot of soft, milky white water at my favorite shooting place, and general shooting with the LX-1 and 2, I consider it almost a necessary feature.
Professional photographers used tripods, bean-bags and other means to lessen the effects of vibration before the built-in stabilizers that have appeared only recently en-mass.
Please try a camera with IS, you will be amazed! Alot of missed images are because of IS absent!

nick in japan at 11:30pm on Monday, December 04, 2006
Commenting is not available in this channel entry.