HP Photosmart Pro B9180 Photo Printer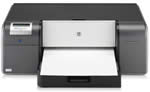 PMA 2006: The HP Photosmart Pro B9180 Photo Printer is announced today. The HP B9180 is an 8 colour, A3+ printer that uses Vivera pigment inks for waterproof photos that resist fading for more than 200 years. The HP B9180 has an estimated street price of $699 (US).
HP Press Release
The HP Photosmart Pro B9180 Photo Printer delivers exceptional image quality and the best photo permanence on the market. HP Vivera pigment ink technology, combined with the printer's professional colors, enables accurate and consistent color reproduction. HP's third-generation gray ink is more neutral than ever before, allowing for exceptionally smooth transitions and detail. Eight individual high-capacity ink cartridges enable high-volume printing with efficient printing speeds – producing 4 x 6-inch photos in as fast as 10 seconds and 13 x 19-inch photos as fast as 1.5 minutes – ideal for professional photographers and advanced amateurs. Users can print exceptional photos on digital fine art media including canvas, photo rag, watercolor, stiff pre-matte and film up to 1.5-mm thick, as well as improved HP Advanced Photo Paper.
Key Features and Benefits
• Eight-color HP Vivera pigment inks produce gallery-quality photos and offer the user excellent image quality, durability and performance on a broad array of media
• Exceptional durability – waterproof photos(1) that resist fading for more than 200 years(2)
• HP Photosmart plug-in for Adobe Photoshop® automatically synchronizes Photoshop and printer driver for single user interface and color management
• Efficiently designed individual ink cartridges allow users to replace only the ink colors used – ideal for high-volume printing
• Fast printing speeds – print 13 x 19-inch photos as fast as 1.5 minutes and 4 x 6-inch photos as fast as 10 seconds
• Closed loop calibration system keeps photo color consistent, print after print
• Electrostatic drop weight detection system automatically compensates for a nozzle not working, alerting you when the printhead needs cleaning or in the unlikely event of it needing to be replaced
Additional Features
• RIP software option provides access to enhanced color management tools for professional printing
• Plug the printer into network using Ethernet port
Technical Specifications
• Photo Pigment 8-color IIT
• 4,800-optimized dpi(3)
• 3.5 x 5-inch up to 13 x 19-inch prints with or without borders
• Supports Adobe RGB and sRGB
Supported Supplies
• Vivera Inks: HP 38 Matte Black Ink Cartridge, HP 38 Photo Black Ink Cartridge, HP
38 Light Gray Black Ink Cartridge, HP 38 Cyan Black Ink Cartridge, HP 38
Magenta Ink Cartridge, HP 38 Yellow Ink Cartridge, HP 38 Light Cyan Ink
Cartridge, HP 38 Light Magenta Ink Cartridge
• Printhead: HP 70 Matte Black & Cyan Printhead, HP 70 Light Cyan/Light Magenta
Printhead, HP 70 Magenta/Yellow Printhead, HP 70 Photo Black/Light Gray
Printhead
• Media: HP Advanced Photo Paper Glossy (B+/A3+, B/A3, 8.5x11/A4, 5x7,
4x6), HP Advanced Photo Paper Soft-gloss (B+/A3+, 8.5x11/A4), HP Photo Paper
Matte (B+/A3+), HP Hahnemühle Smooth Fine Art Paper, 265gsm (B+/A3+), HP
Hahnemühle Watercolor Paper, 210gsm, (B+/A3+), HP Aquarella Art Paper,
240gsm, (B+/A3+), HP Artist Canvas Matte, 350gsm, (B+/A3+)
• Dimensions/Weight
o 26.6-inches (w) x 16.9-inches (d) x 9.2-inches (h)
o 37.7 Lbs.
o Support/Connectivity
o USB 2.0 and Ethernet to PC or Mac
o Microsoft Windows® 2000 Professional, XP Home, XP Professional, XP64; Mac OS X v 10.2 and higher
o HP offers a comprehensive support package for the HP Photosmart Pro B9180 Photo Printer that includes one-year limited hardware warranty backed by HP Customer Care, service and support; one-year technical phone support
Pricing and Availability
Estimated U.S. street price of $699(4)
Expected to be available for purchase May/June 2006 in North America.
(1) Based on HP internal waterproof and water resistance testing with HP Advanced Photo Paper and with other HP-recommended papers. Waterproof feature requires HP Advanced Photo Paper.
(2) Fade results based on preliminary display permanence testing under glass by Wilhelm Imaging Research using HP Advanced Photo Paper, HP Matte Photo Paper, HP Hahnemühle Smooth Fine Art Paper and HP Hahnemühle Watercolor Paper; similar display permanence with and additional HP-recommended papers. Preliminary results, to be updated as test progresses – see wilhelm-research.com.
(3) Up to 4,800 x 1,200-optimized dpi color when printing from a computer and 1,200 dpi input.
(4) Actual price may vary
Published: Saturday, February 25, 2006
Compare Prices
Support PhotographyBLOG: Buy this product from one of our affiliate retailers (US first/red, UK second/blue):
Reader Comments
I produce first day covers - that is illustrated envelopes made with 135gsm paper for new issues of stamps that are issued each month. Will this printer print on DL size envelopes. Thank you for reading this message and replying back to me. If it does then I will be delighted.

Phil Sheridan

Phil Sheridan at 01:52am on Friday, March 31, 2006

This sounds like an awesome printer. However not knowing much about printers, i need to know more. I do photo restoration, and printing photos between wallet size and up to a3 i need something thats going to ensure quality and reliability throughout the range...
Thank you in advance
Tom

Tom at 09:34pm on Saturday, January 06, 2007

I Think the quality of HP Printers are far better than the likes of Epson Canon ect, However the mith of waterproof ink is a mith!
Put any ink under water and the ink will Run!
However the quality of print from HP printers far Better the closest rival.
The only other down fall is the cost per print With the HP Machines.
But On A Genral note very good machine!

Need Cheap Ink Cartridges Visit http://www.inkinablink.co.uk

Luke at 10:31pm on Wednesday, March 28, 2007

Hi Tom i think if you are after a printer that will print up to A3 and provide great quality and a good value cost per print i would recomend Epson Stylus Photo R1800 Photo Inkjet Printer, It costs around £180-£300 depending where you can get it this printer will do everything you need and has a fantastic Grey Scaling and again uses Durabrite Ink this ensures great results every time.

Ps need cheap ink cartidges visit http://www.inkinablink.co.uk

Luke at 10:37pm on Wednesday, March 28, 2007

Sadly I bought this printer. Two months later I am still waiting for the replacement faulty printhead to arrive. HP customer support is abysmal. I did not realise you could get paid to be so incompetent. I will never buy another HP product no matter how glowing the reviews. Expensive lesson learned !

Liz at 06:48pm on Friday, March 28, 2008

So bad... your are right, Liz, about HP customer service. What I have learn : buy anywhere but never from HP.

One more thing : this beast is always very thirsty, and for me ink at $35 for 25ml. is not affordable.

If you'd like replacement ink, go on ebay and search "hp 38 ink refill". This company (Canada) offer a real good replacement ink at a very low cost. After many many tests, on different papers, I will buy only from them from now on.

Chers !

kublix at 02:28am on Sunday, April 20, 2008
Commenting is not available in this channel entry.