Kodak Easyshare V705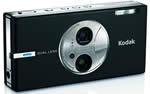 Kodak have announced 4 new cameras today, including the 7 megapixel, dual-lens Kodak Easyshare V705, and 3 C-series models.
The KODAK EASYSHARE V705 camera will be available worldwide in September (RRP £279.99). The KODAK EASYSHARE C875 camera will be available worldwide end of August (RRP £229.99), the C743 will be available end of September (RRP £149.99), and the C433 will be available worldwide beginning mid-September (RRP £89.99).
Kodak UK Press Release
Kodak Announces the World's Smallest Ultra-Wide-Angle Zoom Digital Camera and Additions to the C-Series Line of Digital Cameras - Company Stays on Top with the Launch of Attractive, Feature-Packed Cameras Designed to Unleash Creativity
London, August 8 — In the latest addition to its award-winning EASYSHARE consumer digital photography system, Eastman Kodak Company today announced four new innovative and user-friendly products to the C and V-Series lines of EASYSHARE Digital Cameras. The KODAK EASYSHARE V705 Dual Lens Digital Camera - the world's smallest ultra-wide-angle 7.0 MP 5X optical zoom digital camera - and the KODAK EASYSHARE C875 Zoom Digital Camera, with 8.0 MP, 5X all glass SCHNEIDER-KREUZNACH optical zoom lens, are two impressively designed and unbelievably equipped offerings from Kodak. "As a leader in the digital camera marketplace, Kodak once again surpasses the competition by designing innovative and powerful ultra-compact cameras," said Carolyn Walsh, Product Sales Director Digital, Eastman Kodak Company. "Kodak continues to raise the bar by providing picture takers with the tools to create high-quality photos, enhancing the overall digital photography experience."
Style and Power
The KODAK EASYSHARE V705 camera allows consumers to capture amazingly wide views with the world's smallest ultra-wide-angle optical zoom digital camera. Strengthening its commitment to pushing the boundaries of technology, Kodak designed the V705 to include KODAK RETINA Dual Lens Technology, which touts two 7.0 MP sensors, anti-blur technology and KODAK PERFECT TOUCH Technology. With the V705, consumers can get closer and see the details with 5X optical zoom range, and automatically adjust its setting when choosing from 22 scene and three colour modes. Picture takers can even capture the most expansive shots in just seconds with the panorama stitch mode, capturing up to 180 degrees with only 3 shots.
The powerfully simple video features include the ability to record VGA video (640 x 480) at 30 fps with sound, and convenient on-camera video editing tools, which enable consumers to trim clips and create prints from video (4, 9 or 16 up), plus view and share single frames.
Easy-to-Use and Packed with Innovative Features
The affordable and feature-packed KODAK EASYSHARE C875 Zoom Digital Camera, with 8.0 MP and 5X all glass SCHNEIDER-KREUZNACH optical zoom lens, gets consumers closer to their subject and creates exceptional quality prints up to 76 x 102 cm (30" x 40"). Perfect for the second-time buyer, this unique camera combines a sophisticated design with ease of use and captures stunning shots with the smart scene feature – which automatically selects the best scene mode. Viewing these shots is made easier with its large 6.4 cm (2.5") indoor/outdoor colour display featuring a wide viewing angle.
The camera also boasts KODAK PERFECT TOUCH technology for better, brighter pictures. Picture takers can even capture life in motion with TV quality (VGA) video at 30 fps, and create action prints from video (4, 9 or 16 up), plus view and share single fames while using less memory with MPEG-4 compression.
Additional Introductions
Besides the KODAK EASYSHARE V705 and C875 cameras, Kodak announced today two more additions to the popular EASYSHARE digital camera line - the new KODAK EASYSHARE C743 (3X optical zoom, 7.1 MP) and the KODAK EASYSHARE C433 (3X optical zoom, 4.0 MP) Zoom Digital Cameras. The new C743 and C433 cameras provide remarkable features at reasonable prices, allowing consumers to capture and share quality pictures with family and friends.
About the KODAK EASYSHARE System
Kodak continues to bring groundbreaking features to its award-winning KODAK EASYSHARE digital photography system, enhancing the digital photography experience for consumers worldwide. The EASYSHARE system consists of cameras, snapshot printers, services, docks, software, inkjet and thermal photo papers, and accessories, making taking, sharing and archiving high quality digital pictures effortless. All four cameras being introduced today include the latest Version 6.0 of KODAK EASYSHARE Software featuring an array of enhancements to help consumers find, create and share pictures like never before. Version 6.0 includes a photo card printing feature that turns pictures into invitations, KODAK PERFECT TOUCH technology in home printing, file watch feature that reorganises file systems without losing any pictures, personalised photo backgrounds, and much more. The new KODAK EASYSHARE Software V6.0 can be downloaded for free at http://www.kodak.com/go/easyshare. Further information on KODAK EASYSHARE products is available at http://www.kodak.co.uk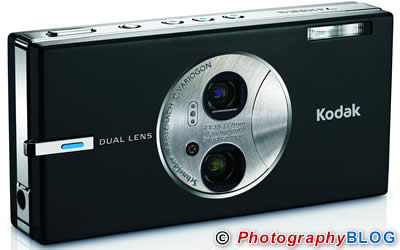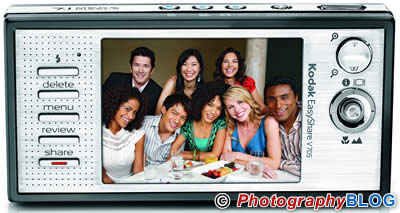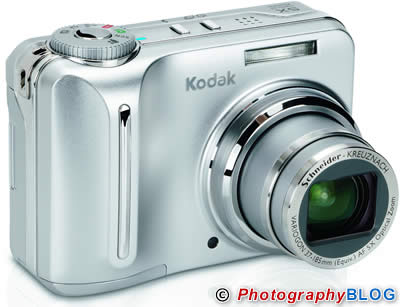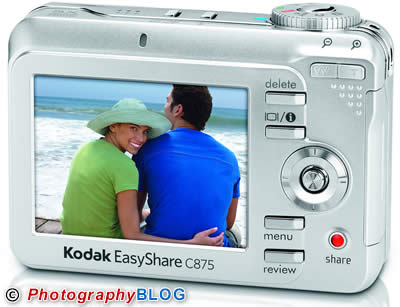 Published: Tuesday, August 08, 2006
Compare Prices
Support PhotographyBLOG: Buy this product from one of our affiliate retailers (US first/red, UK second/blue):
Reader Comments
That V705, retro menu back sucks, very hard to see due to the reflectivity of the silver, and like-controls, I thought a throw-back to the V570 wouldn't happen, suprisingly, it did, BOO! Kodak!

nick in japan at 08:31am on Wednesday, August 09, 2006

Kodak lists an "Anti-Blur" system, as well as an alert for slow shutter speeds. May be an interesting camera IF the anti-blur will give a 3 stop shooting advantage like most other companies systems do. I really like it on the LX-1!
Suprisingly, the V570 does a pretty good job, this may be the step-up some of us have been waiting for because of the delicious wide lens that some of us REALLY appreciate!

nick in japan at 08:03am on Thursday, August 10, 2006

I used the V570 today, needed to charge the battery anyway, reminded of how much fun this slim little beauty is, especially the dock with it's USB , quick transfer to the laptop. I really want to read reviews on this new V705, I can live with the throw-back retro style, and no super zoom, if Kodak can put it all together, and the anti-blur system works well,and the engine is tweaked to get the noise out of those weany 1/2.5 ccds, Kodak will really have a winner, not a weenie!

nick in japan at 07:40am on Saturday, August 12, 2006

Did you read the review of the V610 at DPReview? After reading that,
I'm REALLY glad I opted for the Canon SD 700 IS for my wife.

I wouldn't hold too much hope for the 705 being a huge improvement
over the 570. On the other hand, they did 'reorganize' the three digits
in the model number, and they now have real meaning (7 megapixels
and 5x zoom), unlike the 570, which, with 5 megapixels and '5x' zoom
(5 x 23 = 115 ~ 117) should have been designated the 550, but model
number 550 was already used for the 5 megapixel 3x zoom model?

GARY POGODA at 02:08pm on Saturday, August 12, 2006

As you already know Gary, I get as far as the widest focal length, if it isn't at least 28mm, I usually dont go any farther, I passed on the 610, but, evidently someone else thinks that a wide view is basic to a point/shoot, because of this new model. The Anti-blur is yet to be explained, as is the close look at noise. I'm not so hot on super zooms on point/shoots, so the 610 didn't really excite me, this one MAY do it tho!

nick in japan at 12:52am on Sunday, August 13, 2006

I don't think the anti-blur is anything more than a combination of high
ISOs and fast shutter speeds, which means higher noise, as well. Plus
they probably threw in an anti-blur 'warning' for good measure. :)

GARY POGODA at 03:24pm on Sunday, August 13, 2006

The review said there was the warning too, you are probably correct with the combo thing, otherwise they would have touted an IS system, which they didn't.

nick in japan at 10:13pm on Sunday, August 13, 2006

HI All,

I was looking at the v570, after reading reaviews, two things put me off.

1. There is no gradual steps between 23mm and the 38mmm lens and also it takes upto 2 seconds to switch.

2. While zooming in or out in Movie mode apparently it looses Auto Focus for upto 2 seconds as well.

What I'd like to find out is if the v705 suffers from the same faults.

If the v705 has the smooth zoom from 23-117mm them this is the perfect camera for me.

filter at 06:40pm on Monday, August 14, 2006

We'd all like that feature, but no such luck. :)

GARY POGODA at 08:24pm on Monday, August 14, 2006

The Kodak V570 is NOT the ultimate camera by any stretch! Yes there is a gap, naturally, it has 2 complex lens stacks/sensors to switch to and from! This is a breakthrough camera, and being at this stage of development of sensors, noise is a problem too, as with most other cameras with sensors this size.
I got the camera at a reduced price, that was a factor, but, it has alot more going for it than most folks can't appreciate until they actually experiance using the camera.
There are things I don't like about the camera, average image quality, no IS, and the reflective surface on the back which is annoying in the sun, BUT the 23mm part of the package , ALONE, is worth the cost, the auto stiching of pictures along with the image correction feature, AND, it's thin size are GREAT features. I am a collector, so, this camera falls into the "Collectible" catagory, as far as I'm concerned, due to it's twin lens capabilities.
Stupid me, when my wife went to the Japanese Alps recently, she took the Pentax S6, she should have taken the V570!
I am anxious to see if the new model has improved image quality, and what the anti-blur statement is all about.
I like the twin lens Kodak very much!

nick in japan at 11:22pm on Monday, August 14, 2006

Kodak Easyshare V705 is a danamic digital camera and Easy-to-Use and Packed with Innovative Features.

Kevin Lucas at 12:14pm on Thursday, August 06, 2009
Commenting is not available in this channel entry.