Leica Digilux 3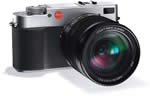 The Leica Digilux 3 is announced today. Essentially a re-badged version of the Panasonic DMC-L1 (with some image processing changes), the Leica Digilux 3 therefore uses the Four Thirds system and is supplied in a kit with the Leica 14-50mm lens.
Leica Press Release
Leica Camera AG, Solms is exhibiting the new LEICA DIGILUX 3 at photokina in Cologne (26th September to 1st October 2006). The LEICA DIGILUX 3 is the first purely digital Leica mirror reflex system camera with exchangeable lenses, thereby opening up a third variety of free-standing camera system under the Leica name. As the first model of the new Leica D system, the LEICA DIGILUX 3 is fitted with a bayonet lens to the FourThirds Standard, the open systems standard for digital mirror reflex cameras. Together with the high-performance LEICA D VARIO–ELMARIT 2.8-3.5/14-50 mm ASPH exchangeable lens with a focal length range of 28 to 100 millimetres for the small picture system, this offers the photographer many possibilities for composition of individual pictures.
An integral picture stabiliser gives the user additional protection against camera shake, even under difficult lighting conditions. In the design and operating concept the LEICA DIGILUX 3 continues the concept of the Leica Digilux series: modern digital technology and an analog operating concept are combined in a classic camera body. The Berlin designer Professor Achim Heine is responsible for the clear modular design of the digital camera. Traditional operating elements such as an exposure ring on the camera and manual setting rings for aperture, zoom and focussing at the lens allow the LEICA DIGILUX 3 to be operated like an analog camera model, thus granting the creative freedom to work in the style of traditional photography.
"The LEICA DIGILUX 3 sets a new standard in the digital mirror reflex camera segment: traditional operating controls and highly modern technical equipment are united with classical values such as precision, outstanding picture quality and a clear formal language; offering in addition the creative freedom of a digital system camera. This makes it the ideal tool for demanding reportage photography" says Marius Eschweiler, Product Manager for digital compact cameras at Leica Camera AG.
The LEICA D VARIO–ELMARIT 2.8-3.5/14-50mm ASPH exchangeable lens comprises 16 lenses including three aspherical lenses in twelve groups. The maximum aperture of 2.8 and the large focal length range from 28 to 100 millimetres in small picture format impose hardly any restrictions on the possibilities for photographic composition. The high-performance optics give impressive reproduction of even the finest details and nuances, with minimal distortion and vignetting even at the shortest focal lengths. Further security for a successful picture is derived from the integral protection against camera shake (O.I.S.), which can be switched on and off at any time. This reliably protects against camera shake in all photographic situations, since small movements of the hand are systematically compensated. Whether at twilight, during indoor shots, for snapshots or in zoom operation – the result is always a sharp picture without the need for a tripod.
"With the LEICA D VARIO–ELMARIT 2.8-3.5/14-50mm ASPH, a wider target group of digital photographers can profit from the unique performance level of Leica lens technology. The combination of the most modern digital technology such as optical picture stabilisation and a quick and precise auto-focus with the well-known outstanding Leica reproduction performance is almost revolutionary" says Marius Eschweiler.
The LEICA DIGILUX 3 is equipped with a 7.5 megapixel LiveMOS sensor for a real-time live photo function, outstanding picture quality and energy-saving operating system. To protect the camera with its exchangeable lenses against the dreaded dirt on the image sensor due to penetration of dirt and dust particles, it is fitted with an ultrasonic protective filter in front of the sensor. The picture signal processor of the LEICA DIGILUX 3 is also improved compared to the preceding model. The interaction of new sensor technology and the new picture signal processor ensure even faster image processing and storage within the camera, which is less of a drain on the rechargeable battery. Thus the LEICA DIGILUX 3 is quick and reliable in use, even in spontaneous moments.
In relation to colour matching, contrast and picture definition, Leica Camera AG has developed its own profile. This is oriented to the picture characteristics that are well known to Leica System Camera customers from their use in combination with professional film materials and specialist development laboratories.
The large 2.5" camera display of the LEICA DIGILUX 3 has a resolution of 207,000 pixels, enabling it to generate an exceptionally brilliant picture, allowing the photographer to make a reliable and exact assessment of the picture composition both when taking the photo and when reviewing it.
The LEICA DIGILUX 3 is characterised by its clear and concentrated design. The straight-line layout and paring down to the essentials show the camera's typical Leica lineage from the classic Leica viewfinder camera. The LEICA DIGILUX 3 offers clear functions and is intuitive and secure in use, thanks to its simple operating concept.
In addition to the optical viewfinder, the LEICA DIGILUX 3 is fitted with a real-time live photo function. This monitor preview permits a complete check on the exposure, white balance and other exposure-relevant parameters, even before taking the picture. In this respect the LEICA DIGILUX 3 occupies a special place amongst digital mirror reflex cameras. It delivers advantages which until now were restricted to compact cameras because of system considerations.
The LEICA DIGILUX 3 is supplied with a 1 GB SD card, a mains battery charger, a powerful rechargeable battery and a comprehensive software package (Adobe Photoshop Elements 4.0 (PC)/3.0 (Mac), Quicktime Movie Player ). Further accessories available include a spare rechargeable battery, a sporty and particularly hard-wearing neoprene case and a Billingham combination case.
Technical data LEICA DIGILUX 3
Camera type: Digital mirror reflex system camera with
exchangeable lenses in FourThirds Standard
Storage media: SD memory card, SDHC memory card, multi-media card
Image sensor size: 17.3 x 13.0 mm
Lens: LEICA D VARIO-ELMARIT 1:2.8-3.5/14-50 mm ASPH.
Aperture: F2.8 [W] - F3.5 [T]
Lens bayonet: FourThirds bayonet
Optical picture stabiliser: Off/ mode 1/ 2 selectable with LEICA DIGILUX 3
Lens structure: 16 elements in 12 groups [2 aspherical lenses]
Focal length [f]: 14 – 50 mm [KB: 28-100 mm]
Smallest aperture: F22
Minimum focus distance: 0.29 m
Filter diameter: 72 mm
Lens length: 10.3 cm
Weight (lens): 486 g
Scope of supply (lens): Lens cover, lens cap, carrying case
Image sensor (type): Live MOS sensor
Pixels, total: 7.9 megapixels
Pixels, effective: 7.5 megapixels
Side ratio: 4:3 (horizontal : vertical)
Colour filter: RGB primary colour filter
Dust protection system: Supersonic wave filter
Recording system
(file format): RAW, JPEG (based on Exif 2.21 standard)
Side ratio: 4:3, 3:2, 16:9 (3:2, 16:9 only in live view mode)
Picture sizes: 4:3 format: 3136 x 2352 pixels, 2560 x 1920 pixels, 2048 x 1536 pixels
3:2 format: 3136 x 2080 pixels, 2560 x 1712 pixels, 2048 x 1360 pixels
16:9 format: 3136 x 1760 pixels, 1920 x 1080 pixels
Colour space: sRGB, Adobe RGB
Viewfinder (type): Optical, mirror reflex
Picture field: approx. 95 percent
Enlargement: approx. 0.93 times
Exit pupil: approx. 18 mm (-1 dioptre)
Dioptre correction: -3.0 ~ +1 dioptres
Adjustment plate: Fixed installation
Mirror: Rapid swing-back mirror
Eyepiece shutter: Detachable
Auto-focus (type): TTL phase contrast metering
Types of focussing: Individual / continuous / manual
Ranging fields: 3 fields
Focus ranging areas selectable: Auto / left field / centre field / right field
AF luminance range: 0-19 LW (ISO 100)
AF auxiliary light: Switchable
Range value memory: AFL / AEL button or gentle pressure on release button in AFS mode
Exposure metering system: TTL open aperture metering
49-field metering (with optical viewfinder)
256-field metering (in live view mode)
Light metering characteristics: Intelligent multi-field / centre-emphasis integral
spot metering
Metering range: 0 – 20 LW with optical viewfinder,
0 – 16 LW in live view mode (with F2.0 lens, ISO 100)
ISO speeds: Auto / 100 / 200 / 400 / 800 / 1600
Exposure correction: ±2 LW in 1/3 LW steps
Exposure value storage: AFL / AEL button or gentle pressure on the release button
Automatic serial exposure: 3 or 5 pictures, ±2 LW in 1/3~1 LW steps
Exposure control (types): Automatic program mode, automatic aperture mode, aperture priority mode, manual tracking metering
White balance (options): Auto / daylight / cloudy weather / shade / halogen / flash / manual 1 + 2, colour temperature setting
White balance fine adjustment: Blue/amber compensation; magenta/green compensation
Colour temperature adjustment
range: 2500K to 10000K in 31 steps
Shutter (type): Focal plane shutter
Exposure time: 1/4000 ~ 60, bulb (up to about 8 minutes)
Auto-release delay time: 10 s / 2 s
Remote release: Cable remote release CR-DC1 (optional)
Serial exposures (picture frequency): 3 or 2 pictures / sec
Number of serial pictures
in a sequence, maximum: 6 pictures (RAW format), unlimited (other formats)
(dependent on memory card, picture resolution,
picture compression, rechargeable battery power)

Flash (control): TTL flash metering
Integral flash: LZ 10 (ISO 100, m) fold out direct / indirect off,
auto, daylight fill-in flash, long time synchronisation,
optionally with red-eye reduction
X synchronisation times: 1/160 s and longer
Flash exposure correction: ±2 LW in 1/3 LW steps
Synchronisation: optionally with 1st or 2nd shutter curtain
Flash shoe: System connection for DMW-FL360 / FL500 (optional)
LC display (type): TFT-LCD
Monitor diagonals: 6.35 cm (2.5")
Resolution: 207,000 pixels
Picture field: approx. 100 percent in live view mode
Depth of focus control: using the stopping down button (only with live view on the monitor)
Menu languages: German, English, French, Italian, Spanish,
Polish, Czech, Hungarian, Japanese
Monitor viewfinder: Shows picture, exposure (with histogram) and white balance before taking the picture
Extended optical zoom: Max. 1.5 times (at reduced resolution)
Digital zoom: 2x / 4x (only in live view mode)
Film mode (colours): Standard / dynamic / natural / soft
Black-white: Standard / dynamic / soft
Reproduction modes: Full picture / 9 or 25 miniature pictures / calendar mode
Zoom (16x max.) / picture rotation (not for RAW)
Diashow (display time variable, also manually controllable)
Favourites function / size recalculation (selectable number of pixels)
Trimming / protection / change of format / DPOF
print settings
Protection: Individual / several, can be removed
Deletion: Individual / several / all
Picture printing: PictBridge (print size, layout, date format selectable
Connections (digital): USB 2.0 (high-speed)
Analog (Video/TV): NTSC / PAL composite (switchable)
Power supply (rechargeable battery): Lithium ion rechargeable battery pack
(7.2 V, 1,500 mAh) (supplied)
Mains / battery charger input 110-240V AC
(supplied)
Rechargeable battery capacity: approx. 450 pictures (CIPA standard)
Dimensions (W x H x T): 145.8 x 86.9 x 80 mm
Weight: approx. 530 g (body)
Operating conditions/
operating temperature: 0 °C to 40 °C
Relative humidity: 10 % to 80 %
Standard accessories (software): Adobe Photoshop Elements 4.0
4.0 (Win) 3.0 (Mac)
Quick Time
USB driver
Scope of supply: Mains battery charger rechargeable battery pack, eyepiece cover, body cover, video cable, USB cable, mains cable, carrying strap, CD-ROM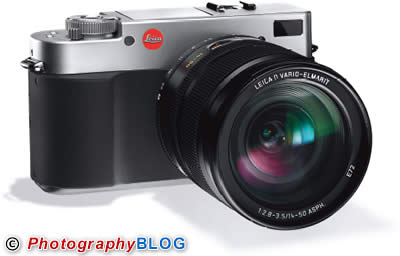 Published: Friday, September 15, 2006
Compare Prices
Support PhotographyBLOG: Buy this product from one of our affiliate retailers (US first/red, UK second/blue):
Reader Comments
Commenting is not available in this channel entry.