Leica M8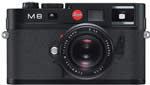 The Leica M8 digital rangefinder camera is announced today. The Leica M8 has a 10 megapixel sensor, focal factor of 1.33x and an ISO range of 160-2500. The LEICA M8 can be used with virtually all lenses in the Leica M range produced since 1954. The LEICA M8 will be available end of November 2006.
Leica Press Release
Leica Camera AG, Solms is exhibiting the new LEICA M8 at photokina in Cologne (26th September to 1st October 2006). The Leica M8 is the first digital camera to use the Leica viewfinder system. All the key characteristics of the analog Leica reporter's camera such as the compact design, the exceptional picture quality in conjunction with the Leica M lenses and the unique picture composition using the Leica viewfinder have been seamlessly carried over into the digital world. This professional-standard digital camera "Made in Germany" uses an image sensor specially developed for the requirements of the Leica M system. Almost all Leica M system lenses made since 1954 are also suitable for digital photography, thanks to their high performance level. The combination of lenses, sensor and high-performance picture editing generates outstanding picture quality with a resolution of 10.3 million pixels.
The new LEICA M8 has a notably low-noise CCD image sensor with a basic speed of ISO 160. The maximum speed of ISO 2500 means the new camera is ideally suited to available light photography, a typical Leica M feature. The LEICA M8 offers the photographer many useful details such as a tone value histogram which permits qualitative exposure control for even the smallest details of the subject in each enlargement section. Thanks to really simple operation with very few controls and clearly laid-out menus, the new camera also demonstrates typically Leica concentration on the essentials.
"The LEICA M8 enriches digital photography with tradition, values and inspiration" says Dr. Ralph Nebe, Sales and Marketing Manager of the Leica Camera Group: "Above all the new LEICA M8 shows that the Leica Camera AG has found its own path straight into the digital world. With enhanced innovative power for digital solutions in both the camera and sport optics product sectors, together with rigorous updating of analog solutions, the company is fit for the future again."
The LEICA M8 will be available in the shops end of November 2006.
Sensor
The notably low-noise CCD image sensor has been rigorously optimised for the special features of the Leica M lens system and offers a resolution of 10.3 million pixels.
CCD technology generates less noise than any other type of sensor and was therefore chosen as the image sensor for the LEICA M8. The speed settings of ISO 160 through to 2500 permit pictures with a greater wealth of detail than can be achieved with analog film.
The special design of the viewfinder camera with no mirror box allows the typically compact and flat shape of the LEICA M to be retained, but leads to a higher angle for entry of light beams into the sensor. Comprehensive measures have been taken so that the picture quality demanded by Leica is nevertheless achieved. The special modification of the image sensor with a micro-lens offset avoids any annoying vignetting in the corners of the picture. A particularly thin cover glass, reduced to only 0.5mm, prevents the usual undesirable refraction of light when light rays strike at an angle. High-contrast, sharp and exactly true colour reproduction right into the corners of the picture is the result of these efforts.
Leica deliberately rejected a Moiré filter, which filters out fine details of the picture, so as to fully exploit the high resolution of the Leica M lens. Any Moiré fringes that occur are instead eliminated during digital signal processing within the camera.
"Whilst a focal length extension factor of 1.5 is normal for many manufacturers, the LEICA M8 uses a CCD image sensor with 18 x 27 mm recording area" says Rainer Bültert, Product Manager for the M System at Leica Camera AG: "The small focal length extension factor of 1.33 enables creative freedom even in digital Leica M photography by using selective image sharpness with an open aperture".

The factor of 1.33 means that the equivalent focal length of the lens is shifted slightly by about one focal length step towards a telescopic focal length. So a 21 mm lens has an equivalent focal length of 28 mm. The lens range of the Leica M system is extended with the introduction of the LEICA M8 by two wide-angle lenses in the range from 16 to 28 mm focal length; these lenses are available for use on both analog and digital cameras. The new lenses are characterised by the typical Leica exceptionally high optical performance, even at fully open aperture.
Lenses
The LEICA M8 can be used with virtually all lenses in the Leica M range produced since 1954. This high system compatibility has been maintained through the changeover in recording technology from film to digital. Even new customers who start with a digital LEICA M8 receive many application options and profit from the high retained value of Leica products. The high mechanical and optical precision of the Leica and the exceptionally good picture capabilities, above all in the current product range, mean that Leica M lenses are ideally suited to digital applications. Performance criteria such as the individual coating of each lens are provided as standard and need not be ordered as special measures for "digital lenses".
With a new 6-bit coding on the bayonet ring, the LEICA M8 can recognise the lens type that is used. This information is used by the camera for additional picture quality improvement by compensating for artificial vignetting. For this purpose the lens type is saved in the Exif picture file. All lenses delivered from the factory since 1st July 2006 have this new coding, but they can also be used without restriction on the current LEICA MP and LEICA M7 analog models, and indeed on all the classic models produced since 1954. Current lens models, and many earlier lens models, can be retrofitted on a chargeable basis so that they can support this picture optimisation feature of the camera. Even without modification, the lenses are fully compatible with the LEICA M8, albeit without supporting the additional features.
Viewfinder
The Leica viewfinder system distinguishes the LEICA M8 from the general run of mirror reflex and compact cameras on the market. It makes the camera into a specialist tool for living reportage and available-light photography, and for discreet portraiture. The photographer is part of the action and the viewfinder is his frame to capture what he is seeking – a scene, a mood, a moment. He also sees what is happening outside the viewfinder frame. The deciding instant can be foreseen and recorded at the right moment. The result is a particularly authentic shot, which contains nothing that betrays the presence of the photographer.
The photographer sees his subject in the lighting conditions as they are, and even in difficult available-light situations the viewfinder's wide range of brightness and contrast allows quick and precise focussing. Together with the short release delay – in digital as well as analog photography – this means that the Leica M cameras have one of the quickest viewfinder operations in the world.
A mirror reflex system must focus through the lens, which determines the accuracy to which it can determine the focal length and light intensity. In contrast, the metering basis for the Leica M is the range finder, whose performance is always the same, irrespective of the lens. Therefore its accuracy at short focal lengths is many times better than mirror reflex systems. The high-contrast metering field in the centre of the image guarantees quick, precise and spot-on focussing even under extremely poor lighting conditions.
The image field selector allows the photographer to simulate the effects of different focal lengths and to determine the correct focal length in advance, without having to change the lens. The six different bright-line frames always show the exact boundaries of the picture, since their position is adjusted by the automatic parallax compensation, depending on the range setting. All other relevant information and the surroundings of the subject can be seen in the bright-line frame viewfinder, for a perfect result – the ideal conditions for spontaneous and unobtrusive photography.
Shutter
The electronically controlled metal blade slot shutter permits exposure times down to 1/8000 of a second. Even under bright lighting conditions the photographer has full freedom of composition by use of selective image sharpness with an open aperture. The short flash synchronisation time of 1/250 of a second now permits even daylight flash pictures with selective sharpness.
Intuitive operation The LEICA M8 guides the photographer's concentration on to the picture, not the operation of the camera. Therefore the creative aspects of aperture, time and focal plane which determine the result of the picture are in foreground. Great care, many years of experience and comprehensive knowledge of how professional photographers work have contributed to the operating concept of the LEICA M8 digital functions. By concentrating on the essentials even here a simple, clear and intuitive user guide has been created: in the LEICA M8, multiple loadings of function keys and nested menus have been deliberately eliminated.
The core controls for operating the digital functions are the direction buttons and rotary setting dial, which in combination allow rapid navigation. By pressing the "Set" button, the picture parameters menu is called up on the 2.5" monitor. Here the principal settings for the picture can quickly be selected: sensor speed, lighting correction, white balance, data compression and picture resolution. Three saved profile slots are available for quickly calling up frequently used and application-specific combinations.
The menu button allows a clear system menu to be called up for selecting the long-term basic settings, such as the ECI RGB, Adobe ® RGB and sRGB colour variants. The photographer can here make his own choice about whether the photographs should be shown for checking on the large display directly after they have been taken, how long they should be displayed and whether he wishes to see a tonal values histogram with that display.
The LEICA M8 has an auto-release function with two selectable delay times of two and twelve seconds.
An information display at the top of the left side of the body shows the remaining capacity of the SD card and the remaining charge of the lithium ion rechargeable battery. These photographically elementary displays can be read at a glance at any time.
Innovative flash technology The modern metal blade slot shutter in the LEICA M8 enables very short flash synchronisation times down to 1/250 of a second. In addition, the LEICA M8 for the first time uses the new M-TTL flash technology. The special feature of this is that immediately before the actual flash illumination, a calibration pre-flash is fired. The TTL metering detects the light reflected from the surface of the subject, and determines the exact power requirement for the main flash. The smooth addition of the flash lighting power to the ambient light allows flash pictures that have the appearance of being under natural lighting.
The "Auto Slow Sync" function permits the use of aperture priority mode in combination with flash technology. This provides a balanced background to the picture, even if the intensity of the continuous lighting changes. To achieve the correct lighting, an appropriately metered brightening flash is used. Depending on the desired effect or experience, varying lengths of lighting time can be set for the aperture priority mode. This can be input manually, or if coded lenses are being used, is can be determined automatically, using the proven rule of thumb "1/focal length = lighting time in seconds".
Checking results using the tonal value histogram As a professional digital camera, the LEICA M8 offers a RGB tonal value histogram. This can be called up at any time for quality assessment of the saved pictures. This function can also be combined with the automatic picture review. Another useful feature is the additional identification of overexposed parts of the picture, by means of a "Clipping Warning". By using sectional enlargement, these two checking tools can be continuously updated and permit quality assessment of even the finest details of a picture. All photographically relevant settings in the picture parameter menu and also other "meta-information" stored with the picture can be displayed as required by pressing the function key. They enable comprehensive checking of the resulting digital picture at time and place it was taken.
Use of raw data in DNG format using Capture One LE software The Capture One LE professional raw data converter ensures that raw data supplied by the CCD sensor and saved in the in the future-proof Adobe® Digital Negative (DNG) format is "developed" in the best possible quality. Together with the Danish software company Phase One, Leica has undertaken thorough camera profiling and adapted the software to suit the requirements. The results are quality-optimised algorithms for digital colour processing, which generate particularly low-noise pictures which at the same time display astonishing picture resolution. The development of the finest tonal value steps from the 16-bit picture delivered by the CCD sensor is comparable to the picture quality achieved by a professional combination of film and specialist laboratory development. The logical, quality-determining functions and the clear user interface allows the user to quickly master the use of Software Capture One LE to create outstanding results.
LEICA DIGITAL CAPTURE
The LEICA M8 is loaded with special software for remote control of the camera for scientific purposes or for use in a photographic studio. This software allows the camera shutter to be released from a computer using the USB connection. The picture data are saved directly on the hard disk. All settings of the picture parameter menu such as the ISO value of the resolution can be sent to the camera by the software.
Materials, machining and dimensions The robust top panel and the solid bottom cover are machined from solid brass blocks using the most modern milling techniques. The enclosed all-metal body is made of a highly stable magnesium alloy for professional use over many years. The rechargeable battery and the SD card slot are well protected from dust and moisture under the bottom cover. The cover effectively prevents inadvertent opening and thus the loss of the rechargeable battery and SD card, even when the camera is used for reportage under tough conditions. This design, proven over decades in the Leica M system, increases the robustness of the camera.
The compact dimensions of the LEICA M8 are138.6mm × 80.2mm × 36.9mm, just a few millimetres larger than the ideal size of the LEICA M7. Apart from a few differences in the controls, such as the absence of the wind-on lever and the rewind button, the front view of the LEICA M8 in is virtually identical to this analog version. The discreet appearance of the camera and the timeless elegance, particularly prized by many customers, are retained.
The assembly and adjustment of the camera, together with the minute checking of all mechanical and electronic details are precision hand-crafted in the Leica factory in Solms. Leica Customer Service maintains and repairs cameras over decades and thus creates the basis for long retention of value. Currently all M cameras produced since 1954 are supported by service in this way.
Cleaning the sensor: The LEICA M8 has a special function for manual cleaning of the image sensor: if the appropriate item in the menu is selected and the release pressed, the shutter remains open for the duration of the cleaning. The flat profile of the Leica M camera means that the sensor is more easily accessible than in a digital mirror reflex camera, where the sensor is accessible only by reaching behind the mirror mounting.
LEICA M8 Technical data
Camera type: Compact digital viewfinder system camera for professional use with Leica M lenses. Microprocessor-controlled metal blade slot shutter.
Image sensor: Low-noise CCD sensor specially optimised for the requirements of the M lens system. Pixels: 10.3 million. Dimensions: 18 mm x 27 mm. Extension factor: 1.33 x. Ratio of sides 3:2. Moiré filter: no, but full exploitation of the lens capabilities by Moiré fringe detection and elimination in the digital signal processing.
Sensor speed range: Manual setting from ISO 160/23° to ISO 2500/35°
Viewfinder
Viewfinder principle: Large bright-line frame viewfinder with automatic parallax compensation. Viewfinder optics with reduced sensitivity to scattered light and optimum visibility of the bright-line frame in all lighting situations
Eyepiece: Matched to –0.5dpt. Correction lenses from –3 to +3 dpt available.
Picture field limitation: By display of two bright-line frames in each case: for 24 and 35 mm, or for 28 and 90 mm, or for 50 and 75 mm. Display selection automatically matches the lens in use.
Picture field selector: Displays pairs of frames manually and simulates any focal length
Parallax compensation: The horizontal and vertical difference between viewfinder and lens is compensated appropriately for the focussing range, i.e. the bright-line frame of the viewfinders automatically covers the subject area as seen from the lens.
Enlargement: 0.68 times (for all lenses).
Size basis Combination of split and superimposed image range finder shown
range finder: as a bright field in the centre of the viewfinder image. Effective measurement basis 47.1 mm (mechanical measurement basis 69.25mm x viewfinder enlargement 0.68 x).
Lenses
Lens connection: Leica M bayonet with additional optical sensing for identification of all 6-bit coded lenses.
Lens system: Current 6-bit coded Leica M lenses of 16 - 90 mm focal length. All Leica M lenses of 21 - 90 mm focal length produced since the year 1954 can be used, even if lacking the 6-bit coding. Virtually all lenses can be retrofitted with 6-bit coding.
6-bit functions: Lens-dependent reduction of edge shadowing originating in the system. Identification of the lens information within the picture file to facilitate digital archiving. Adjustment of the flash reflector when using motor zoom flash devices. Auto slow sync. function in aperture priority mode.

Exposure control
Aperture priority mode Automatic determination of the correct shutter speed with
(Auto): manual aperture pre-selection and corresponding viewfinder display.
Manual exposure control: Free selection of shutter speed and aperture – can be visually checked using the exposure control in the camera by visibly displayed LED light balance in the viewfinder.
Picture modes
S Single picture, pressing the shutter release once per picture
C Continuous succession of pictures with 2 pictures per second and 10 pictures in the sequence.
Auto-release: Selectable with 2sec. and 12sec. delay time – visualisation of the countdown by an LED visible on the front of the camera in the viewfinder window.
Controls / displays
Front of the body: Detachable lenses; field of view selector
Top of the body: Main switch and shutter release; shutter timer selection dial, LCD status display: display of remaining pictures and the remaining rechargeable battery capacity.
Rear of body: 2.5" colour monitor, selector dial for navigation in the menu & magnification function in 4 steps; 4-way direction button for navigation in the menu & in picture details; menu button; play button; delete button; protect button; info button
Underside of body: Lockable bottom cover protects the rechargeable battery and the SD memory card against dust and moisture.
Colour monitor 2.5" large bright LC display with a resolution of about 230,000 pixels for reproduction of the picture and for menu settings. Brightness control in 5 stages. Checking facilities after taking the picture: general quality assessment of the photograph, checking the exposure by means of a RGB tonal value histogram with identification of bright picture details lacking detail (can also be used when zooming in), checking the focal plane, display of the quality parameters used and the lens focal length used (when used with current 6-bit coded lenses)
Picture view sizes: 9 miniatures, 4 miniatures, full picture display and enlargement in four stages up to 100% view (1 sensor pixel = 1 display pixel).
Picture parameter menu – main menu
By pressing the set button, the following parameters relevant to the picture can be selected and changed in the picture parameter menu: user profile, sensor speed, manual exposure correction, white balance, picture data format, picture resolution.
By pressing the menu button, setting such as the colour monitor contrast or the selection of the colour space can be performed in the main menu.
Menu languages: German, English, French, Spanish, Italian, Japanese, Chinese.
Picture resolutions: DNG: 3916 x 2634 pixels (10.31 MP); JPG: 3936 x 2630 pixels (10.35 MP), 2952 x 1972 pixels (5.8 MP), 1968 x 1315 pixels (2.6 MP), 1312 x 876 pixels (1.15 MP).
Data formats: DNG™ (camera manufacturer-independent digital negative format), 2 different heavily compressed JPEG stages
DNG™ file 16-bit colour resolution, 10.2 MByte file size per picture
information:
Memory medium: SD cards up to 4 GByte
Complete list of LEICA M8-compatible SD-memory cards: http://www.leica-camera.de/photography/m_system/m8 (after market launch)

White balance: Automatic, 6 preset values, manual white balance, colour temperature input from 2000K to 13,100K.
Colour spaces: Adobe® RGB, sRGB, ECI RGB.
Viewfinder display: (at the bottom edge of the viewfinder)
LED symbol for flash status, four-digit seven-segment LED display with dots above and below (display brightness is always adjusted for ambient brightness) for: display of the automatically calculated shutter time in aperture priority mode, indication of the use of saved metering values, warning of exposure corrections, warning of when the metering range is overshot or undershot in aperture priority mode and countdown display of shutter times longer than 2 sec., memory capacity warning when the SD card is full.
LED light balance with two triangular and one central circular LED for manual setting of exposures.
Display of: underexposure by at least one aperture stop; underexposure by 1 / 2 aperture stop; correct exposure; overexposure by 1 / 2 aperture stop; overexposure by at least one aperture stop.

The triangular LEDs give the direction of rotation of the aperture setting ring and shutter speed setting dial to adjust the exposure. The LED flashes as a warning that the metering range is overshot or undershot.
Exposure metering: Heavily centre-biased TTL exposure metering with pre-set working aperture.
Metering principle: Light reflected from a white strip in the centre of the metal blade slot shutter.
Metering range: EV0 to EV20 at 20°C room temperature, aperture 1.0 and ISO 160/23°.
Metering cell: Silicon photodiode with collection lens positioned at the centre lower edge of the camera base.
Flash exposure metering / control using M-TTL flash technology
Principle: Using an extremely short calibration pre-flash fired immediately before the picture, the exact power requirement for the main flash is determined.
Connection: M-TTL guide number control with calibration pre-flash via accessory shoe SCA 3502 (version M4) or with Leica flash SF24D
Flash synchronisation time: Quick 1/250 sec. synchronisation permits creative open aperture photography even in bright ambient light.
Manual: Flash synchronisation times from B (bulb) down to 1/250 sec.
Aperture priority mode: Auto Slow Sync: automatic extension of the longest flash lighting time, using the rule of thumb 1/focal length in seconds. (only with 6-bit coded lenses). Choice of long flash synchronisation times up to 1/8 sec. for balanced flash when taking available light pictures in aperture priority mode.
Synchronisation Firing optionally at the 1st or 2nd shutter point (with
flash firing time: appropriate flash device such as the LEICA SF24D or when using the SCA-3502 adapter).
Flash lighting ± 3 1 / 3 EV in 1 / 3 EV stages adjustable at the SCA-3501/3502
correction: adapter. Settable at the LEICA SF 24D ± 3EV in 1 / 3 EV stages, or from 0 to –3 EV in 1EV stages when using computer
control.

Shutter and shutter release
Shutter: Microprocessor-controlled metal blade slot shutter with vertical action
Shutter times: In aperture priority mode (A) steplessly adjustable from 32 s down to 1/8000 s. With manual setting from 4 s down to 1/8000 s in half steps. B for long exposures of any length.
Activation: Shutter activation optimised for minimum noise development. Electric motor drive with friction wheel in the first speed build-up stage and a cam disc for homogeneous torque throughout the activation process.
Release: Three-stage activation governed by how far the release is depressed: 1. Switch the camera electronics on & activate the exposure metering - 2. Save metered value (in aperture priority mode) – 3. Release (includes a standard thread for cable release)
Power supply: Lithium ion rechargeable battery with a nominal voltage of 3.7 V and a capacity of 1900mAh.
Interface: 5-pin standard mini-USB socket on the left side of the body, for quick USB 2.0 data transfer to a computer. LEICA DIGITAL CAPTURE allows the camera to be controlled by software via the USB 2.0 connection.
Camera body
Material: Enclosed all-metal body of highly stable magnesium alloy for professional use over many years. Black synthetic leather coating. Top panel and bottom cover are milled from solid brass and are silver or black chromium plated.
Tripod thread: DIN4503 - A1/4 (1/4") in the centre of the bottom cover.
Size (B x H x T): 138.6 mm x 80.2 mm x 36.9 mm
Weight without rechargeable battery: approx. 545 gram
Scope of supply: M8 camera (10702 silver or 10701 black), anti-slip carrying strap (14 312), camera cover for M bayonet (14 195), lithium ion rechargeable battery (14 464), battery charger incl. car socket adaptor and 3 mains plug adapters (Euro, UK, USA) (14 463), USB connection cable, user manual, software DVD Capture One LE, software CD with LEICA DIGITAL CAPTURE and user manuals in all languages (PDF); printed user manual for LEICA M8; warranty card for LEICA M8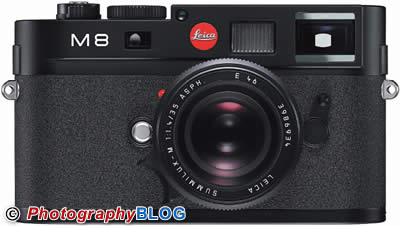 Published: Friday, September 15, 2006
Compare Prices
Support PhotographyBLOG: Buy this product from one of our affiliate retailers (US first/red, UK second/blue):
Reader Comments
I just read that Kodak makes the sensor.

Reading the above Lieca specs and being able to visualize the image of a great digital camera,
the name Kodak doesn't fit in with the specs, at least to me.

Nicholas at 01:11am on Saturday, September 16, 2006

Why not? Kodak is one of the founders of the digital era in photography. They used to make their own professional dSLRs of the highest standard at the time.

Rob at 01:46am on Saturday, September 16, 2006

I am expressing my opinion based on past events:
Olympus dumped Kodak sensors on their 4/3 cameras for a good reason. (my opinion).
If Kodak's sensors were top quality they would still be in the DSLR business. (my opinion).
Lieca is always top quality, (so 'top' quality I could never afford one ). [ everybody's opinion ].
Lieca relying on Kodak seems questionable to me. So much so that perhaps Sony and or Canon
refused to supply Lieca to impede Lieca's entrance on the digital scene with their M cameras. I am just guessing. I wonder why
Lieca would rely on Kodak with these past negative Kodak accomplishments.

Maybe Kodak is ready to deliver quality and they want to be associated with Lieca.

Time will tell.

Nicholas at 12:29pm on Saturday, September 16, 2006

Kodak doesn't make their own dSLRs because they couldn't compete with camera maker companies who specialized in building pro cameras. Kodak, on the other hand, did not focus entirely on that particular field. Kodak invest their resources heavily in R&D of new technologies. To stay financially solvent, they needed to be in a mass-market and not in such a competitive, less predictable and more marketing hungry business as producing professional cameras.

Leica is NOT a competitor for Sony or Canon, especially the "M" series. I think, Leica chose Kodak precisely because their reaserch found out that Kodak's sensors suite them the best from the quality viewpoint, price not being an issue.

Rob at 02:35pm on Saturday, September 16, 2006

P.S. Leica M8 uses a new kind of image sensor with a micro-lens offset. Perhaps that's the main reason Kodak is their supplier...

Rob at 04:27pm on Saturday, September 16, 2006

Im excited to see this camera come out. Ive been waiting for Kodak to use some of all that research and developement.

Arizona Photography at 06:45pm on Saturday, September 16, 2006

Kodak makes the large digital CCD chips for PhaseOne, Imacon/Hasselblad, and Sinar. Dalsa are the only other company currently supplying large chips for medium format digital backs, used in Leaf and JenOptik digital backs. Oddly enough, after Kodak purchased Creo, they aquired Leaf, though still let Leaf run the business.

While this is a smaller size CCD than what they supply PhaseOne or the other companies, it is most comparible to those larger chips. The last two D-SLRs from Kodak (actually three models, if you count the first SLR-14) used a full 24 mm by 36 mm CMOS from a company in Belgium called Fill Factory. Quite likely their D-SLR line was abandoned for two reasons, the first being a lack of top line bodies in which to place the chips and electronics, and the second that they were using a chip from an outside supplier.

Another interesting bit is that PhaseOne helped develop the M8. The previous Digital Module R for Leica R8/R9 use also had a similar Kodak chip, but was developed by Imacon (prior to Shriro/Hasselblad buyout).

I would expect the M8 image quality to be as good, and hopefully slightly better than the Digital Module R. If you can find a copy of Leica Fotographie International from a couple years ago, you can see some nice full page commercially printed image shot using a Digital Module R. Anyone shooting for publication and intended to have full page images printed would do fine with either a Digital Module R or the new M8.

Unless Canon, Sony, Matsushita, or Samsung decide to get into the high end digital back chip making market, the only choices currently in high end chips is Kodak and Dalsa. I am not aware of Dalsa making high end chips near 24 mm by 36 mm, though they did several years ago. All things considered, going the Kodak and PhaseOne route was almost their only choice, and in my opinion probably the best choice they could have made.

Ciao!

Gordon Moat
A G Studio

Gordon Moat at 08:45pm on Saturday, September 16, 2006

Canon and Sony have almost cornered the market on noise performance of 'full frame' ( 35mm)and smaller sensors.
Large sensor technology may not succede in 'full frame' sizes.
Fuji was able to use Nikon mounts, etc. and produces a very respectable DSLR, used by many wedding photogs. Kodak lost this market
mainly due to its selected sensors in their cameras.

Lieca knows quality when it sees it. It also knows it has a 'captured' audience which ons all that great Lieca Glass. By going with Kodak, I suspect Leica traded off some quality on the sensor against their loyal customers to get the camera introduced.

This is strictly my opinion (as sound as it may be (also my opinion).

Nicholas at 01:11am on Sunday, September 17, 2006

I don't think Leica would be willing to trade off any amount of quality for any reason in their 'flagship' line of cameras. They would rather go bankrupt... It took them so long to develop that camera that they must have looked long and hard to find a suitable supplier of the sensors for the M8. Why do you imply that Kodak's image sensor technology is somehow inferior to that of Canon and, especially, Sony?

Rob at 01:36am on Sunday, September 17, 2006

I am not implying anthing.
I stated my opinion rather lucidly.
Thanks for expressing your opinion in response.
Kodak's track record indicates their "image sensor technology is somehow inferior to that of Canon and, especially (your word), Sony"..as you put it.
Have you noted Kodak's ISO/Image size limitations in its Prosumer camera?

Thank you for the exchange of opinions.

Nicholas at 02:08am on Sunday, September 17, 2006

Kodak does not and did not manufacture any "prosumer" cameras. All of them are destined for beginners/amateurs (except those few professional models discontinued few years back). Certainly, you can not compare the quality of sensors (and firmware) in such cameras to those manufactured by Canon for professionals. If any party named by you is "out-of-league", it's got to be Sony but certainly not Kodak.

Rob at 02:52am on Sunday, September 17, 2006

If anyone gets the chance, rent a PhaseOne or Imacon digital back. Then decide if you still think Kodak CCD technology is somehow deficient. I have rented a PhaseOne on Contax 645 several times, and one instance of a Leaf digital back (Dalsa chip). The look of the images from the big Dalsa chip is slightly different than the look of the images from the Kodak chip, both are quite good, and substantialy better than images from a Nikon D2X or Canon 1Ds Mark II.

I have no problem with your opinion, though I find it curious that you would base such views on consumer gear. Sales success rarely ever indicated technological prowess. However, if you prefer Sony or Canon, they have plenty of cameras for you to choose.

What surprises me is that the comments don't discuss much about what the camera would be like to use. I suggest all here check out the latest article from Erwin Puts at http://www.imx.nl> and you will find some comparisons between a Canon 5D and the Leica M8.

Likely there will be many more reviews, especially the highly technical DPReview tests coming up. Part of this is considering technology, but I think one thing that is missed is actually working with such a camera.

Ciao!

Gordon Moat
A G Studio

Gordon Moat at 07:22am on Sunday, September 17, 2006

do you know roughly how luch the leica m8 is going to be?

laa at 03:25pm on Monday, September 18, 2006

Leica is doomed in my opinion and this camera explains why. In the age of (for the most part) mechanical cameras, the Leica build quality had a point. In the age of electronic compoentry, that difference is harder to sell at the price Leica charges. Is this camera really that much superior or different to the Canon, Panasonic and Sony rivals? It's hard to say... I'm sure it's a superb camera, of course.

Johnead at 06:48pm on Monday, September 18, 2006

The camera itself is just half of the story. To understand the appeal of Leica brand you should try it for yourself and see the quality of an image. Nobody makes better lenses than Leica - and that's the second half...

Besides, owning Leica - for many photographers - is just like owning a piece of the history of photography. If not for Leica, photography probably would be nowhere nearly as popular now as it is. Maybe you remember that they were first to manufacture 35 mm cameras, practically starting a revolution in photography when they first put their cameras into hands of masses in the first half of the 20th century. Ever since, they were on the top of the game as far as quality, ruggedness and collectability goes.

They are a very small company and they spend enormous amount of money for R&D, testing, double-testing, triple-testing and then for quality control. It ain't your every-day mass production for people who have no idea that all they are buying is a marketing hype 99% of the time.

Rob at 07:24am on Tuesday, September 19, 2006

The ccd size and pixal range are only as good as the glass in the lense you put on the camera. I would suggest that leica lenses like carl zeiss can greatly increase the sharpness, depth and quality of an image compared with most prosumer lenses shot on the same ccd. It could be that a 10mp image with a leica lense will be of equal quality to a 12-16 mp with canon lense. That's what makes leica special. I use phaseone 22mp and 39mp backs on hasselblad 500 cameras using carl zeiss lenses and my images get blown up to bill boards and have even covered buildings. I use to use Mamiya RZs with the same backs and comparing the resuls the RZ lenses (although good) were noticably softer than the hasselblad and I would have struggled to take the RZ image up to a bill board. I don't think this was that obvious when viewing a tranny through a lupe, digital has allowed us to be more critical.

Matthew Shave at 10:18am on Sunday, September 24, 2006

Leica has traditionally build excellent lenses, and, also, lenses that were not excellent! Justification for buying a camera because of the lens requires research and comparisons.
Many companies build super lenses that exceed even the resolving power of the finest films on the market, ie, velvia.
If Ricoh can put a lens on the GRD that resolves 175 lpm ( Thats double lines per millimeter), I think bragging rights should be given where deserved.
What we need is a comprehensive chart for modern lenses so that we can all see who is producing the finest quality lenses, until then, Leicasonic lenses seem to be as good as all the others, exceeding the capabilities of sensors, probably in all cameras.

nick in japan at 11:41am on Sunday, September 24, 2006

Has any one actually seen any images from this camera? All the talk is pretty speculative until then.
I do appreciate that leica stuff is pretty expensive, and believe me I am not super rich, but by Leica standards this M8 is actually not as expensive as expected. (The module r costs about the same as this complete camera for example).
The real downer for me is that current m lenses (pre July 2006) need a factory modification to work optimally which costs £89 per time.

richard marks at 05:18pm on Wednesday, September 27, 2006

It will be a few months before any reliable information on this camera will be available ...right now it's all speculation. I think that good quality optics are essential regardless of film or digital capture (who cares about high-resolution fuzziness ?), and Leica has always been a leader in optical quality. Their choice of CCD over CMOS is significant and suggests to me that Leica is unwilling to compromise on the image quality side just to allow their marketing people to boast of high res.
This camera will surely carve out a nice place for itself in the market, and will likely not depreciate in value like the current batch of DSLRs.
Expensive you say ? Quality never comes cheaply.

Jerome Chyurlia (amateur) at 05:08pm on Friday, September 29, 2006

Jerome, I agree, Leica doesn't need to boast about image quality, they are too busy figuring out how to copy Panasonic cameras!
You should work for Leica! You have an exceptional take on them!

nick in japan at 11:04pm on Friday, September 29, 2006
Commenting is not available in this channel entry.