Leica V-Lux 1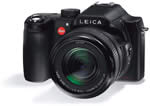 The Leica V-Lux 1 is unveiled today. Essentially a re-badged version of the Panasonic DMC-FZ50 (with some image processing changes), the Leica V-Lux 1 has the same 10 megapixel sensor, 35-420mm lens and optical image stabilizer.
Leica Press Release
Leica Camera AG, Solms is exhibiting the new LEICA V-LUX 1 at photokina in Cologne (26th September to 1st October 2006). The LEICA V-LUX 1 is a digital compact camera which combines high-performance optics and outstanding picture quality in a compact camera body. The camera offers 10 million pixels and a LEICA DC VARIO-ELMARIT 1:2.8-3.7/7.4-88.8 ASPH lens with an extremely wide range of focal lengths from 35 to 420 millimetres, thus commanding universal capability for the small picture system. From spacious landscape shots, filigree macro close-up shots through to photos of far distant objects in super telephoto mode, the lens with its 12 times zoom creates outstanding picture results in all photographic situations.
The integral picture stabiliser gives the user additional protection against camera shake, even under difficult lighting conditions. The LEICA V-LUX 1 has a tilting 2.0" TFT display for optimum picture checking. Thus the photographer is assured of secure control even in difficult situations for photography and gains additional possibilities for picture composition by means of unusual camera perspectives. A variety of manual settings, including a diverse subject program for many photographic situations, round out the creative composition possibilities of the LEICA V-LUX 1.
"The LEICA V-LUX 1 is a real all-rounder for every photographic situation. The camera combines the best features of two different digital camera systems: the capabilities of a mirror reflex camera with the handy size of a compact camera. This makes the LEICA V-LUX 1 a compact all-in-one solution, which loses nothing in picture quality comparison with a digital mirror reflex camera and is superior to it in handiness. The large range of focal lengths offered by the LEICA V-LUX 1 means that fiddly lens changing is eliminated. The camera is thus both flexible and quickly ready for use, the risk of dirt of the sensor is avoided and the scope of photographic equipment is concentrated into a compact and light-weight digital camera" says Marius Eschweiler, Product Manager for digital compact cameras at Leica Camera AG.
The high-performance LEICA DC VARIO-ELMARIT 1:2.8-3.7/7.4-88.8 ASPH zoom lens comprises 14 lenses in 10 groups. With a maximum aperture of 2.8 and the particularly large range of focal lengths, the LEICA V-LUX 1 offers versatile picture composition possibilities for brilliant photos with true-to-life colours. The focussing and zoom ring on the lens is easy to use and permits concentration to be devoted to the subject. The optics are individually matched to the camera sensor. Together with the electronics and the software they enable pictures with natural colour reproduction, excellent sharpness and high brilliance. In relation to colour matching, contrast and picture definition, Leica Camera AG has developed its own profile. This is oriented to the picture characteristics that are well known to Leica System Camera customers from their use in combination with professional film materials and specialist development laboratories.
The 2.0" large camera display of the LEICA V-LUX 1 has a resolution of 207,000 pixels, enabling it to generate an exceptionally brilliant picture, allowing the photographer to make a reliable and exact assessment of the picture composition both when taking the photo and when reviewing it. An additional feature for checking the picture in particularly difficult situations – such as when photographing above your head – is the tiltable TFT display, which can be set to almost any angle. In addition, it creates further possibilities for picture composition by unusual camera perspectives, such as a worm's-eye view. To reduce the load on the rechargeable battery, the display can also be switched to a darker low-energy mode, without having to sacrifice the outstanding picture quality.
Further security for a successful picture is derived from the integral protection against camera shake (O.I.S.), which can be switched on and off at any time. This reliably protects against camera shake in all photographic situations, since small movements of the hand are systematically compensated. Whether at twilight, during indoor shots, for snapshots or in zoom operation – the result is always a sharp picture without the need for a tripod.
The picture signal processor used in the LEICA V-LUX 1 ensures quick picture signal processing and saving within the camera. This allows the LEICA V-LUX 1 to be used quickly, reliably and spontaneously at any moment. The LEICA V-LUX 1 with its wide range of technical features is ideally suited to photographing the world of nature. In super-tele mode its magnification is equivalent to 10 power binoculars. The optical picture stabilisation gives shake-free pictures of the natural world even in poor lighting and extreme conditions. This combined with the quick response time of the shutter are just what are required for a spontaneous picture. The camera is thus an ideal addition to the equipment of naturalists and birdwatchers.
The LEICA V-LUX 1 is supplied with a 512 MB SD card, a battery charger, a powerful rechargeable battery and a comprehensive software package (Adobe Photoshop Elements 4.0 (PC)/3.0 (Mac), Quicktime Movie Player). Further accessories available include a mains adapter (for direct power supply to the camera from the mains), a spare rechargeable battery and two types of high-quality camera case. The sporty Cordura case is particularly hard-wearing, whilst the newly developed neoprene case is both practical and purpose-designed. Both camera cases securely protect the products against damage.
Technical data LEICA V-LUX 1
Image sensor type/format: 1:1.8" CCD sensor with 10.4 million total pixels and 10 million effective pixels
Resolution: In the 4:3 format optionally
3648 x 2736 pixels
2560 x 1920 pixels
2048 x 1536 pixels
or 1600 x 1200 pixels
In the Leica 3:2 format optionally
3600 x 2400 pixels
3248 x 2160 pixels
2560 x 1712 pixels
or 2048 x 1360 pixels

In the 16:9 format optionally
3584 x 2016 pixels
3072 x 1728 pixels
or 1920 x 1080 pixels (equivalent to HDTV standard)

Video recording: In the 4:3 format optionally
848 x 480 pixels 30 pictures/sec 10 pictures/sec
640 x 480 pixels 30 pictures/sec 10 pictures/sec
or 320 x 240 pixels 30 pictures/sec 10 pictures/sec
Limited only by the capacity of the memory card,
recording includes sound
Data recording: File formats standard pictures: RAW, JPEG
(fine/standard), film: QuickTime Motion JPEG
Storage media: SD memory card (also SDH cards) and multi-media card (512 MB SD card included)
Speed setting: Optionally automatic or manual ISO 80, ISO 100,
ISO 200, ISO 400, ISO 800, ISO 1600, ISO 3200 (in high-speed mode)
White balance: Optionally automatic, for daylight, for cloudy weather, shade, halogen light, flash lighting and 2 manual settings, white balance fine adjustment in the range from -1500 to +1500 K in 150 K steps (available even for automatic setting)
Lens: LEICA DC VARIO-ELMARIT 1:2.8-3.7/7.4-88.8 ASPH. (equivalent to 35 to 420 millimetres for the small picture system), 12 x optical zoom, focal length changes by the zoom ring on the lens
Aperture: F2.8 - F11.0 (WW)
F3.7 - F11.0 (tele)
Digital zoom: 4 x
Optical camera shake compensation:2 operating modes: optionally
only for pictures or for
monitor display and pictures

Range setting: Optionally normal: 0.5m (for WW) / 1.2 m (for tele) to infinity, or macro: 0.05 m (for WW) / 0.3 m (for tele) to infinity.
Focussing: Optional auto-focus (optionally entire setting range or
for macro), or manual, settings can be saved.

AF operating modes / range-finding: Optionally 9 areas (overall picture field),
quicker AF with 3 areas (across the middle) or with 1
central area, 1 area, or spot.
Exposure: Exposure metering: optionally multi-field metering, centre-emphasis integral metering, spot metering, setting can be saved
Exposure operating modes: optionally automatic program mode, automatic aperture mode, aperture priority mode and manual mode
Exposure correction: selectable ±2 EV in steps of 1/3 EV
Exposure time range: In fully automatic mode: 1s - 1/2000s, in automatic program mode: 1s - 1/2000s, in automatic aperture mode and aperture priority mode: 8s - 1/2000s,
in manual mode: 60s - 1/2000s.
Flash: Flash operating modes optionally automatic fill-in with or without pre-flash (anti-red-eye), manual fill-in (brightening flash) with or without pre-flash, SLOW for longer exposure times (with pre-flash), flash switched off.
Range (speed on auto):
0.3 – 7m (for WW), 0.3 – 5.3m (for tele).
Flash shoe for external flash devices
Flash lighting correction selectable ±2 EV in steps of 1/3 EV
Subject program: Portrait, sport, night-time landscape, night-time portrait, fireworks, party, snow, self-portrait, meal dishes, high-speed mode, baby 1, baby 2, lovely skin, candle-light, starry sky, landscape
Colour effects: Optionally bluer, redder, B/W or sepia
Monitor/EVF: Tilting 2.0" TFT colour display with 207,000
pixels, electronic viewfinder with 207,000
pixels
Auto-release: Optionally with 2 or 10s delay time
Connections: USB 2.0 full speed, DC in (power supply), and AV out.
Picture properties: Contrast, colour saturation, sharpness and noise suppression are adjustable
Printer compatibility: PictBridge, DPOF
Power supply: Lithium ion rechargeable battery (710 mAh; 7.2 V) or by optional mains / battery charger
Size (WxHxT): 141 mm x 85 mm x 142 mm

Weight: 668g/734 g without / with rechargeable battery, memory card and lens cap
Scope of supply: Camera with lens cap and hand strap,
lens hood, 512 MB SD card, battery charger, lithium-ion rechargeable battery, A/V-cable, USB cable, comprehensive software package (Adobe Photoshop Elements 4.0 (PC)/3.0 (Mac), Quicktime Movie Player).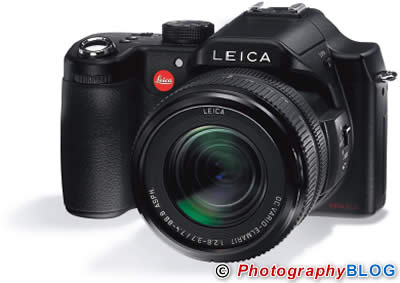 Published: Friday, September 15, 2006
Compare Prices
Support PhotographyBLOG: Buy this product from one of our affiliate retailers (US first/red, UK second/blue):
Reader Comments
SAMPLE IMAGES WOULD HAVE BEEN A WELCOME ADDITION FURTHER TO THE ABOVE - MENTIONED CAMERA SPECIFICATIONS.

CARL HAMILTON at 09:44am on Saturday, October 13, 2007
Commenting is not available in this channel entry.