MINOX DC 1011 Carat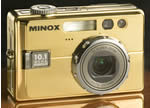 Introducing the new 10 megapixel MINOX DC 1011 Carat: the new gold star in the Minox 'Fashion' collection.
Minox Press Release
A new lifestyle camera of 10-Mega Pixel's from Wetzlar to reflect a new golden age in Digital Compact Cameras. In this case all that glitters is gold, plus diamonds that have created the elegant MINOX DC 1011 Gold. Unique jewellery stirs all kinds of emotions and the gold and diamonds used in this fully working digital camera make it an unusual and even unique piece of camera jewellery. There are 10 genuine diamonds surrounding the lens as a marker of its uniqueness which, coupled with the camera body coated with gold, presents an innovative, powerful digital camera with a magnificent 10 megapixel image resolution. With the new Minox DC 1011 Carat taking digital photographs is an exclusive pleasure that promises brilliant and satisfying images at the same time.
Minox designers have long understood the need to develop unique lifestyle cameras for a demanding market that is always looking for something beyond the norm. After all, the gadget and jewellery market is full of unique and exciting 'lifestyle' product, so today, why not digital cameras. Because of the inside workings of a camera there are a limited number of materials that quality cameras can be manufactured from, gold being one precious metal that suits camera production very well.
Each camera is finished by hand and so could be considered a work of art in camera production. The Minox DC 1011 special edition has a gold plated outer skin of 24 carat gold with ten 2mm diamonds at 0.03 carat each adorning the lens. This very unique look certainly does make the DC 1011 Carat stand out in a crowd. Add the outstanding technical features of the camera and its real value becomes evident.
Very impressive resolution via the fast MINOCTAR lens and integrated picture stabilization which together make photography a satisfying pleasure. The 10 megapixels guarantee that large enlargements or even extreme sectional enlargements in poster-size are a reality.
From auto focus to aperture setting up to white balance, the automation of the camera takes care of all the important settings. If wanted, the user can also take control of all the features and let creativity take its course. Practical, ergonomically-formed features and a logical menu guide complete the well thought-out concept of the MINOX DC 1011 Carat.
The user can always keeps track of settings, subject and image by the generously sized and sharp 2.5 inch TFT color display, which has a special coating for minimizing reflections of direct solar radiation. If the display is not going to be used then an optional optical viewfinder with optical zoom is available. A digital zoom of up to 10.4 can act as a supplement to the triplicate zoom to enhance creativity.
Picture files, optional video clips with VGA-resolution or voice-notes are stored on SD-cards with a capacity of up to 2 GB. In addition the camera is equipped with a memory of 32 Megabyte. With a built-in USB 2.0 port all data quickly can be transferred to a computer. A removable lithium ion battery ensures the power supply. All that you would expect in a 'normal' aluminium body digital camera.
The MINOX DC 1011 Carat is supplied in an elegant wooden box, with an ever-ready case, wrist strap, lithium ion battery, power supply unit, USB- and AV-cable, a manual as well as software for picture preparation on a PC.
Technical Data MINOX DC 1011 Carat
• Image Sensor: 10.1 Mega Pixel. 1/1.7 inch CCD
• Resolution: 3.648 x 2.736 pixels / 2.816 x 2.112 pixels /
2.048 x 1.536 pixels / 640 x 480 (still)
640 x 480 pixels / 25 fps (AVI) (Video-Clip)
• Colour: 24-bit RGB
• Lens: Autofocus MINOCTAR lens
• Aperture: f/2.8 ~ f/4.8
• Focusing range: 5 cm to infinity (Wide Angle)
0.5 m to infinity (Tele)
0.3 m to infinity (Standard)
• Exposure: Auto / Portrait / Landscape / Sports / Movies / SCN
AV /TV / Manual / Program
• Exposure-
correction: -2.0 ~ +2.0 EV (1/3 EV steps)
• Focal length: f/7.5 mm ~ 22.5 mm (corresponds to 35–105mm
with 35 mm format)
• Shutter speed : 1/2 ~ 1/1500 sec
• Zoom: capture mode: 3x optical / up to 10.4x digital
playback mode: 2x, 4x and 8x digital
• White Balance: Auto, Manual: Daylight, Cloudy,
Fluorescent 1, Fluorescent 2, Incandescent
• LCD: 2.5" LTPS-TFT colour-LCD (230K resolution)
• Flash: integrated
• Flash program: Auto, Forced, On/Off, Red-Eye-Reduction,
• Voice record: Voice recordings can be added to every photo
• Self-Timer: 10 sec, 2 sec, 10+2 sec
• File format: JPEG (EXIF 2.2), DCF, DPOF, AVI, TIFF
• Image quality: Fine / Standard / Economy
• Memory: internal memory 32MB, (26MB free for images)
external memory with SD card up to 2GB
• Language English, German, French, Italian, Spanish
• Software: Driver: for PC and Mac
AP: Photo Explorer 8.0 and Photo Express 5.0,
Cool 360 SE
• System Windows 98/98SE/2000/ME/XP;
requirements: Mac OS 9.0 or later version
• Connectors: AC-DC-port, USB-2.0-high speed port
Audio/Video-output (NTSC or PAL)
• Power: rechargeable Li-Ion Battery, AC-DC-Adapter (5 V)
• Dimensions: 91 x 57 x 27 mm
• Weight: approx. 157 g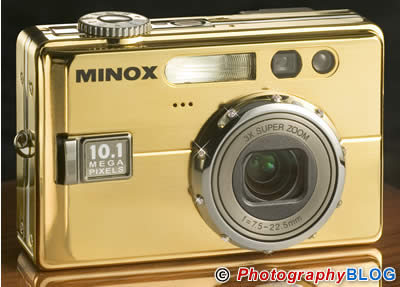 Published: Friday, September 15, 2006
Compare Prices
Support PhotographyBLOG: Buy this product from one of our affiliate retailers (US first/red, UK second/blue):
Reader Comments
Commenting is not available in this channel entry.