Minox DCC Leica M3
Minox Press Release
New edition of the nostalgia digital camera offers top of the range technology and a touch of extravagance
The new Minox DCC Leica M3 digital Classic Camera from MINOX comes in a really stylish format! On the outside it features the miniaturized shell of the legendary Leica M3, designed in great detail, and inside it is packed with innovative technology in the form of a powerful digital camera. A unique harmony of classic design and state-of-the-art features. This new edition of the wee camera is a logical and up to date further development of the previous DCC model, and features a color monitor and a memory card slot, making the miniature camera geared to continue a success story.
With the DCC Leica M3, MINOX GmbH has demonstrated in a most impressive way how a legendary classic camera be revived. It is a highlight in the segment of lifestyle digital cameras and is a milestone which has already acquired cult status in the history of the Wetzlar-based company with its rich tradition. The concept on which this small classic camera is based relays the strong points of MINOX in a concise form: perfect, high-precision miniaturization of top technology combined with a touch of extravagance. Many details designed in metal enhance the form of the DCC Leica M3 most effectively making it a real gem. The State-of-the-art technology and optical systems behind the nostalgic look provide images of a brilliant quality. Functional controls have been discretely integrated in the body, including the 1.5 inch TFT color monitor.

As a supplement to the optical viewfinder the display can optionally help the user compose the subject and provides information on the selected specific camera settings as well as on the number of images. At the same time the digital MINOX Leica M3 is extremely easy to use and therefore excellently suited for those getting started in the world of digital photography. Based on its innovative, striking appearance it's a real eye-catcher and guarantees unlimited photographic fun to people of all ages. In video mode it is possible to shoot film sequences with the wee DCC in AVI format.
With a resolution of up to five mega pixels, the new Digital Classic Camera delivers detailed images with an impressing sharpness. And there's no need to worry about memory space. All data are stored on SD cards with a capacity of up to 2 GB. The engineers at MINOX have been able to integrate a card slot in the small body next to the USB interface for transferring data to the computer. In addition, there is a 32 MB internal memory available for storing files. And for the first time a built-in Li-ion battery provides the camera power supply.
The DCC Leica M3 draws attention wherever it goes and its compact dimensions make it a permanent and attractive companion, ready to capture candid shots and memories of every occasion. It also serves as a reliable digital notebook.
The scope of delivery includes a USB cable, a CD-Rom with software as well as a manual.

Technical Data MINOX Digital Classic Camera Leica M3
• Image sensor: 5,0 MP, CMOS Sensor (3,2 MP Hardware-resolution)
• Image resolution: Still: 2.060 x 1.920 pixels (interpolated) 2.048 x 1.536 Pixel (3,2 MP) Videoclip: 320 x 240 pixels
• Memory: Internal memory 32 MB NAND Flash memory External memory: SD card up to 2 GB
• Image capacity: super/high: Approx. 20 images
Fine/high: approx. 30 images
Fine/low: approx. 50 images
Video: 60 seconds per clip
• Viewfinder: Optical (Galileian-Style)
• Display: 1,5'' TFT LCD display
• Flash: Compatible with MINOX Classic Camera Flash
• Objektiv: 4 elements glass lens with IR filter glass
• Focal length: 8,5 mm (corresponds to approx. 42 mm with 35 mm format)
• Lens aperture: F 3.0
• Zoom: 4x digital zoom
• Focus range: 0,5 m, 1m, infinity
• White balance: Automatic
• Shutter speed: Automatic
• Self-timer: 10 seconds
• Power supply: Rechargeable Lithium-Ion-Battery/USB-cable
• Auto power-off: OFF-Mode after 1 min. inactivity
• File format: Still: JPEG Videoclips: AVI
• Support: Windows 98/SE/ME/2000/XP/Mac kompatibel
• Computer interface: USB-cable
• Dimensions: 74mm(L) x 47mm(W) x 44mm (H)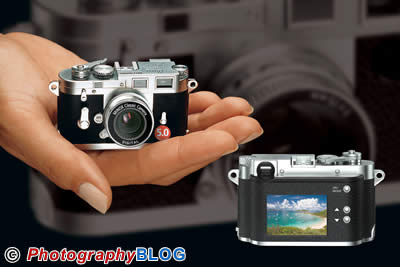 Published: Friday, September 15, 2006
Compare Prices
Support PhotographyBLOG: Buy this product from one of our affiliate retailers (US first/red, UK second/blue):
Reader Comments
I almost wrote "Bling", but, I'm going to reserve comments until we see what the first CMOS in a sub-minature digital camera has to offer. This could very well be the break-through techie stuff, not the body, the sensor!
Should have realized it before this, Minox is the world leader in minature stuff, and if anyone was gonna finally do the CMOS thing, Minox would, anxious to see what evolves!

nick in japan at 07:05am on Friday, September 15, 2006

Oops! almost forgot, Minox, how about giving the folks over at Panasonic a call, there are some folks in the LX Division that need some inspiration, especially if they don't read the Firmware Petition!!

nick in japan at 07:08am on Friday, September 15, 2006

Note the 3mp sensor resolution, and the 5mp is interpolated. Numerous cheap and rubbish digital cameras use CMOS sensors and are generally rubbish compared to even cheap CCD based cameras from Kodak etc. It's cute (and most likely overpriced) but testing on the web of these Minox Leica copys have shown the results to be very poor.

Josh at 10:52am on Friday, September 15, 2006

Josh, interpolation is alive and well, ask Fuji, and Photoshop.
I am not aware of cheap and rubbish cameras that use CMOS, please tell me where they are, and all about them.
Nikon D2h was benchmark for a 4mb CMOS type sensor, I would LOVE to have one! A Pro camera to say the least!
Minox has made spy cameras for years, maybe the farming out of manufacturing hasn't been up to those old standards, I'm not sure about their quality control, maybe you have some inside information for all of us, especially about their CMOS sensor, which is all I'm really interested in!

nick in japan at 11:25am on Friday, September 15, 2006

The use of CMOS sensors in DSLRs do produce excellent results, I agree. But whenever I've seen compact point and shoot digital camera's that use CMOS sensors, the results have always been poor, although there seem to be very few examples on the internet, as the majority are "generic" cameras that are reguarly sold on ebay, and the normal mainstream manufacturers rarely use CMOS sensors in compact cameras. Here are some examples with sample images:

Che'ez FoxZ2 Sample Photos/Review:
http://www.gadgetmadness.com/archives/20040504-cheez_foxz2_review.php
Samples from a Minox Leica M3 2.1
http://www.photo.net/bboard/q-and-a-fetch-msg?msg_id=0052Du
http://www.photo.net/bboard/q-and-a-fetch-msg?msg_id=005ujX

Josh at 01:07pm on Friday, September 15, 2006

Thanks Josh, actually there are factors that are missing here, mainly the size of the CMOS sensor that is used.
Obvious in the generic shots, that an agressive noise reduction was used, and that there is an obvious lens blurring from the edges ( generic camera)
The same question arises for the minox, a micro sensor would naturally produce less than acceptable images, my impression is that a cell phone, or video camera sensor was installed in this/these cameras.
My interest is in a CMOS that is about the size of the LX series Panasonic sensor, in the 16x9 aspect ratio, in a side by side comparison with a CCD, my hopes are that higher quality images could be obtained, to put these compacts at a higher , semi-pro level.
This Minox is the beginning, reviews were not terrible for such a small guy, in fact those close-ups looked pretty good.
With a quality lens attached, and a CMOS type sensor bigger than 1/2.5, I got hopes for something soon.
Thanks for your research, funny , I didn't notice any sensor sizes, did you?

nick in japan at 11:36pm on Friday, September 15, 2006

The Sony R1 seems to be one of the only serious digital cameras (that isn't a DSLR) to use a CMOS sensor (APS-C sized, the same as a lot of DSLRs):
http://www.dpreview.com/reviews/sonydscr1/

Josh at 12:38am on Saturday, September 16, 2006

I have started a blog on VOX about my adventures with my DCC Leica M3 and DCC Leica M3 Plus. There is a link to my Flickr account that has photos I shot with the 4mp version (not very nice at that, color balance problems and exposure problems). I am just getting started with the 5mp but it is looking like a big improvement over the 4mp but still needs some help...it's getting there.

Mark Gilvey at 09:03pm on Monday, August 27, 2007

Lets try this again: here is the URL:
http://myfxjournal.vox.com

Mark Gilvey at 09:13pm on Monday, August 27, 2007

Folks, i´d buyed one last month and after 200 shots, it is A KIND OF LITTLE JEWELL!
I am a serious (not nerd) Photo Enthusiast /Hobbyist and, like the brochure of MINOX Industries GmbH tells:

A DIGITAL NOTEBOOK, yes, indeed!

Simple to use, Eye-catching (superb megamaster eye-catchings!), Piece of LARGE & HUGE Conversation among strangers (thousand of questions will fall hard over you about it) and for a price that the Design deserves it.

Well, I BOUGHT it by the design: With 4.0 Mp AND the design, both makes me very-very happy and satisfied.

It is not a toy, like someone disgusted guy once shouts: It is most a kind of low-tech hiper-portable hardware.

Concernings about CCD do not works fine here for me in this gadget, IMHO: The Minox ´secret´ of cleanest, sharp bright images was this very one: What SEE what you get on the memory after your shot, was travelling light throug... GLASS!!! Five fixed glass elements!

Some of my hundreds shots with mine brand new Minox DCC Digital Classic Camera Leica M3 w/ 4.0 Mp lives together here:
http://www.leicadigital.blogspot.com

Only one weird and unacceptable thing: The LCD duo-digi, works bad with some visual fails, make confusions on settings, maybe Minox will change this 3rd. part piece, please Wetzlar buddies!

My M3 do not beeps, as the manual warns, but I do not care about it, for me is a blessing, I cherish the silence, instead I am a Latin One..

The VC mode for WebCam features is a messy, a confusion among installation, even with the CD on the package (Windows ´Verbotten All´ VISTA?) so, I am trying into downloading the ArcSoft PhotoImpression stuffs, maybe works (FYI, maybe I never uses it as a WebCam).

Because the original one is too expansive, I had made my own CASE with soft pale color nobuk leather and looks Fine, Classy and Nobble. Some folks makes me personal orders of same case, to his Nikons & Canons... :)

This is not a problem but: My wife LOVES it also, so, I am thinking about some Heritage & Heirloom stuffs over this little Jewell in da hauss, maybe in a couple months...

(Sorry about my rude English and sorry my beloved SLR Canon AE-1, now in a kind of permafrost waiting states...)

Christian Steagall-Condé at 01:13am on Sunday, September 23, 2007

Be careful where you buy one of these! I bought one just yesterday as a duty free purchase on a flight coming back from Taipei, via Bangkok, to England. Decent price, £135 ish for what looked like a well made quality minuture digital camera. When I opened the "tin" the camera turned out to be junk, in my opinion. I fear I was sold a copy of the genuine retro-copy featured here. the body was cheap, plastic & very very light. The lens was not the one pictured here - but a cheap plastic one. The cover for the USB cable was nasty, flimsy & didn't fit properly - most of the dials & controls did nothing (perhaps normal?) and the battery was not built in - it was seaprate. It was a £10 toy that I'd be ashamed to use. It was no way anywhere near as good as my current metal Ixus 500. Beware; I think there are some fakes out there. Luckily I complained to cabin crew and got a refund. Phew!

Bill Roughton at 12:18pm on Wednesday, January 16, 2008

Hallo everyone.. I have Minox DCC M3 Leica camera.. but I don't have the CD Driver.. so until know I couldn't import the pictures I shot already. I try to download many driver from their website, but couldn't detect / not giving sign or anything at all..

Anyone's here know how to grab the pictures or do you have the drivers? or if there's anyone willing to share the copy of the CD would be so much helpful..

Thanks.. I appreciated.

briegel at 03:26am on Thursday, December 04, 2014
Commenting is not available in this channel entry.