Panasonic DMC-L1 Digital SLR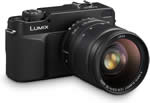 PMA 2006: The Panasonic DMC-L1 digital camera is unveiled today. The 7.5 megapixel Panasonic DMCL1 is based on the Four Thirds system. The DMC L1 has the same Live View feature as the Olympus E-300, which allows you to preview the image on the camera's LCD screen as well as through the viewfinder. There is a new LEICA D VARIO-ELMARIT 14-50mm/F2.8-3.5 lens with an aperture ring. Other features of the Panasonic L1 includes the Supersonic Wave Filter system for dust removal, SD card support and new Venus Engine III processing engine. The DMC-L1 is scheduled for release "later this year".
Panasonic Press Release
A genius in the making – Panasonic announces development of the DMC-L1 Digital SLR
Having announced our entry to the digital SLR market in 2005, Panasonic is pleased to update you on the development of the state-of-the-art Lumix DMC-L1 – our first interchangeable-lens digital SLR camera, distinguished from conventional digital SLRs by combining the operating feel of an analogue camera with innovative features unique to digital cameras. The DMC-L1 benefits from a new LEICA D VARIO-ELMARIT 14-50mm/F2.8-3.5 lens, equipped with an aperture ring, focus ring and zoom ring, for easy, direct aperture setting. This new and inspiring digital SLR also features a shutter speed dial on top of the camera body, to enhance the sense of camera control. These features, combined with a classic design that will remind users of traditional analogue cameras, ensure the Panasonic Lumix DMC-L1 is distinct in both design and operation.
Outstanding image quality at low energy consumption
Panasonic has proudly developed the new Live MOS sensor using its original ? Maicovicon™ technology. The 4/3 type Live MOS sensor with 7.5 million pixels helps capture the beautiful images of a CCD sensor with delicate gradation and a wide dynamic range, whilst suppressing energy consumption as only a CMOS sensor can do. Noise is also minimised thanks to a special processing technology that runs on voltage as low as 5V.
The power of the Venus Engine III LSI
The Venus Engine III is an image processing LSI, newly developed to maximise the performance of the Live MOS sensor. Offering high resolution, superior colour reproduction and detailed gradation, the Venus Engine III also reduces noise to the level expected from a digital SLR, thus achieving stunning picture quality. The Venus Engine III also improves camera responsiveness supporting high-performance consecutive shooting and a short shutter interval. Despite offering superior performance, the Venus Engine III consumes only 80% as much power as its predecessor, the Venus Engine II. This combines with the Live MOS sensor's low energy consumption to provide longer battery life.

Full-time Live View for a whole new style of Digital SLR shooting
The heart of a digital SLR is the mirror box unit, which integrates a quick-return mirror, viewfinder, and AE sensor. This, combined with the full-time image output function of the Live MOS sensor, achieves a full-time Live View function that displays the image on the LCD directly from the sensor signal. This incredibly useful function can be selected in both Auto Focus and Manual Focus modes. In Manual Focus, photographers can enlarge an image within the frame and then select the area focusing, making it easier to check the focusing condition on the large 2.5inch, high resolution, 207,000 pixel LCD. It is also possible to check the depth of field by pressing the Aperture button.
Shake off dust with the Supersonic Wave Filter system
The most critical and annoying problem with digital SLRs with interchangeable lenses is the possibility of dust getting inside the camera during the lens changes, thus contaminating the image sensor. If this happens, professional cleaning is often required. The ingenious DMC-L1 effectively manages this problem by incorporating a Supersonic Wave Filter dust reduction, which uses supersonic vibration to instantly shake off dust that might otherwise affect the image.
A Digital SLR offering home networking capabilities
Consistent with all Panasonic Lumix cameras, the DMC-L1 is compatible with the SD memory card. It is also compatible with mass-storage SD standard based on FAT32, including the upcoming super-high-capacity SD Memory Cards of more than 2GB (SDHC).
The SD memory card opens up a world of home networking opportunities. Photographers can take photos with the Lumix, and view the images on a Panasonic Viera flatpanel; save them onto disk with a Panasonic DIGA DVD Recorder, and print them with a photo printer connected to your television.
The Panasonic Lumix DMC-L1 is a finely crafted camera designed to give beginners and professionals alike a powerful tool for creating truly outstanding photographic masterpieces. Following additional development efforts, Panasonic plans to shake the market with the DMC-L1 later this year. The best in the digital SLR market is clearly yet to come.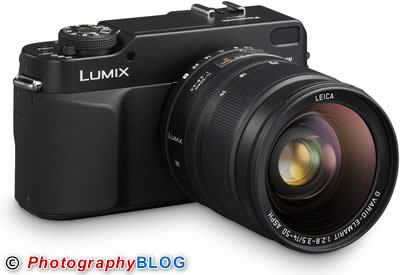 Published: Sunday, February 26, 2006
Compare Prices
Support PhotographyBLOG: Buy this product from one of our affiliate retailers (US first/red, UK second/blue):
Reader Comments
The live view is a feature on the Olympus E330, not the E300.

Steven Vance at 12:27am on Monday, February 27, 2006

Can't help but believe that this MOS may be the fore-runner to the next best thing, one in 16X9 aspect. Not a pellicle mirror system , I guess, but they did achieve the results that Canon hasn't yet, a live preview! We are almost there gang! I almost complained about a built in flash not being there, but this is not a pocket camera, no problemo bringing a small flash for fill-in. I , personally , love the look of this camera, retro, yet modern!
With 4/3rds system lens mount gaining a foot-hold, I expect a possible stable future, Sigma has evolved into a class-act and pro results may be a viable option for many folks ... IMHO!

nick in japan at 12:45am on Monday, February 27, 2006

I did not even notice that the camera did not have a flash. I feel like I want to wait for it, but the camera I buy will be my first SLR, and I want to start into the field with a kit because of my inexperience.

Jeeze, I think the no flash thing is quite odd.

Steven Vance at 01:17am on Monday, February 27, 2006

Note the same 'thing' on the top of the body, near the hotshoe... like the Pana LC1 / Leica D2: it's very probably the articulated Flash. :)
Check this (middle): http://www.dpreview.com/reviews/leicadigilux2/page4.asp

I wonder whether this L1 body has the same size as the previous LC1... could be, as it seems more "optimized" from a design point of view...

Olivier_G at 01:34am on Monday, February 27, 2006

"but the camera I buy will be my first SLR, and I want to start into the field with a kit because of my inexperience.

Jeeze, I think the no flash thing is quite odd."


Steven -

With the design of this L1, it's actually difficult to use a small fixed flash on here - because the lens sticks out so far, that if you were to shoot a wide shot with a fixed flash, you will get a lens shadow in your photos at the bottom of the picture - the angle of the flash would not reach OVER the edge of the lens enough - and that's why this thing needs a large external flash ATTACHMENT with enough VERTICAL CLEARANCE to reach over the lens protrusion........

This is another one of those "novelty" cameras that really doesn't much use for most general photographers - if you want one sitting pretty on your shelf as a collection, by all means buy it......

It's a real mish-mash too, this camera - it's got all sorts of technological bits and bobs thrown in there - but that also makes the camera almost experimental, not quite so fucntional nor very useful.

Nick, you said it - we're almost there, but not quite, until we see a more complete convergence of standards and technologies.

AA at 01:38am on Monday, February 27, 2006

The camera just seemed so perfect: It had everything great about point and shoots (OIS and live preview) and it had some great things about SLR (the fact that it's an SLR with the big imaging sensor and everything else that makes SLR cameras great...).

Steven Vance at 02:00am on Monday, February 27, 2006

I compared the back of the L1 vs Oly E330 (both 2.5" screen) and the L1 looks smaller. Probably very-very close to the LC1/D2 (maybe even slightly smaller, about 130x80mm... :) ). That's good news...

Olivier_G at 02:03am on Monday, February 27, 2006

Flash confirmed... :-)
=> http://pma2006.phanfare.com/album/39112_1825193_0

Olivier_G at 02:52am on Monday, February 27, 2006

See what I mean? Look at the way that thing has an over-reaching vertical clearance..........!

hahahahaha

Nice way to make that thing "articulate" over the top like that!

Hilarious......

How come there are no shots of the actual lens amount on the actual camera? I mean where are the photos of the camera without the lens?

Weird......

AA at 03:25am on Monday, February 27, 2006

I wonder if that flash has a zoom ability? Nothing like a zoomed flash combined with a wide shot of a model at sunset, a spot-light effect!

nick in japan at 04:15am on Monday, February 27, 2006

Does anyone know if this lens could be used on any 4/3 SLR? I am assuming it could, but as I posted earlier, I'm not particularly in the know about SLR cameras.

It would be awesome to buy an Evolt E500 right now and then get this image stabilized lens when the camera/lens combo is released.

Now why didn't the "traditional" or big shot dSLR makers (Canon and Nikon) come out with live preview first? Were they not aware that Panasonic and Olympus are kind of on a roll? Olympus with its budget dSLR and Panasonic with its OIS on every camera and Leica lens on the higher up models?

Steven Vance at 04:26am on Monday, February 27, 2006

I understand that this 4/3 system has it's own unique mount configuration, there- fore anything with the 4/3rds name will interchange and be compatible. Adapters will probably be available soon to use the millions of varieties of lenses we all have collected from long ago.
We have been complaining about a live preview for a long time, change comes slow, and when it does it sometimes keeps us scratching our heads trying to figure out why they did, or didn't do something!
This is breakthrough stuff, primitive mirror systems may fade away, the general public has mixed emotions about EVF, old traditional ways are hard to break, new, high resolution, variable brightening LED screens/ viewfinders are slowly changing the way we do things, for sure!

nick in japan at 04:42am on Monday, February 27, 2006

You are right Nick, and the adapters you mention are actually available already, for OM, M42 and Nikon F mount lenses. But with the recent additions by Olympus, Sigma and Leica, the FourThirds lineup really is complete, I think.

Zoltan at 09:09am on Monday, February 27, 2006

Lots of us have lottsa lenses already, the F adapter would make my 300mm 2.8 ED AF Nikkor on the 4/3rds a 600mm 2.8, nice for those egrets in amoungst the lotus, probably pretty good bokeh too!

nick in japan at 10:14am on Monday, February 27, 2006

Whereas the Panny is brand new, we can already read an experience report on a production E-330, thanks to Croatian photographer Danijel Turina:

Part 1
Part 2

A few interesting quotes from his report:
"Where all digicams of the world would fail, it will show the strengths of an SLR and keep ticking. Where all dSLRs of the world show weaknesses, it shows strengths of a digicam and outshines them all."

"It is in fact so revolutionary, it allows you some aspects of creative freedom that would otherwise be impossible. In fact, I think not even Olympus marketing guys fully understand what they have in their hands, since all their hype is actually an awful understatement. It's not 'the solution', it's The Big Bang of creative photography."

"Olympus marketing got it wrong. The reason why this thing is so good is not because you can shoot from above your head and see the result on the screen, or because you can put it on the ground and shoot spring flowers without breaking your neck or sticking your head in mud. It is so good because you can put on a 7-14 ultrawide or a 8 mm fisheye, walk through the crowd, blend in, be invisible, actually see what you're shooting and get shots that would otherwise be insanely difficult – all that while remaining virtually invisible and inconspicuous. Henri Cartier-Bresson would give his right arm for this thing, believe me; it's that good."

Zoltan at 01:18pm on Monday, February 27, 2006

Zoltan, I have searched with no results for a source of the Nikon to 4/3rds mount ADAPTER, could you point me in the right direction? Thanks alot!! I understand Olympus actually provided, free, an adapter to their 35mm Zuiko lenses with the "E" model purchase!

nick in japan at 07:13am on Tuesday, March 07, 2006

Check this out, http://panasonic.co.jp/pavc/global/lumix/popup/l1_pda/index.html Here you can see the new camera without the lens attached.
I may switch from Nikon to this thing when it comes out providing it's capable of serious professional results. Right now I'm waiting for more D200 cameras to appear in New York.

Paul Treacy at 03:47pm on Wednesday, March 22, 2006

Thank you for the great site, Paul!
Still looking for that lens adapter..F to 4/3rds!

nick in japan at 12:22am on Thursday, March 23, 2006

Found it! "Camera Quest" pricey, but apparently the only folks that are producing adapters for the 4/3rds mount. For those interested in this camera, ensure you realize that adapting a film camera lens to any digital camera body that has an "X" factor, that the resolution of that said lens will be reduced inversely. Best to use quality glass when adapting!
Gary, it appears that the Panasonic L1 has adapted the mirror box arrangement of the Olympus forerunners, do you know if the sensor will remain the same, or has Panasonic actually improved it's design?
Seems to me that I read somewhere that it was a "Panasonic" sensor, which may indicate something different!?

nick in japan at 01:42am on Thursday, March 23, 2006

Do we know for sure if this thing has an EVF or an optical? If it's an EVF then that's me gone.

Paul Treacy at 02:36am on Thursday, March 23, 2006

Appears to have both! a dual mode selection.

nick in japan at 03:43am on Thursday, March 23, 2006

If the Venus Engine, combined with an already excellent MOS sensor will produce image quality equal to the Nikon and Canon CMOS types, I will seriously consider this camera, why? Well, I am very tired of no live preview with my Canons! I find myself depending on my F828 for alot of fast, more accurate shooting. The 2X factor for my existing Nikon lenses is a plus also.

nick in japan at 05:04am on Thursday, March 23, 2006

Haven't you bought it yet, Nick?

OK so I know it's not officially out, but I figured you would have your hands on one already from being the ultimate PanaLeica lover..........

It's a decent effort, eh? Not great, but not bad. It's sort of a niche camera, eh?

AA at 01:54am on Saturday, March 25, 2006

AA, I really like it's look, kinda retro yet modern. Looks like alot of effort went into this beauty, yet, it ain't gonna be cheap! I still have no idea how the image quality is, which would be the deciding factor for me, and, of course, Gary's take on the camera too. I don't have many years left and the Canons are doing a good job for what I do. I think that this system may be great for someone that hasn't yet invested in a semi-pro system yet, just gotta be patient to see how it works out.
I'm sort of suprised that the elaborate EVF/Optical view system was decided on vs a pellicle mirror as in the old RT Canon, I think it would have been ultimately an easier challenge.
I often wonder if you are getting some satisfaction with your LX, I know that you had some reservations after buying it. I had a model shoot on the 15th and again on the 20th, the LX pictures were as good or better than the F828 shots. Still think it is a good investment, Cheers!

nick in japan at 02:50am on Saturday, March 25, 2006

B&H in NYC have an add up for this camera and seem to think it will be released in September

Riley at 09:00am on Thursday, April 13, 2006

Here's a review of this camera by Michael Reichmann at the Luminous Landscape web site:
http://www.luminous-landscape.com/reviews/cameras/Panasonic-L1.shtml

His conclusions are that the Leica lens is a "jewel", but the camera body is a mixed offering (he says there's a lot to like, but also a lot that simply says "first generation").

pk at 08:40am on Monday, September 04, 2006

Did you get the feeling that this review kinda said it all? I did.
I even think Leica will "pass" on a re-badged "Copy".
Alot of folks will be trying to get the lens, for sure.
Dreams bashed, but, there are new products popping up so fast, it's almost unbelievable!
Ford had the Edsel, and actually sold some, Panasonic will survive!

nick in japan at 09:33am on Monday, September 04, 2006
Commenting is not available in this channel entry.