Panasonic KX-PX1 and Panasonic KX-PX10 Printers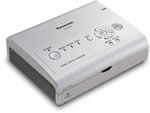 Panasonic Press Release
New Home Photo Printers Ideal Companion for LUMIX digital cameras
February 2006 Panasonic is pleased to introduce two, new, easy-to-use home photo printers, the Panasonic KX-PX1 and Panasonic KX-PX10: Superb for printing images captured by your LUMIX* digital camera in clear and beautiful detail. As household penetration of digital cameras continues to increase on a global scale, consumer demand for an easy-to-use home printing solution is also starting to rise. In response to these market trends, Panasonic has developed two new compact-sized, easy-to-use home photo printers, the KX-PX1 and KX-PX10, both of which are equipped with Panasonic original image processing technology and a faster print engine** for high speed, high quality prints. Now, images captured by LUMIX digital cameras can be processed and reproduced to achieve prints of a quality that rivals that of traditional analogue photos. Furthermore, thanks to a new over-coating process performed by these two new printers, your prints can now keep their quality for up to 100 years***
* Panasonic LUMIX Digital Cameras, 2006 line-up
** Print speed (postcard size) has been improved by approx. 47% compared to previous print engines.
*** This is a presumed value based on original measurements performed by Panasonic. It is a value that is likely to vary depending on environment and, therefore, it cannot be guaranteed.
1. Panasonic Original Image Processing Technology
The Panasonic original image processing technology, utilized in the KX-PX1 and KX-PX10, reads all the data (including Exif data) embedded in the digital images and can therefore achieve true and natural reproduction in print. All the characteristic elements of the image, such as the following, are perfectly transmitted to your prints:
1) Backlight Compensation; where dark parts of the image, due to the effects of back lighting, have been compensated for.
2) Colour Correction; where natural colours are enhanced, for example the blue of the sky or the green of a forest.
3) Noise Reduction*; where image noise in high sensitivity mode has been reduced.
2. Enhance your LUMIX Experience The superb partner for your LUMIX digital camera; the Panasonic KX-PX1 and PX-PX10 home printers, unlike other home printers, are able to read image data from recording modes that are unique to LUMIX digital cameras, such as "skin" mode, "night scene" mode and "high sensitivity" mode.
3. 16:9 Wide Aspect Printing*
In addition to the standard post-card size, both the KX-PX1 and KX-PX10 can print 16:9 wide aspect images. This enables users to print images captured by the unique LUMIX 16:9 wide aspect mode in their original format with no need for trimming. Furthermore, with the KX-PX10, users can enjoy these images on their 16:9 wide-screen TV in full screen mode.
* requires an optional cassette (KX-PVPW1X) and wide size paper (KX-PVMX20WX)
4. TV Connectivity with Dual Action for Simultaneous Printing (KX-PX10)
Not only can you view images on TV by connecting it to the printer with the AV cable, thanks to the dual CPU inside the KX-PX10, you can also print out your images at the same time. Now you can enjoy a full Slideshow of your images on your TV while the printer is printing them out. This function is unique* to Panasonic home printers and we have named it Dual Action*. (*As of February 14, 2006)
5. The Smallest and Lightest
By mounting an improved cooling unit on the side of the print engine, we have been able to dramatically reduce the height, volume and weight of these printers. The KX-PX1 is one of the world's smallest and lightest A6 dye-sublimation photo printers* equipped with PictBridge.** It is approximately 4.7 cm high and weighs approximately 800g; superbly small and light for you to take wherever you want.
* as of February 14, 2006
** PictBridge is the CIPA standard for direct printing between a digital still camera and a photo printer.
6. High-Speed Printing
The demand for faster print speeds from home printers continues to increase. By developing a new type of thermal print head, Panasonic has been able to improve thermal transfer performance of the print engine which has, in turn, reduced the printing time to approximately 65 seconds*.
*In Postcard size
7. Versatile Printing - SD Memory Card, PictBridge and PC (KX-PX10) Printing
Panasonic home photo printers offer printing versatility. Using the SD card slot on the KX-PX10, users can print out their images easily and quickly by selecting them from the SD card on the TV screen. It is also possible to connect the printer directly to any PictBridge-enabled digital camera via a USB cable, or simply use the same USB cable to connect the printer to a PC for easy printing.
8. Good for 100 Years
The combination of dye-sublimation technology and an over-coating process means that the prints produced by the KX-PX1 and KX-PX10 are resistant to light, water, UV rays and skin contact. As a result, prints from the Panasonic home printer will stay in good condition for up to 100 years.
9. On-Screen Guidance (KX-PX10)
When you connect the KX-PX10 to the TV, an easy-to-follow set of printing instructions will appear. This is especially helpful for those who have had little experience using home photo printers.
10. More Fun with your LUMIX (KX-PX10)
In addition to its image printing capabilities, the KX-PX10 also has some fun features too, such as calendar creation and charactors stamping.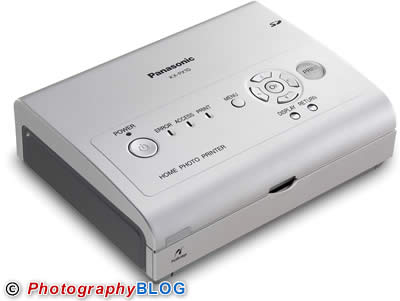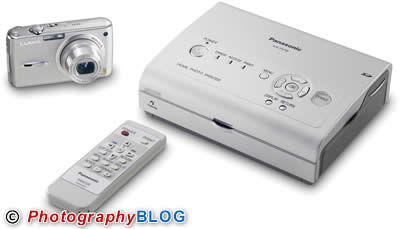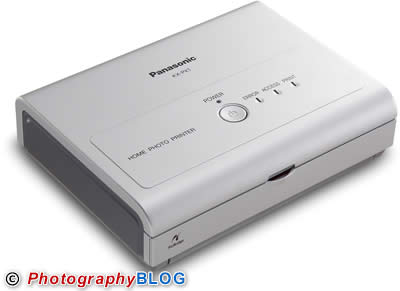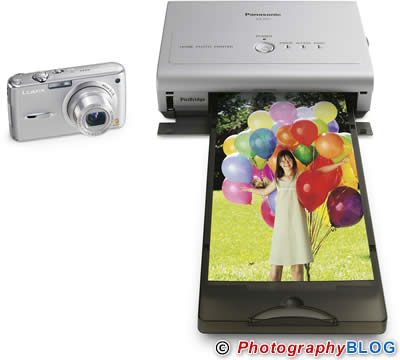 Published: Tuesday, February 14, 2006
Compare Prices
Support PhotographyBLOG: Buy this product from one of our affiliate retailers (US first/red, UK second/blue):
Reader Comments
I was wondering if the Lumix DMC-TZ1 camera will be able to print with this printer?

Josh Braun at 12:19am on Thursday, February 22, 2007

Yes, that combination is fine.

Mark Goldstein at 12:35am on Thursday, February 22, 2007
Commenting is not available in this channel entry.