Panasonic Lumix DMC-FX01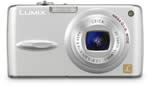 PMA 2006: The Panasonic Lumix DMC-FX01 is announced today. 6 megapixels, 28mm wide-angle Leica optical zoom lens, 2.5 inch LCD, available in March.
Panasonic UK Press Release
Panasonic's launches the Lumix DMC-FX01 - the world's smallest camera[1] with 28mm wide angle lens[2]
The world renowned Panasonic Lumix range offers sophistication in technology and style, evidence of which lies in the new 6.0 megapixel Panasonic FX01. The latest addition to the award winning FX series boasts a whole host of features including a 28mm wide angle LEICA DC lens with 3.6x optical zoom, all encompassed within a beautifully slim and compact design - thanks to the incorporation of an Extra High Refractive Index Lens. This new lens allows photographers to easily capture a large group of people, or expansive architectural structures and landscapes with dynamic width and rich perspective. The lens part of the DMC-FX01 comprises of seven elements in six groups, incorporating four aspherical lenses to generate high optical performance. The zoom ratio can be extended up to 5x in 3megapixel resolution mode with minimal deterioration thanks to the Extra Optical Zoom. By using the central part of the CCD, this powerful zooming function allows you to easily capture and magnify distant subjects.
Shaken, not blurred
Panasonic is the first manufacturer to have successfully incorporated Optical Image Stabiliser (OIS) into its compact cameras – a feature strongly appreciated worldwide and now considered to be a standard requirement of photography. O.I.S minimizes the jitter from shaky hands that causes many photos to look blurred by shifting the O.I.S lens unit to keep the optical axis aligned straight against the CCD, to ensure images are captured with supreme clarity and sharpness.
Not one to rest on its laurels, Panasonic has enabled the DMC-FX01 to shoot at a maximum sensitivity setting of ISO 1600, with its new High Sensitivity Mode. This ingenious mode reduces image blur caused by subject movement - particularly indoors - by shooting at fast shutter speeds. Made possible by the mixed-pixel read out method of the CCD, users can now enjoy good quality 4"x6" prints of moments that would otherwise be lost. Whilst the resolution will not be as high in this mode, High Sensitivity is the difference between getting a shot or not at all.
Panasonic Lumix offers solutions for both major causes of blurred images – O.I.S when you are moving, and High Sensitivity when the subject is moving. Thanks to Panasonic, you can now take clear and beautiful images in various situations.
The Venus Engine Plus LSI: High performance at low energy consumption
The DMC-FX01 incorporates the Venus Engine Plus LSI which allows you to take 320 pictures on one charge, providing high performance image processing while consuming only 70% of the energy compared with the Venus Engine II. Spontaneous moments can easily be captured thanks to a 1.6 second start up time (20% less than the predecessor DMC-FX9) and a 0.005 second shutter release time lag (the time taken between pressing the button on the camera and the photo being taken.)
Additionally, the consecutive shooting performance boasts the capability of sequential shots at a rate of 3 frames per second at full resolution[3]. The unlimited consecutive shooting function allows you to take photos in succession up to the capacity of the memory card or built in memory. The speed in which photos are taken is dependent on the memory card.
Auto focus… fast
The DMC-FX01 really will work hard to ensure you capture every moment important to you. The various AF methods can be selected according to the shooting environment and the position of the subject: 5 point, 3 point high-speed, 1-point high speed, 1-point normal-speed and spot. The remarkably quick AF response time, especially in the 1-point high speed AF mode, achieves outstanding focusing with both speed and precision. Panasonic has also included an AF assist lamp, providing further assistance in low light situations where focusing can be difficult.
Motion pictures at your fingertips
In addition to standard VGA(640x480) motion image recording, as featured on the DMC-FX9, the DMC-FX01 also records stunning full-size movies in wide-aspect VGA (840x480) at 30fps, enabling you to view your recordings on a widescreen television.
Create a scene with two new scene modes
The DMC-FX01 boasts two new scene modes to ensure your photos look the way you intended, in addition to the fourteen available on the predecessor DMC-FX9[4]. The first is the previously mentioned High Sensitivity Mode, great for taking photos of moving subjects, for example young children and pets who may not quite grasp the concept of sitting still! The DMC-FX01 is also perfect for underwater photography, for use with the Marine case (available separately), thanks to the new 'underwater' mode. Panasonic's existing fourteen modes are portrait, soft skin, scenery, sport, night portrait, night scenery, food, party, candle, fireworks, starry sky, snow and baby mode. Panasonic's unique 'baby' mode has now doubled its appeal with the ability to set two birthdays for two children. When shooting in Baby mode 1 or 2, the relevant child's age at the time of image capture is automatically recorded onto the image, allowing you to hold on even closer to the precious moments in your children's lives.
Stand out from the crowd with the large LCD's new High Angle Mode
The Lumix DMC-FX01 boasts a 207K pixel high resolution, 2.5" large LCD. The pixel-mixed readout method performed by the CCD automatically increases the brightness level of the live image on the LCD, which greatly facilitates shooting in low light situations.
Panasonic is the first manufacturer to offer the new High Angle LCD function to a digital still camera LCD. This new mode makes the FX01's LCD display extremely easy to view from low angles, for example, when holding the camera up high to take pictures over a crowd. The difficulties faced when shooting in bright outdoors situations are also overcome by the Power LCD function, which boosts the backlighting of the LCD by 40%.
The high resolution LCD also allows both a full display of your images in up to 25 thumbnails on a multi-split screen and the ability to date search an image with the new Calender Display Mode.
The Panasonic Lumix DMC-FX01, the world's smallest camera with 28mm wide angle lens is superior in technology and superior in style. Available in March. For further information, please visit http://www.panasonic.co.uk

DMC-FX01 Specifications
Colour: S-Silver, K-Black
Dimensions (W x H x D)
Approx. 94.1 x 51.1 x 24.2 mm ( 3.70 x 2.01 x 0.95 inch)

Weight
Approx. 132g. (0.29 lb)

?
Approx. 160g with Battery and SD Memory Card (0.35 lb)

Camera Effective Pixels
6-megapixel

Image Sensor
1/2.5", 6.37 Mega Total Pixels CCD Primary Color Filter

Optical Zoom
3.6x

Extra Optical Zoom
4:3 Aspect Ratio: 5.0x for 3Mega, 2Mega, 1Mega, 0.3Mega

3:2 Aspect Ratio: 5.0x for 2.5Mega

16:9 Aspect Ratio: 5.0x for 2Mega

Digital Zoom
4 x

( Max. 14.6 x combined with Optical Zoom without Extra Optical Zoom)

(Max. 20x combined with Extra Optical Zoom)

Focal Distance
f=4.6-16.8mm (35mm Equiv.: 28-102mm)

Lens
LEICA DC VARIO-ELMARIT

7 elements in 6 groups

(4 Aspherical Lenses / 4 Aspherical surfaces)

Aperture
Wide: F2.8 / F5.6 (2 steps) Tele: F5.6 / F11 (2 steps)

Optical Image Stabilizer
MEGA O.I.S. (Mode1/ Mode2)

Focusing Area
Normal: 50cm – infinity

Macro/Simple/Motion image : Wide 5cm/Tele 30cm – infinity

AF Metering
1 point/1-point high speed/3-point high speed/5-point/Spot

Focus
Auto Focus System, Normal/Macro (Dial)

AF Assist Lamp
Yes

ISO Sensitivity
Auto/80/100/200/400 (High Sensitivity Mode:800-1600)

White Balance
Auto/Daylight/Cloudy/Halogen/White Set
?
White Balance Adjustment ( 150K step, -1500 - +1500 K) (except for auto set)

Exposure
Program AE

Exposure Compensation
1/3 EV step, -2 - +2 EV

Backlight Compensation
Yes (at simple mode)

Auto (AE) Bracketing
+/- 1/3 EV -1EV step, 3 frames

Light Metering
Intelligent Multiple

Scene Mode
Dial: Normal Picture, Simple , Macro

SCN mode (Portrait, Soft Skin, Scenery, Sports, Night Portrait, Night Scenery, Self-portrait, Food, Party, Candle Fireworks, Starry Sky, Snow, Baby1, Baby2, High Sensitivity, Underwater) Motion Image, Playback

Shutter Speed
8-1/2000 sec
Starry Sky Mode: 15,30, 60 sec

Self Timer
10 sec / 2sec

Auto Review
1sec/3sec/zoom

Review
1x / 4x / 8x

Picture Adjustment
Natural, Standard, Vivid

Colour Effect Mode
Cool, Warm, Black & White, Sepia

Recording Format
Still Image:
JPEG(Design rule for Camera File system, based on Exif 2.2 standard),
DPOF corresponding

Picture with audio: JPEG (Design rule for Camera File system, based on Exif2.2 standard)+ QuickTime

Motion Image:
QuickTime Motion JPEG

Recording Image Size
Still Image:
4:3 Aspect Ratio: 2816 x 2112 pixels, 2048 x 1536 pixels, 1600 x 1200 pixels

1280 x960 pixels, 640 x 480 pixels

3:2 Aspect Ratio: 2816 x 1880 pixels, 2048 x 1360 pixels

16:9 Aspect Ratio: 2816 x 1584 pixels, 1920 x 1080 pixels

Motion Image:
4:3 Aspect Ratio: 640 x 480 pixels, 320 x 240 pixels
16:9 Aspect Ratio: 848 x 480 pixels

Image Quality
Fine / Standard

Motion Image
4:3 Aspect Ratio: 640 x 480 pixels, 320 x 240 pixels 30 fps, 10 fps
16:9 Aspect Ratio: 848 x 480 pixels 30 fps, 10 fps

Max. recording time depends on Memory Card Capacity

Burst Shooting Mode
Full-Resolution Image, 3 frames/sec or 2 frames/sec

Full-resolution: Max. 8 images (Standard mode), Max 6 images (Fine Mode)

Unlimited consecutive shooting
?Yes

Still Image Rec. with Audio
5 sec

Audio Dubbing
Max. 10sec

Real-time histogram
Yes

Composition Guide line
Yes

Scene Mode Help Screen
Yes

Auto Angle Detection
Yes

Economy mode
Yes

Built-in-Flash
Auto, Auto/Red-eye Reduction, Slow Sync./Red-eye Reduction, Forced On/Off

0.6 - 4.0m (Wide/ISO Auto), 0.3 - 2.0m (Tele/ISO Auto)
High Sensitivity Mode: 0.8-5.7m (Wide), 0.8m-2.8m (Tele)

LCD Monitor
2.5" Polycrystalline TFT LCD Display (207K Pixels)

Field of View : approx. 100%

Power LCD mode, High Angle mode

Playback mode
25-thumbnail display, 9-thumbnail display, Calendar Display
zoomed playback (16x max.),

Image Rotation, Slide show (Duration is adjustable, also manually controllable),

Playback of favourite pictures

Resizing (selectable number of pixels), trimming, protection, DPOF print setting ?

OSD language
English,German,French,Italian,Spanish,Japanese

Recording Media
SD Memory Card, MultiMediaCard

Microphone
Yes

Speaker
Yes

Interface
DC Input, AV Output (NTSC/PAL), USB

Direct Print
PictBridge

Power
Li-ion Battery Pack (3.7V, 1150mAh) (Included)

AC Adaptor (Input: 110-240V AC) (Optional)

Battery life (approx.)
320 pictures (CIPA Standard*1)

Included Software
LUMIX Simple Viewer

ArcSoft PhotoBase, ArcSoft PhotoImpression,

ArcSoft Panorama Maker

USB Driver

Standard Accessories
Battery Charger, Battery Pack, Battery carrying case, SD Memory Card (16 MB)

AC Cable, AV Cable, USB Connection Cable, Strap, CD-ROM
*1. Shooting conditions: 23°C with 50% humidity; LCD on; using the enclosed SD Memory Card; starting to shoot 30 seconds after turning on the power; shooting once every 30 seconds with the flash in full operation for every other shot; changing the zoom setting from telephoto to wide, or wide to telephoto, for each shot; and temporarily turning the power off after each 10 shots (long enough to lower the battery temperature).
*1MB=1million byte, usable capasity will be less
*Some accessories are not available in some countries.
*The use of recorded or printed materials that are protected by copyright for any purpose other than personal enjoyment is prohibited, as it would infringe upon the rights of the copyright holder.
*Leica is a registered trademark of Leica Microsystems IR GmbH.
[1] For a digital still camera with optical zoom, as of February 14, 2006
[2] 35mm film camera equivalent, at wide angle
[3] Max eight images in standard mode/six images in fine mode
[4] The sixteen scene modes does not include macro mode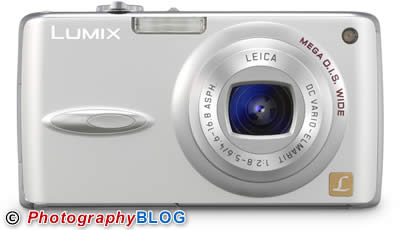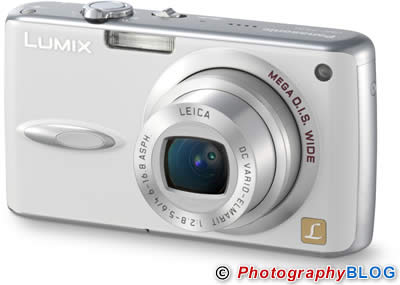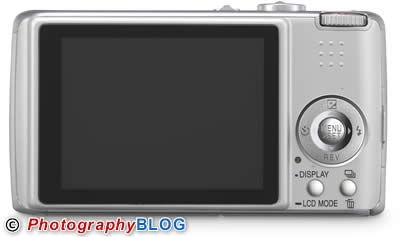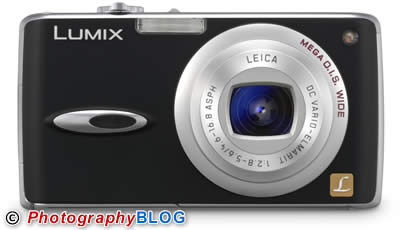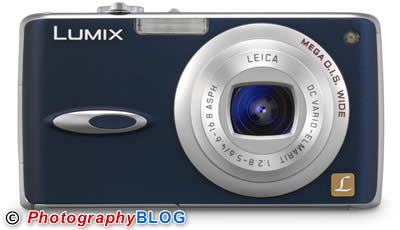 Published: Tuesday, February 14, 2006
Compare Prices
Support PhotographyBLOG: Buy this product from one of our affiliate retailers (US first/red, UK second/blue):
Reader Comments
Dear Panasonic, One step foward, then one step back! When you run out of the 1/2.5" sensors, let us know! There are alot of us out here awaiting your breakthrough model, the one where you can talk about 8X12" QUALITY prints,rather than marginal 4X6" ones, or better yet, the IMPROVED 16X9 sensor you gotta be working on!!
I am the proud owner of 2 LX-1s, because no-one has topped it yet how long do I have to wait for you to improve on it?

nick in japan at 04:54am on Wednesday, February 15, 2006

All right, Nick !!!

If they need to use a 1/2.5" sensor, it should at least be high quality CMOS.

GARY POGODA at 06:47am on Wednesday, February 15, 2006

Boy oh boy, you guys are beginning to sound really OLD........... scratched CD, broken record, knackered tape, what have you.....

AA at 07:29am on Wednesday, February 15, 2006

Like fer sher!

GARY POGODA at 08:22am on Wednesday, February 15, 2006

Gary, the more I look at my old APS collection, the more I am convinced that APS size could be done. I know you can't understand my reasoning because I think you are figuring in the zooming needs you are hung up on. With an APS CMOS the quality would far surpass the need for a large zoom factor, I would be delighted with 2X, even a feature as my Fuji TW-3 has, a sliding optical multiplier. Put the lens guys in a room and dont let them out till they do it! Simple!
Granted, lottsa APS pocket cameras didn't have any zoom at all, but this new folding optics thing has opened alot of new ideas, I still think it is a consiracy! Keep the pocket cameras in their place where they belong!! Even a prime lens would be attractive!

nick in japan at 08:39am on Wednesday, February 15, 2006

A larger image sensor requires a larger image circle. It's a fact of life.
However, if you would not mind a circular image surrounded by black,
then it's no problem. :)

GARY POGODA at 04:56pm on Wednesday, February 15, 2006

Seems like the APS fellas didn't find that a problem, APS size is APS size, no matter where it is found. Lens adaptation should be no problem unless the morons use lenses designed for 1/2.5 sensors! DUH!!
As fast as manufacturers are re-tooling for all these consumer pocketables, shouldnt take long to up-size the lenses too.
The APS camera production took place a while back, I'm sure you may remember some of their zoom models, there wasn't alot of public support for the entire program as a whole and there were alot of problems, but the 16X9 format developed and will soon take off again.
To me it is the logical progression, to have a pocket camera that has the ability to produce grainless images, it may upset lottsa folks that want to keep that ability with the DSLR type, larger, families of cameras, but I'm stunned that I am the only person that thinks this way!
Right now the only way we can do it is with a size jump, mini CMOS produce mini results as seen in camcorders and cell phones, give me an APS CMOS in a pocket camera before I pass on, PLEASE!!!

nick in japan at 10:32pm on Wednesday, February 15, 2006

It seems to me that the only way that you can get the date to appear on a print is by using the Lumix Simple Viewer, which comes with the camera. Does anyone know how to egt the date printed using other software?

Graham at 10:02am on Thursday, August 31, 2006