Panasonic LUMIX DMC-FZ50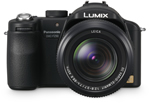 Panasonic Press Release
The New Panasonic LUMIX DMC-FZ50 is a 10.1-Megapixel, 12x Optical Zoom Digital Camera Featuring Intelligent Image Stabilizer by MEGA O.I.S. and World's First* Intelligent ISO Control
*For a digital still camera, as of July 19, 2006.

Panasonic today introduced the 10.1-megapixel LUMIX DMC-FZ50 with MEGA O.I.S. (Optical Image Stabilizer) featuring powerful 12x optical zoom (equivalent to 35 mm to 420 mm on a 35 mm film camera) f/2.8 LEICA DC lens, as a successor to the Panasonic DMC-FZ30, which has received high acclaim worldwide. The Panasonic DMC-FZ50 boasts a 10.1-megapixel high resolution CCD for its image sensor and Venus Engine III for the image processing LSI, making it possible to record a image at max. ISO 1600 high sensitivity setting at full resolution. Furthermore, by dramatically reducing the noise levels that challenged its predecessor, the Panasonic DMC-FZ50 is able to capture 10.1-megapixel full resolution images even in high sensitivity recording.
To fight against the major cause of blurred images, Panasonic invented the MEGA O.I.S. system taking advantage of its superior lens technology to compensate for handshake – a feature which has long been incorporated into the LUMIX range of cameras. In addition, to also compensate for the other major cause of blurred images – movement of the subject – the FZ50 is also equipped with the world's first* Intelligent ISO Control (hereafter I.I.C.) and max. ISO 1600 high sensitivity recording capabilities within the advanced image processing LSI Venus Engine III. When set to the I.I.C., the Venus Engine III detects the subject's movement and adjusts the ISO setting and shutter speed to best suit the subject movement and the light condition automatically. Panasonic's excellent image stabilizing system allows users to take clear, crisp images in any situation automatically, leaving everything to the camera.
From a point of view of further improving the usability of its predecessor, the DMC-FZ50 is equipped with a new Function Button which serves as a shortcut to quickly set frequently-used settings such as recording image size, light metering, AF area, white balance, and ISO sensitivity. Also, thanks to the newly incorporated custom setting function, your frequent setting patterns can be memorized and it can be instantly applied by simply selecting this function with the mode dial. The 2-inch LCD flips out to 180 degrees, making it easier to view even when shooting from high or low angles. As for optional accessories, the DMC-FZ50 is now compatible with TTL external flashes. Finally, the battery life is greatly extended by approx. 29% compared with its predecessor allowing the FZ50 to shoot approx. 360 images on one charge* (CIPA).
The LUMIX DMC-FZ50 faithfully inherits the well received basic specifications from its predecessor FZ30 such as the manual focus ring and manual zoom ring, yet enhances the image sensor up to 10.1-megapixel. Noise is drastically reduced with this new FZ50 achieving a rendition of even higher quality images. The DMC-FZ50 is bound to spark the imagination of high-end users and join the Panasonic LUMIX high-end model lineup.
* Based on the CIPA standard.
1. 10.1-megapixel CCD and f/2.8 12x optical zoom LEICA DC lens
The DMC-FZ50 includes a 10.1-megapixel high resolution CCD and the f/2.8 LEICA DC VARIO-ELMARIT 12x optical zoom (equivalent to 35 mm to 420 mm with a 35 mm film camera) lens. The lens unit is comprised of fourteen elements in ten groups including three aspherical lenses and an ED lens, All these are incorporated to generate low distortion and high optical performance while preserving the compactness of the unit. The Extra Optical Zoom, made possible by using the center part of the 10.1-megapixel high resolution CCD, further extends the powerful 12x optical zoom to up to 21.4x for 3-megapixel image recording (17.1x for 5-megapixel and13.4x for 8-megapixel recording). High resolution images with richer gradation are always assured with these LEICA DC 12x optical zoom lens and the 10.1-Megapixel CCD.
2. More than just a MEGA O.I.S., LUMIX's image stabilizing system further evolves
??? Taking advantage of its superior lens technology, Panasonic invented the MEGA O.I.S.(Optical Image Stabilizer) system to fight against the major cause of blurred images. It compensates for handshake and is now featured on the entire LUMIX range, and has been highly evaluated and appreciated by the users across the world. Every slight hand-shake movement is detected accurately with the sampling frequency at 4,000 times per second and will be compensated to render clear, sharp images. In addition, movement of the subject, the other major cause of blurred images, is suppressed by the advanced image processing LSI Venus Engine III with the Intelligent ISO Control (hereafter I.I.C.) and max.ISO1600 high sensitivity recording capabilities. The world's first incorporation* of this I.I.C. allows the automatic adjustment of the suitable ISO setting and shutter speed that best suits the situation by analyzing the speed of subject movement. If the subject is moving, the ISO setting would automatically rise to allow high shutter speed. On the other hand, if the subject is still and no movement is detected, you can take beautiful natural images with a low ISO setting.
???Accordingly the new LUMIX automatically takes the best countermeasures against any causes of blurred images with MEGA O.I.S. compensating for hand-shake and the I.I.C. compensating for movement of the subject. Image stabilizing system is further evolving with LUMIX.
*For a digital still camera, as of July 19, 2006.
3. Dramatically reduced noise with Venus Engine III
The DMC-FZ50 adopts the Venus Engine III to realize high sensitivity recording at max. ISO 1600 at full resolution. The noise reduction system is greatly improved by removing noise at the processing stages in series. First, critical noise is roughly undraped and the chromatic noise and the luminance noise are separated to respectively go through the supplemental noise reduction process so that the remaining noise is appropriately minimised. In addition, chromatic aberration is also reduced so beautiful images are assured even in telephoto shooting.
Despite the significantly increased performance of the camera, the Venus Engine III consumes only 80% of the power utilized by the Venus Engine II and is able to achieve a longer battery life of approx. 360 pictures (CIPA) on a single charge. With its multi-task image processing capability, the Venus Engine III also boasts outstanding response time with an industry-leading level of shutter release time lag of as short as 0.009 sec*. minimum and the shutter interval of 0.8 sec*. Together with the fast startup time of approx. 0.7 sec., the quick response of DMC-FZ50 enables easy capture of those spur-of-the-moment shots. The DMC-FZ50 also allows unlimited consecutive shooting up to the capacity of the SD/SDHC memory card***.
* Not including the time for AF.
**The number of recordable pictures depends on the memory card size, battery life, picture size and image compression.
4. Intensifying functionality in pursuit of full manual controllability
The DMC-FZ50 succeeds the high operational ease and the good design that have been highly acclaimed with its predecessor DMC-FZ30. Two exclusive rings on the lens barrel provide manual control of zooming and focusing, allowing quick and fine control that cannot be achieved with button or lever operation. This feature will be highly valued by high-end users not only for its precise controllability but also for the feeling of manual operation. With the two dials located under the index finger and the thumb, you can compensate the exposure directly in addition to the shutter speed and the aperture smoothly and naturally. The newly added Function Button serves as a shortcut exclusively for the commonly used settings such as recording image size, light metering, AF area, white balance, and ISO sensitivity, allowing them to be set easily.
For further improvement, your frequent setting patterns can be memorized and can be instantly applied by just selecting the newly incorporated custom setting function. White balance now can be finely adjusted with a reference to the horizontal axis for amber to blue and vertical axis for green to magenta. Furthermore two composition guideline patterns can be overlaid on the normal shooting screen.

5. Free-angle LCD and high resolution EVF to extend shooting potential
The 2.0-inch flip-out 207k high resolution LCD is adjustable to 180 degrees both vertically and horizontally. This assists smooth shooting even in high- and low-angle shooting positions. The pixel mixed readout method performed at the CCD achieves high sensitivity to offer sufficient brightness for easy shooting even in low-lit situations. The Power LCD function boosts the brightness level by 40% to secure clear view even in sunny outdoors. The DMC-FZ50 is also equipped with the 235 k pixels high resolution EVF to encourage active shooting. Not OVF but EVF can provide the benefit of being able to check white balance, real-time histogram and the DOF(depth of field) before shooting.
6. Faster AF
The AF mode can be selected according to the shooting situation: 9-point, 3-point high speed, 1-point high speed, 1-point normal speed and Spot. In the 1-point and 1-point high speed AF mode, the AF area is selectable from the nine focusing areas with the joystick to best fit the composition of the subjects. Also, the AF assist lamp facilitates quick, accurate focusing in situations where focusing is difficult due to the lack of light.
7. Clear, bright, wide VGA motion image recording for viewing on wide screen TV
In addition to standard VGA (640x480) at 30 fps motion image recording, the DMC-FZ50 also records stunning full-size movies in wide-aspect VGA (848x480) at 30 fps. Shooting is one thing but viewing is another, and you will be suitably impressed by the 16:9 moving image when it is displayed on a wide screen TV. The brightness level of these motion images is also enhanced as a result of the pixel mixed readout method performed by the CCD. Zooming in while recording motion images is also possible with the manual zoom ring, while image clarity is secured by the Optical Image Stabilizer.
8. Included software and optional accessories
To edit and develop RAW files, the "SILKYPIX Developer Studio 2.0SE" software application is bundled with the DMC-FZ50. Using this software, you can freely adjust various setting such as exposure, white balance, and so on afterward with the RAW files to take maximum advantage of digital camera photography enjoyment.
The DMC-FZ50 is compatible with all the same accessories as the FZ30. In addition to those, the DMC-FZ50 is also compatible with the TTL external flash (GN50 or GN36). This expandability enhances the potential of shooting to make DMC-FZ50 a true high end camera.
DMW-LT55 Tele conversion lens
DMW-LW55 Wide conversion lens
DMW-LND55 ND filter
DMW-LMC55 MC protector
DMW-LC55 Close-up lens
DMW-RSL1 Remote shutter
DMW-AC7 AC adaptor
CGR-S006 Lithium ion Battery (710 mAh)
DMW-FL500 External Flash (GN50)
DMW-FL360 External Flash (GN36)
DMC-CZA30 Leather Case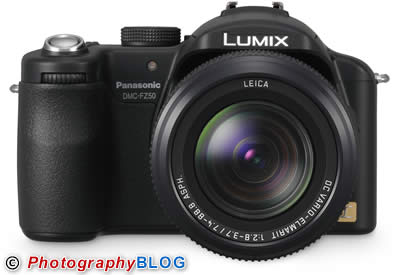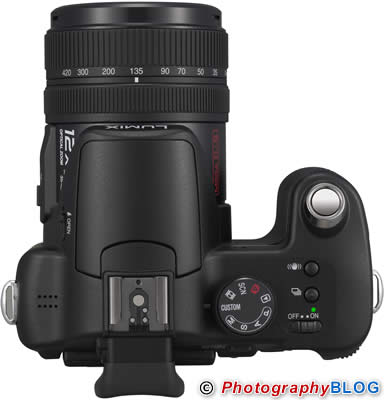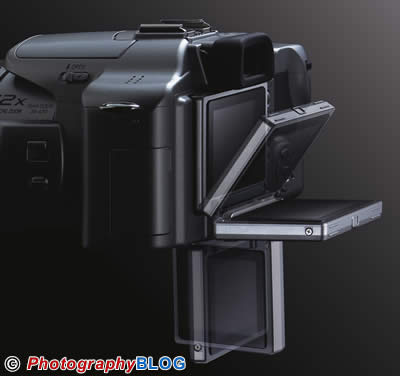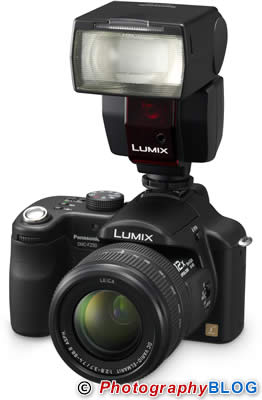 Published: Wednesday, July 19, 2006
Compare Prices
Support PhotographyBLOG: Buy this product from one of our affiliate retailers (US first/red, UK second/blue):
Reader Comments
WOW !!!!!!
Is the lens a constant 2.8 ????

Regards, Nicholas

Nicholas at 12:15pm on Wednesday, July 19, 2006

It shows 2.8-3.7 in the image

nick in japan at 12:23pm on Wednesday, July 19, 2006

Is that a 1/1.8 sensor I see? Has Panny created a successor to my beloved Canon G3?

Ben at 12:46pm on Thursday, July 20, 2006

Okay, now you lost me. Why would you consider a bridge FZ50 the
successor to a (not so) compact G3?

GARY POGODA at 07:07am on Friday, July 21, 2006

Work with me here, Gary:

-Same sensor size, I think
-Too big for a pocket
-A good amount of manual control
- It looks like the user has access to key controls (ISO, WB, focus mode) without going menu hunting

I always thought the G3 was bridge before bridge was cool...

Ben

Ben at 06:34pm on Friday, July 21, 2006

I'll work with you, but it's a long stretch. The FZ50 is about three times
the size and has three times the zoom of the G3. As for them having a
1/1.8" CCD and manual controls in common, so did the FZ30.

So your G3 successor was there all along. :)

GARY POGODA at 07:06pm on Friday, July 21, 2006

There's a 10.1 megapixel CCD. Maybe you meant LCD. In which case, the FZ50 has a 2" LCD, not 1.8".

Lorrie at 05:29am on Saturday, July 22, 2006

Lorrie, Gary meant EXACTLY what he said!

nick in japan at 05:35am on Saturday, July 22, 2006

Lorrie, you are correct that the FZ50 has a 10.2 megapixel CCD, and
a 2" LCD, but if you look closely at my number, 1/1.8, which means 1
divided by 1.8, that refers to the physical dimensions of the CCD, and
is loosely associated with its diagonal measurement in inches.

GARY POGODA at 05:56pm on Saturday, July 22, 2006

Gary, I didn't realize that anyone was using the 1/1.8" sensor anymore. I thought most compacts were using 1/2.5" or smaller.

Thanks.

Ben at 04:18pm on Tuesday, July 25, 2006

Hi, I've got it. After much serious research I bought the FZ30 last week, and then found information on the FZ50 and decided to go the extra $120 and compare the two . . . and I'm very glad I did. As I'm partial to low-light, moody stuff the enhanced noise reduction alone is worth it for me; the other upgrades (2 megapixels, expanded/auto ISO, fully floating LCD, custom memory settings (3!), TTL capability, etc.) are just gravy, albeit delicious gravy. I was really impressed with the FZ30, and I'm much more so with the 50.

Kim in Canada at 03:15pm on Wednesday, August 30, 2006

That's good to know, Kim. I'll still wait for the reviews of the camera
before recommending it to anyone, but your observations were very
encouraging.

GARY POGODA at 09:08pm on Wednesday, August 30, 2006

Thanks, I hope they prove true - for my sake. Do you happen to know how long it typically takes between when a new model is available and when the reviews come out?
Cheers

Kim at 07:03pm on Thursday, August 31, 2006

They usually happen right around the same time. There have already
been a number of Previews, and here is one mini-Review of the FZ50
(with the LX2 thrown in for good measure :)).

http://www.luminous-landscape.com/reviews/cameras/pan-quick06.shtml

I'm expecting the full reviews any day now.

GARY POGODA at 07:28pm on Thursday, August 31, 2006

We've just got the FZ50 in for review today :)

Mark Goldstein at 07:50pm on Thursday, August 31, 2006

That's excellent news, Mark.

GARY POGODA at 08:31pm on Thursday, August 31, 2006

I have a Lumix FZ3 which was a great travel camera two years ago and has served me well. Now I'm looking seriously at this baby. One thing has me curious: it's advertised everywhere as a 10.1 megapixel camera, and I've read on Panasonic's own site that the max image size is 3648x2736 pixels. So far so good. But do the math and you find the total pixel count is 9980928. I'm happy to round this up to 10.0 megapixels, but 10.1 seems a bit of a stretch. Now I know that the sensor needs to be larger for the anti-shake to work, but we users don't get those margin pixels. So when did 9.98 start rounding up to 10.1? What gives?

Lee at 08:50pm on Friday, September 01, 2006

If you read closely, Panasonic is saying that the FZ30's 'CCD' is 10.1
(effective) megapixels, not that its images are 10.1 megapixels, and
I think your explanation was correct as to how those 0.1 megapixels
are being used.

They also claim the LX1 and LX2 bodies are 1" thick. :)

GARY POGODA at 10:25pm on Friday, September 01, 2006

Though officially Panasonic site says FZ50 will be shipped mid september only. But I see many FZ50 being sold on various web sites at cheaper rates. are they really FZ50? is FZ50 is already released in europe and only in USA it is released in september?
In what way the camera that will be distributed by Panasonic in mid september will be different then what is available in the market now (if that is really FZ50)??
thanks a lot...this is real confusion for me.

praful Tailor at 05:21pm on Sunday, September 03, 2006

I can't speak for any other sites, but if you purchase the FZ50 from
any of the vendors associated with PhotographyBLOG, you CAN be
sure you are getting the real thing. If you wait for Mark's review, he
will have at the bottom of each review page recommended vendors
and prices for both the UK and the US. If you cannot wait, go to any
of his other reviews and check the vendors listed for that camera as
to the FZ50's price and availability.

One of the best US sites (not for buying cameras, but to read their
specs) is Crutchfield.com, and they have the FZ50 "In Stock". J&R,
another reputable US site, has it for "Pre-order" only. So I imagine
it is somewhat of a mixed bag as to who has it and who doesn't.

GARY POGODA at 06:23pm on Sunday, September 03, 2006

Hi

Recently purchased a Panasonic Lumix FZ50. To date I'm pretty impressed with it. I read somwhere that the olympus TTL compatible flashes are fully compatible with the camera. Is this true.? Also does anyone know of any 3rd part flash units (Sigma, Metz etc) which are compatible ?

Grant Olivier at 09:05pm on Tuesday, October 03, 2006

Wow good DSLR camera, it's worth to buy!
I am going to make a photography but FZ50 too big for traveller ;)

Lolak at 11:01am on Saturday, November 18, 2006

The site below has Lumix FZ50 for less than $400. It sounds too good to be true when the going price is at least $100 higher. Can anyone comment on the validity of this vendor? Thanks.

http://www.bestpricecameras.com/prodetails.asp?prodid=664948

Jeff at 02:10am on Sunday, December 03, 2006

bestprice cameras and digital expo are scams. I ordered the camera from both just to be told that I had to buy a battery (69-169.00) and when I wouldnt, they canceled my order. What a rip off. I'm still looking for a reputable dealer with decent prices.

Chris at 01:48am on Monday, December 11, 2006

You are LUCKY they canx your order,Chris!
Many outfits will lead you on with low prices and forget to tell you of the stuff they don't give you with the camera, a percentage of folks are too stupid to say "No" and just get suckered in.
Thank you for itemizing this, the truth needs to be known.

nick in japan at 02:39am on Monday, December 11, 2006

Anybody suggest a TTL flash that will work with this camera. The Panasonic one in unobtainable
thanks
MST

Mark Thompson at 05:54pm on Saturday, December 30, 2006

Hi,
Can you tell me the maximum aperture for the FZ50 I think I have seen F11?
I am not that competent a photographer but I always thought if you are looking for a good depth of field you would need F16 or even F22?
Is there a way round the problem.? ( If at all there is a problem!).

Richard

Richard at 12:21am on Sunday, December 31, 2006

I am about to buy FZ 50 on the basis of generally positive comments by the users. The camera has many pluses though some users have commented on 'horrendous noise' at 200 ASA. I should be grateful for some helpful comments. I have seen the camera and it seems so magnificently made. Many thanks in advnace for any comment that I may receive.

Rohit

Rohit Barot at 09:36am on Sunday, February 11, 2007

Hi,
I've been checking the sensor sizes between
an FZ50 and an DSLR
The sensor on an fz50 is 38Squ mm
A DSLR is a whopping 337 Sq. mm
Both cameras are 10 Megapixel so the DSLR has a sensor ten times as big as the RFZ50.

How much of a difference does this make to the finished photo?
Richard.

Richard at 09:28pm on Sunday, February 11, 2007

Hi! Rohit,

I have purchased FZ50...though it looks great and good zoom...but noise it stiil there. I am not a pro and not handleled best cameras but this is what I came across...
"But high resolution (better to call them high pixel count) chips in digicams are another thing. The 10MP sensor in the Panasonic FZ-50 is 7.18 X 5.32mm in size, while the 10MP sensor in the 10MP Nikon D80, for example, is 23 X 15.8mm. Do the math. The Nikon's 10MP chip has 373 sq/mm of surface area while the one in the Panasonic has 38 sq/mm. This gives the Nikon's sensor nearly 10X the recording area for the same number of pixels."
"It seems to me that the race to make digicams with pixel counts equivalent to current DSLRs is one being fueled by camera maker's marketing departments. Of course the naive consumer plays right into their hands. If camera A has 10MP and camera B has 10MP, then other factors aside they must be pretty similar – right? Certainly standing at the camera counter holding a 10MP DSLR in one hand and a 10MP super-zoom digicam in the other, the uninformed consumer won't understand that one has a sensor 10X the area of the other, and the salesman likely won't explain this or possibly even fully appreciate it himself."
http://luminous-landscape.com/reviews/cameras/pan-quick06.shtml
best is to go for NIKON D50 or D80 and buy a good lense from another cheap manufacturer (if your hands are steady.) or go for canon.
hope this helps,
-praful.

praful at 04:01pm on Monday, February 12, 2007

Hi does anyone know if Panasonic will be releasing a new camera to replace the FZ50 anytime soon?

rarar at 02:25am on Friday, April 13, 2007

Anyone know where I can find the circuit-connections to build my own shutter release for the Panasonic Lumix DMC-FZ50?

ew at 04:43pm on Tuesday, May 01, 2007

The FZ50 will not dissapoint you. It is a very user friendly camera and the images are of the highest quality. Using it is more intuative than many of the cameras I have used in the past. It is as flexible as you want it to be. I was hooked on Olympus gear until I took the chance and bought my FZ50. I would never be without it now, leaving all my other gear at home.

BoC at 12:55am on Saturday, August 25, 2007

Hi, does the FZ50 take normal 55m size filters?
e.g. Hoya UV Filter 55mm

Gareth at 06:53pm on Tuesday, October 09, 2007

wud like to buy a nikon fz50. wats its price & availability

jacob at 04:30am on Thursday, May 07, 2009

Is there a way to tether the Pana Lumix FZ50 to a mac and use the mac to take the shots and transfer the shots to the mac as soon as the shot is taken? I would really appreciate the help. Thanks.

Skyler at 04:38am on Monday, December 19, 2011
Commenting is not available in this channel entry.