Pentax 10 Megapixel DSLR Photos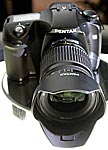 PMA 2006: Pentax are showing their new, as yet un-named 10 megapixel DSLR under glass here at PMA (making product shots a little tricky). Here are some shots to whet your appetite…
Update 28th February 2006: Pentax kindly took the glass domes off their display booths, allowing a scrum of journalists to kick, bite and punch each other in a bid to get the ultimate shot of the new DSLR, lens and flashgun. So depsite being a little battered and bruised, there are now some better shots of the new prototypes at the end of this article, plus the smc Pentax-DA 21mm f3.2AL Limited lens and AF 540 FGZ flashgun.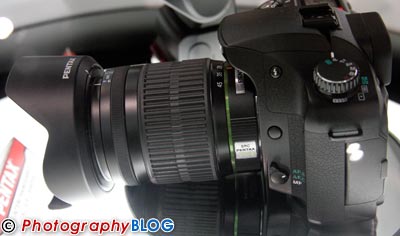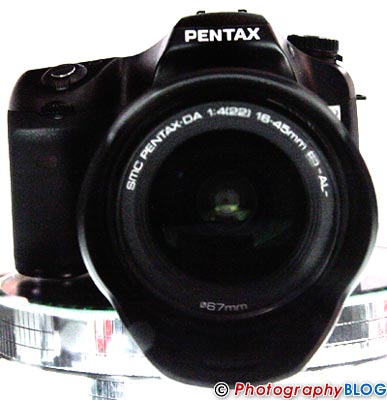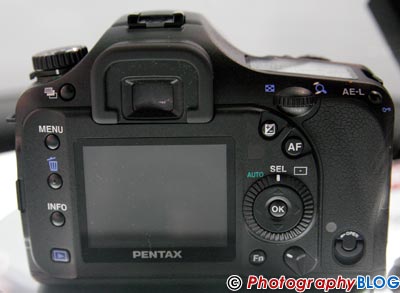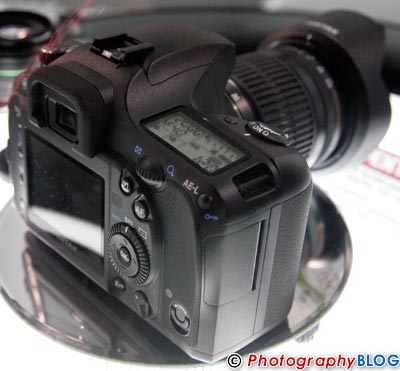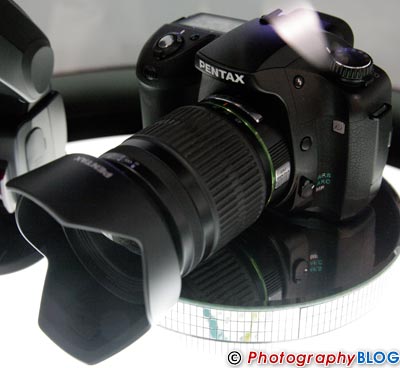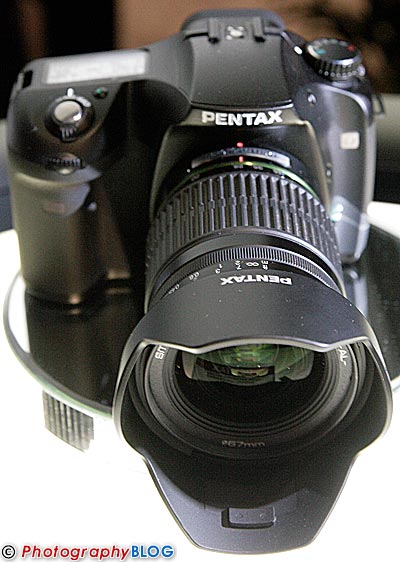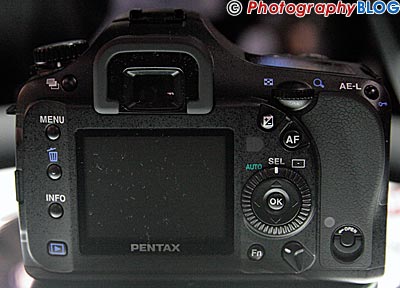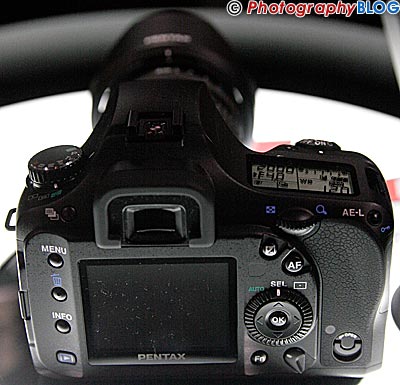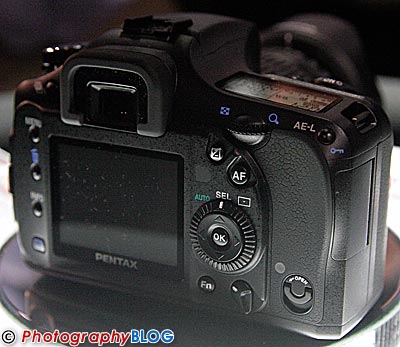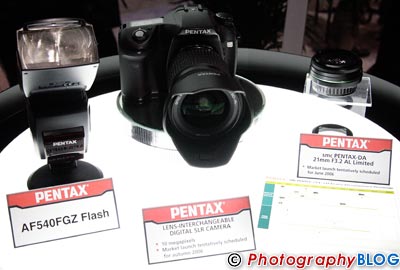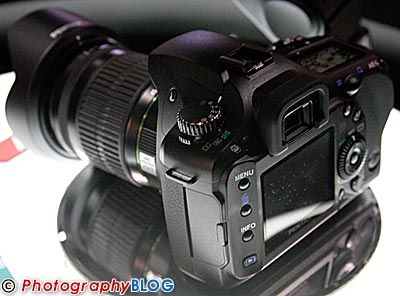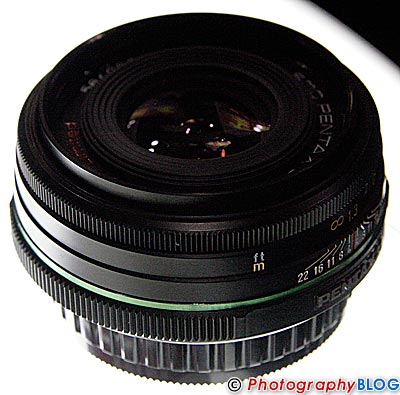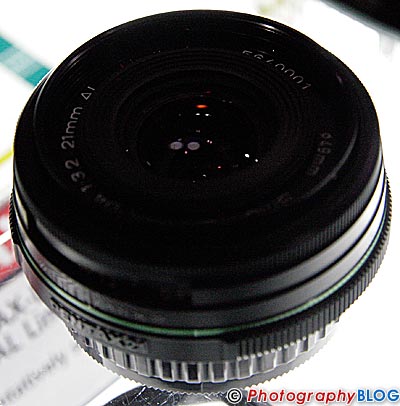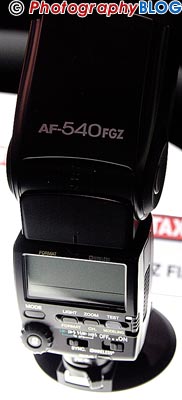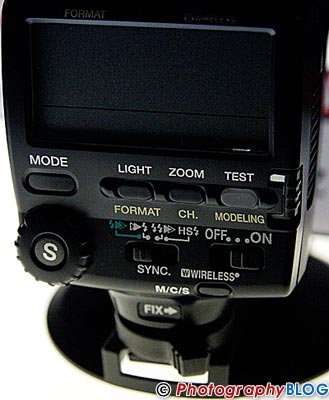 Published: Tuesday, February 28, 2006
Compare Prices
Support PhotographyBLOG: Buy this product from one of our affiliate retailers (US first/red, UK second/blue):
Reader Comments
A polycarb body, no specs, no pice, no firm release date. Minolta sold out to Sony.

Is Pentax in discussions with Samsung?

Jesse Harper at 07:59pm on Sunday, February 26, 2006

Yes, lens mounts are same in new Samsung ads, I think it is more "in bed with" than "discussions with"

nick in japan at 10:42pm on Sunday, February 26, 2006

<< Is Pentax in discussions with Samsung? >>

Discussions ended ages ago. Samsung and Pentax are going to be releasing DSLRs together. Samsung brand for the US and Canadian markets, Pentax for the EU and Asian markets. Lens mounts will be the same.

phule at 05:52pm on Monday, February 27, 2006

No price, no release date, no working model -just two mock-ups: one APS chip and one medium format chip. Pentax has been showing a mock-up of a medium format chip since last Photokina.

Adorama has dropped its listings for everything except the DL2.

Methinks Pentax is going the way of KM. Samsung is an appliance company. It's a shame. My first camera was a Spotmatic, and I replaced that with a K1000. The bloodletting continues...

m gottlieb at 03:23am on Wednesday, March 01, 2006

I agree somewhat, Pentax has been a great camera/ lens company with lottsa faithful followers, I hate to see them in trouble, the stakes are high, Canon and Nikon have alot to worry about with Panasonic/olympus/Leica/Sigma all in bed with each other. Panasonic's mother company is the largest electric company in the world, and that sure as heck probably keeps the camera R&D going when things arn't selling well.

nick in japan at 04:09am on Wednesday, March 01, 2006

Nick: I saw your tattoo comment. I'm not that much of a fanatic.

I own a Digilux 1 and a Fuji 7000. I think the image quality of the Digilux is superior, despite the Fuji's higher pixel count, either in 6 or 12 MP mode. But that's my opinion.

I usually am not taken in by badge engineering. I drive a Chevy Cavalier, and ride a Honda Rebel.

But when I show up for a client with the Leica, they snap to attention. I'm a realist. I think the Pany w/lens will be $1500, and the Leica version w/lens will be $2000.

m gottlieb at 04:56am on Wednesday, March 01, 2006

I hoped that comment would get some response,it was just a joke! I became a fan of the LX-1 real quick, so much so that I even bought a back-up because I love what the camera does for me, I don't expect many folks to understand that, but for the qualities that camera has , I wouldn't leave home without it! When Leica repackaged the LX-1 and put their logo on it, it struck me that, indeed, they also liked the camera enough to risk their reputation on an obvious "Panasonic Copy".
I have many "Leica Copies" in my collection, only a few will equal the value of the original. I was, and am, still a bit confused by why Leica would do this, you help me realize that there is alot to say about the "Logo Factor" and how it relates to a business, a "Bling Factor" so to speak.
I do hope that you do a better business with the "Leica" version, in fact, I hope they add some tweaks , so that it will function better too!
The Cavalier is nice, I'd upgrade that Rebel to a Yamaha MT-03 tho!

nick in japan at 05:24am on Wednesday, March 01, 2006

One bad thing about the Pany chips is noise -sometimes unacceptable noise. Go to DP Review's LX1 review - they said the only saving grace was its lens. But the Leica badge is not worth another $200.

I think this time they will have it licked. The Pany operates at 5 volts; the Oly runs at 7.2v. Voltage, or gain, is algebraic, so noise should also be proportional in lockstep. We'll see.

I know you were being silly about the tattoo. But I'm having the WTC put on the small of my back. Jews are not supposed to have tattos, so the rabbi will have to yell at me. That had the same impact as Kennedy. BTW, my cousins and I did not receive a phone call from the Mossad the night before.

m gottlieb at 05:59am on Wednesday, March 01, 2006

I read all the threads, Photoshop helps me out of rough areas. Thanks for your interesting comments, enjoyable. I filled out an application once.... Contact me sometime if you like @ SKYPE , pkonisdbonus8205, or at .(JavaScript must be enabled to view this email address)

nick in japan at 06:18am on Wednesday, March 01, 2006
Commenting is not available in this channel entry.