Pentax 645 DSLR Photos
PMA 2006: Also under glass at PMA is the prototype of Pentax's 18 megapixel 645 medium format digital SLR.
Update 28th February 2006: Pentax kindly took the glass domes off their display booths. There are now some better shots of the new prototypes at the end of this article.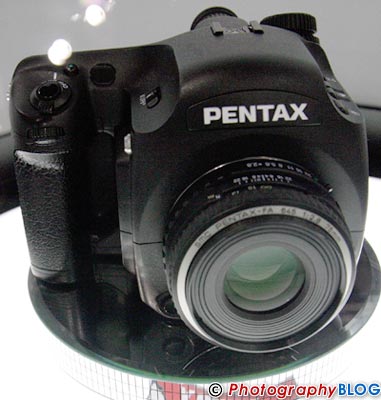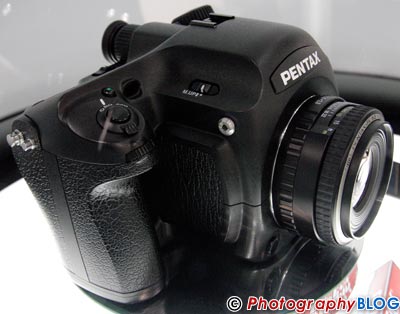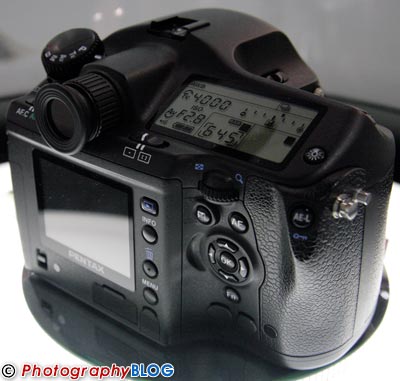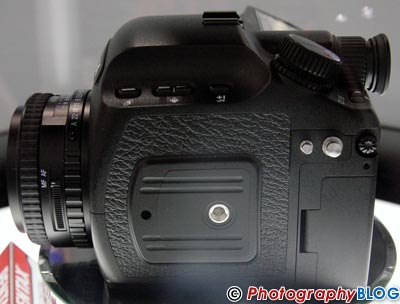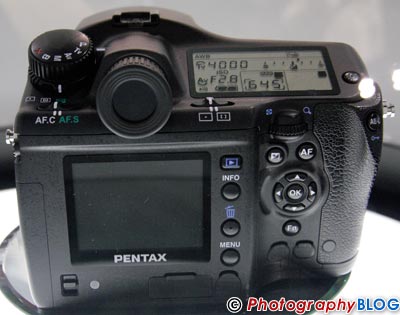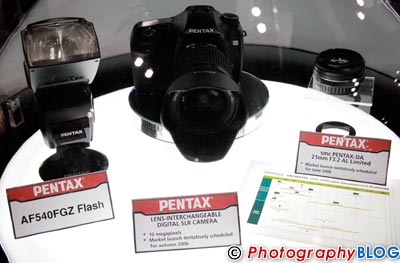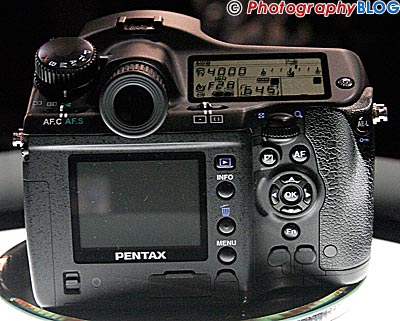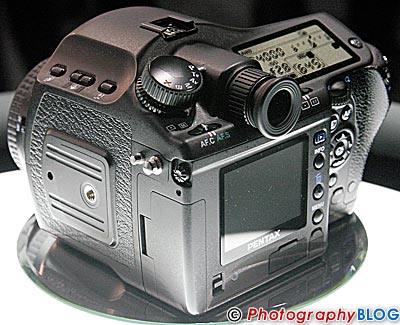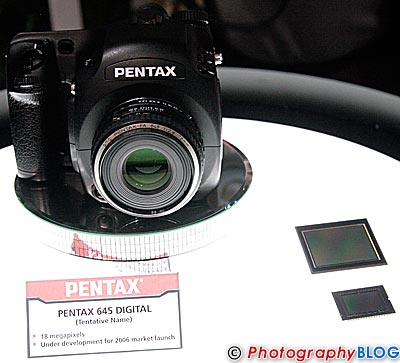 Published: Tuesday, February 28, 2006
Compare Prices
Support PhotographyBLOG: Buy this product from one of our affiliate retailers (US first/red, UK second/blue):
Reader Comments
Awaiting the specs, especially if it has a live LED, a possible home for my 6X7 lenses....

nick in japan at 10:47pm on Sunday, February 26, 2006

Question: When you spread 18 MP over the larger sensor of the Pentax Format, wouldn't the pixel density per square unit of area be less than the top Canon or Nikons?

Is the image quality of the Pentax worth carrying around such a 'big' camera?

Regards, Nicholas

Nicholas at 11:58am on Monday, February 27, 2006

I look at it this way, just like a negative of a meduium format or large format camera using film of some sort, the more the pixels to stimulate, the more detail you will ultimately have, necessary with big blow-ups, and minute graduations of color or grey. the difference between fine prints of even black and white , is the detectable differences in tone. This can only be achieved with large films , or large sensors. Medium sized images are done with smaller formats, but when you are going for the gold, there is no substitute for cubic inches!
Medium format, megapixel backs for medium format cameras and also ones that attach to 4X5 large format cameras have been priced out of the non- commercial shooters price range, generally speaking, so of those folks, me included, that have done alot of medium work, dream about an affordable digital system, finger's crossed that this one might be it!

nick in japan at 12:21pm on Monday, February 27, 2006

Earlier info on this Medium Format suggested a MP count higher than 30 on a CMOS backplane - at least that was some of the initial buzz and trech evaluation videos. Yes, I'd like to avoid the cash haemorrhage for a Leica S2, Hasselblad, or Mamiya, but at the sacrifice of pixel count that falls short of existing DSLR? Probably not. I still await a full-frame DSLR at 25MP plus and a 30MP+ Med Format from Pentax for no reason other than product loyalty.

Kristof at 10:26pm on Sunday, July 25, 2010
Commenting is not available in this channel entry.