Pentax K10D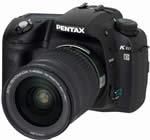 The Pentax K10D DSLR camera is announced today. The K10D offers 10.2 megapixels, shake-reduction, dust removal system, 22-bit colour, three new shooting modes, 2.5 inch LCD screen and 11 point auto-focusing. There is also a new D-BG2 Battery Grip for the K10D, and a new range of supersonic motor-driven lenses are currently being developed. Price and availability of the Pentax K10D is still to be confirmed.
Pentax UK Press Release
PENTAX will be unveiling their new flagship product, the Pentax K10D lens-interchangeable digital SLR camera on September 14th 2006. The new Pentax K10D digital SLR camera combines 10.2 effective megapixels with a host of advanced technologies — including the PENTAX-original Shake Reduction (SR) system. The K10D combines 10.2 effective megapixels with an array of new advanced technology to make this camera a true class leader. These include the PENTAX-developed Shake Reduction (SR) system to minimise the adverse effects of camera shake, a newly developed A/D converter designed to convert a large volume of data more accurately and swiftly, and a new high-performance imaging engine designed exclusively for the Pentax K10D. The Pentax K10D also comes equipped with a host of features and functions designed to assist the photographer in all aspects of high-quality digital SLR photography. They include a new Dust Removal (DR) system to keep dust off the CCD surface, a PENTAX-original exposure system for accurate reproduction of the photographer's creative intentions, and a dependable dust-proof, water-resistant body construction meaning photographers don't have to stop taking pictures when the rain starts. All combined, the Pentax K10D delivers exceptionally high image quality and responds brilliantly to the exacting demands of advanced photographers and keen amateurs alike.
Photokina Update: We now have some product photos of the Pentax K10D with the 21mm, 40mm and 70mm pancake lenses, live from Photokina 2006 - just click the link below to view them.
Major Features
1. High-quality image reproduction
[1] 10.2 effective megapixels for true-to-life, rich-gradation images:
The K10D features a large, high-performance 23.5mm x 15.7mm CCD with 10.2 effective megapixels as its image sensor, assuring the reproduction of true-to-life, rich-gradation images.
[2] PENTAX-original Shake Reduction mechanism for blur-free images:
The K10D is equipped with the PENTAX-developed Shake Reduction (SR) system, which effectively reduces camera shake for sharp, blur-free images. Even in demanding shooting conditions, such using a telephoto lens, shooting in the dark or at night without supplementary flash illumination, or shooting at extended exposures for sunset scenes. This innovative mechanism shifts the position of the CCD image sensor vertically and horizontally at high speed using magnetic force, while adjusting the shifting speed in proportion to the amount of camera shake detected by a built-in sensor. It offers an outstanding compensation effect equivalent to two to four shutter-speed steps. As a result, it does not require special anti-shake lenses, and can be used with almost all existing PENTAX interchangeable lenses.*
* Lenses compatible with this mechanism are the PENTAX K-, KA-, KAF- and KAF2-mount lenses; screw-mount lenses (with an adapter); and 645 and 67system lenses (with an adapter). Some functions may not be applicable with certain lenses.
[3] Newly developed A/D converter for truthful image data conversion:
The K10D incorporates a high-performance A/D converter, which faithfully converts the analog data collected by the CCD image sensor into digital data. With the highest resolving power (22 bits, or 4.2 million gradations) among all existing digital cameras, it offers a digital-conversion capacity 1,024 times greater than conventional 12-bit, 4,096-gradation A/D converters.
[4] Newly designed PRIME imaging engine:
The K10D incorporates the new PRIME (PENTAX Real Image Engine) as its imaging engine. Designed exclusively for PENTAX digital SLR cameras, this new imaging engine produces well-balanced, true-to-life images through efficient control of CCD signals, saturation, brightness, white balance, sharpness and contrast. Its new memory (DDR2: Double Data Rate 2) also serves to enhance speedy image processing and high-speed data transfer.
2. Dust Removal system to keep dust off the CCD surface
The K10D features the new Dust Removal (DR) system to prevent dust from sticking to the surface of the CCD image sensor (or low-pass filter). Applied to the CCD surface through a vapour deposition process of a fluorine compound, the PENTAX-original Special Protect (SP) coating effectively removes dust and stains from the surface. In the next step, dust that still remains on the surface will be shaken off when the SR system shifts the CCD at high speed. The dust that is shaken off the CCD will fall onto an adhesive sheet positioned at the bottom of the SR unit, eliminating any possibility of its returning to the CCD surface.
3. Original exposure system for flexibility and creativity
[1] Hyper Program function:
The K10D's Hyper Program function allows the user to instantly switch to the Shutter-Priority AE (Tv) mode or Aperture-Priority AE (Av) mode from the Program AE mode, with a simple turn of the electronic dials on the grip (one on the front for index finger control, and the other on the back for thumb control). To return to the Program AE mode, simply press the green button positioned next to the shutter release button.
[2] Hyper Manual function:
When shooting in the Metered Manual mode, a single push of the green button allows the user to instantly set the proper exposure for the subject.
[3] Sensitivity-Priority mode:
The K10D features a new Sensitivity-Priority AE (Sv) mode, which is designed to automatically select the optimum combination of aperture and shutter speed for a user-selected sensitivity. The sensitivity can be shifted instantly (in 1/2 or 1/3 steps) by turning the electronic dial. Since this mode eliminates the need to recall a menu screen for sensitivity changes, the photographer can react more quickly to changing photographic conditions.
[4] Shutter & Aperture-Priority mode:
Another exposure mode offered by the K10D is Shutter & Aperture-Priority AE (TAv) mode, which is designed to automatically select the most appropriate sensitivity for a user-selected shutter-speed & aperture combination.
4. Dust-proof, water-resistant construction
The K10D boasts a reliable dust-proof, water-resistant construction, with special seals applied to 72 different parts of the camera body, including the shutter release button and switches/levers/dials. This dependable body makes it possible to use the K10D in the rain or in dusty locations without any worry
5. Bright, clear viewfinder
Featuring a glass pentaprism, the K10D's viewfinder offers a 96-percent field of view and a 0.95-times magnification for easy viewing of the subject and effortless confirmation of focus and composition. Coupled with the acclaimed Natural-Bright-Matte II focusing screen, it delivers a large, bright subject image.
6. Compatibility with supersonic motor-driven lenses
The K10D is designed to be compatible with supersonic motor-driven autofocus lenses (currently under development), which are expected to provide smoother, quieter autofocus operation than conventional lenses.
7. Continuous shooting at approximately 3.3 images per second
To trace the movement of an active subject or capture a sequence of the subject's expressions, the K10D offers a continuous shooting mode that allows the photographer to capture a series of images at a maximum speed of approximately 3.3 images per second. In the JPEG recording format, the user can take unlimited images in succession until the capacity of the SD memory card runs out.
8. Reliable shutter unit
The K10D's shutter unit is designed to withstand nearly 100,000 releases, whlst assuring high-precision operation over the entire shutter-speed range — up to a top speed of 1/4000 second. It also features a flash synchronisation speed of 1/180 second for more versatile flash photography.
9. 11-point wide-frame AF
The K10D's sophisticated SAFOX VIII autofocus system features 11 sensor points (with nine cross-type sensors positioned in the middle) to automatically focus on the subject with utmost precision, even when it is positioned off centre. The in-focus sensor point is automatically super-imposed in red in the viewfinder for at-a-glance confirmation.
10. Extra-large, wide-view LCD monitor
The K10D incorporates an extra-large 2.5-inch colour LCD monitor on its rear panel. Its wide-view design allows the photographer to check the monitor image from 140 degrees both vertically and horizontally, ensuring effortless image viewing even from a diagonal position. With approximately 210,000 pixels, it also offers digital zooming of playback images up to 20 times for easy confirmation of the image's focusing status and details.
11. Powerful rechargeable batteries for extended shooting
The K10D features new, large-capacity lithium-ion rechargeable batteries, which can capture approximately 730 images** when fully recharged.
** Under testing conditions prescribed by the CIPA standards (flash illumination used in 50% of images).
12. Other features
• Choice of 16-segment multi-pattern metering, centre-weighted metering and spot metering to accommodate various photographic applications
• High-rigidity stainless-steel chassis
• 32 custom functions to personalise camera operations
• Extended bracket function to capture three images of the same subject at different contrast, saturation, sharpness or white-balance levels
• Compatibility with conventional SD memory cards and newly introduced SDHC memory cards
• Choice of two preview functions (digital/optical)
• Simultaneous recording of RAW and JPEG images
• Manual fine adjustment of white balance
• Day-by-day folders to simplify the arrangement and search of recorded images
• Six built-in digital filters (Black-and-white, Sepia, Slim, Soft, Brightness and Colour) for easy editing of recorded images
• Remote shutter release from the front and back sides of the camera using optional remote controller
• PENTAX PHOTO Laboratory 3 RAW data processing software and PENTAX PHOTO Browser 3 browser software, included on the accompanying CD-ROM
• Compatibility with PictBridge, DPOF, Exif Print and PRINT Image Matching III systems
[Exclusive Optional Accessory]
D-BG2 Battery Grip
Developed for exclusive use with the PENTAX K10D, this battery grip can be used in combination with the camera's rechargeable lithium-ion batteries to greatly extend the battery life. With an extra shutter-release button, preview lever, electronic dial, AE-lock button and green button, it makes vertical-position shooting simple and effortless. It also features the same dust-proof, water-resistant construction as the K10D camera body.
• Launch date (tentative): Mid October, 2006
• Power source: Exclusive lithium-ion battery (D-LI50 type)
• Dimensions: 140 (W) x 43 (H) x 73.5 (D) mm (excluding protrusions)
• Weight: 235g (without battery)
Last image courtesy of Ian Burley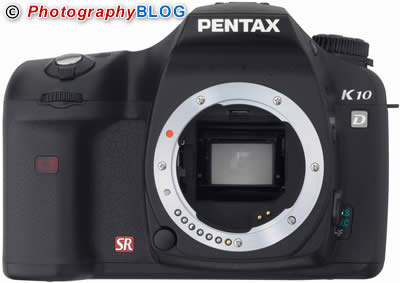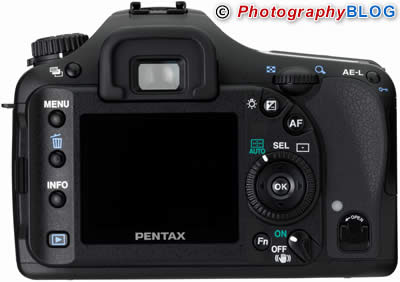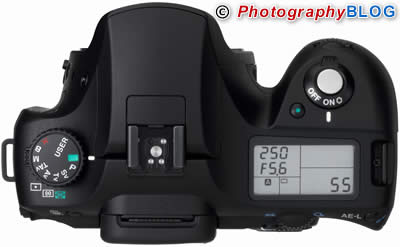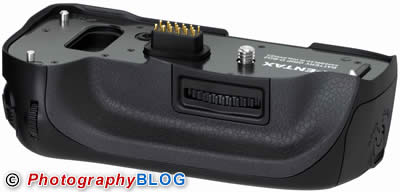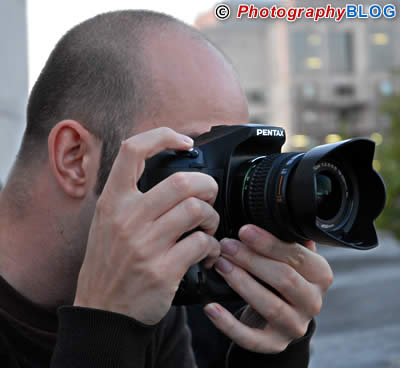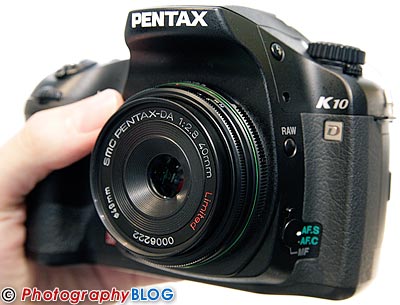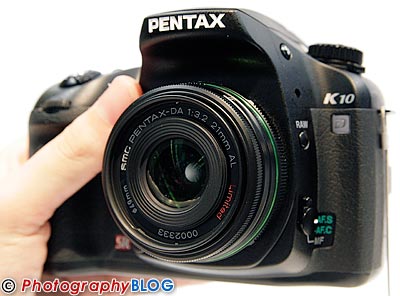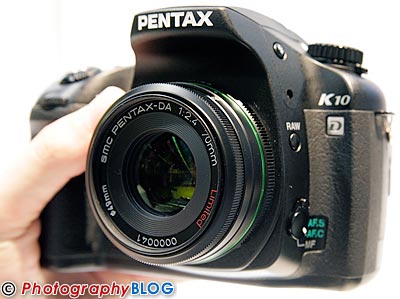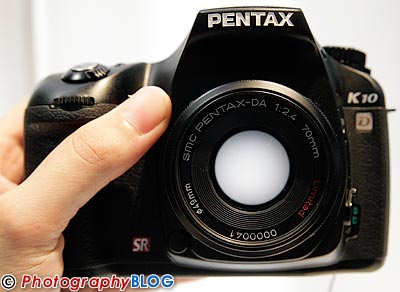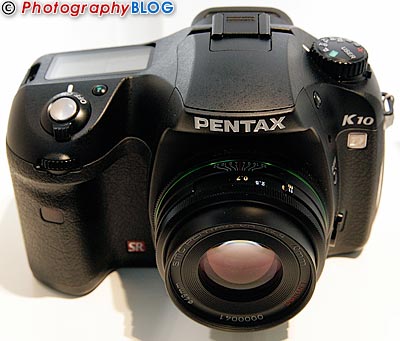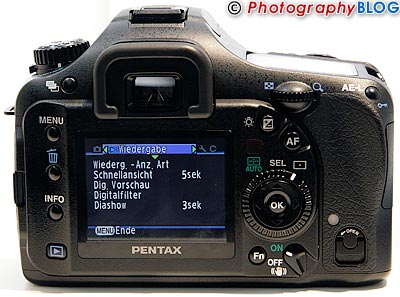 Published: Saturday, September 30, 2006
Compare Prices
Support PhotographyBLOG: Buy this product from one of our affiliate retailers (US first/red, UK second/blue):
Reader Comments
Wow this camera is a winner! I take back everything I ever said about Pentax. :P

Ken Rockwell at 02:25am on Thursday, September 14, 2006

What a camera!!!

Huge viewfinder, antishake, antidust, 22-bit A/D converter (the Minolta A1 had a 14-bit converter and produced much finer gradations in the shadows than any other camera in its class, so this DOES make a difference!), 11-point AF, weather seals and amazing backward lens compatibility, combined with more resolution than you are ever going to need.

The only thing I don't understand is why they didn't make the VF-coverage 100%.

Zoltán at 07:49pm on Thursday, September 14, 2006

Someone on an Internet forum remarked, "having a weather-sealed body without weather-sealed lenses is like taking an umbrella on a trip in a leaking rowboat", which has made me wonder: are the new supersonic motor-driven autofocus lenses (currently under development) going to have weather seals? 'Cause the current Pentax lenses haven't, if I'm not mistaken.

Zoltán at 08:47pm on Thursday, September 14, 2006

Zoltán, at the UK press launch Pentax said that the new supersonic motor-driven autofocus lenses would be weather-sealed to match the body.

Mark Goldstein at 10:16am on Friday, September 15, 2006

Thanks Mark, that makes sense.

Zoltán at 10:26am on Friday, September 15, 2006

Sorry for the most probable stupid question but can water enter through the lens into the camera? Or is only the lens affected? Are lenses very vulnerable to water?
Thanks Frank

Frank Lerchenmueller at 03:02pm on Tuesday, October 24, 2006

Frank, the lenses will be weather-sealed too, so the whole system should be ok.

Mark Goldstein at 03:07pm on Tuesday, October 24, 2006

Mark,
thanks for the comment, but it does not really answer my question. If I buy the camera now no weather sealed lens is available and therefore my question is still not answered. I also ask because I lost a camera Canon Powershot Pro1 because I exposed it to much to water. (Corrosion) and I dont want to have this experience again. I like the features of the Pentax K10D and I need a camera now and cannot wait till Pentax has all their lenses waterproof. Does it really make no sense to have a camera being (to a certain extent) waterproof if the lense is not.
Thanks again in advance.
Another thing I learned today is that the Pentax is more heavier (700g) compare to the EOS 400D (510g) and the D80 (585g) is that because of the water proof features?
Ciao Frank

Frank Lerchenmueller at 09:29pm on Tuesday, October 24, 2006

Concerning weatherproof, IMHO, seals and tightfitting components do in fact provide moisture protection for alot of cameras on the market, and will HELP keep your camera clean, BUT, there is NO positive security for for those little drops of water, AND, you will get no guarantee that water will not become a problem. In other words, it's a sales pitch with a little bit of value.
The only way you can be assured of no moisture is to use a waterproof case of some sort, and even then you may get condensation within.
MANY waterproof cases/bags are available to secure your beloved camera and lens.
I, personally, would look at this option if you are subjecting your camera to ANY kind of harsh inviroment.
Good luck!

nick in japan at 10:38pm on Tuesday, October 24, 2006

Thanks Nick for your advice,
Frank

Frank Lerchenmueller at 05:27pm on Wednesday, October 25, 2006

Frank, don't forget that there are some smaller, compact type cameras that are designed for harsh conditions, including being completely submerged. Depending on your frequency of exposure, you may just need an "All-Weather" compact to back up the DSLR you may be considering.
Out on a lobster boat all day with lottsa sea spray, or, alot of time on a windy sand beach would not be any place for any naked camera unless it was cased, or specifically "all-weather"
Being in a high-humidity area here, I am constantly plagued with mold, so, I ensure my cameras are in an air tight box with a moisture absorbing agent placed in the box. I prefer picnic coolers, the kind with the rubber seal around the lid, for a few reasons, they are cheaper than speciality boxes for cameras, and in the van they dont draw attention of containing cameras.
If your camera gets wet, DO NOT use compressed air to blow it off, you can actually push the water deeper into the camera, just wipe it as quickly as possible.
Please keep us informed as to your decisions and experiences, as they apply to us all, and, your input will be appreciated!

nick in japan at 10:40pm on Wednesday, October 25, 2006

One thing that no one seems to have picked up on with regard to the Pentax DSLRs is that they have brilliantly kept backwards compatibility with the M series viewfinder fittings.... so any M series (or A series)attachment such as the very sexy 90deg finder which can be switched from 2x to 1x (for full frame viewing)work perfectly. For people wearing glasses the correction lenses can also be fitted, if the adjustable eyepiece does not cover your requirements.

Pentax should be given some kind of Life Time Achievement Award for backwards compatibility and not rendering users equipment obsolete.

Sean B at 10:23am on Friday, December 08, 2006

I agree completely Sean !!!
My K100D arrived today and, altho a lesser version of the K10, it fits the compatability useage the same. I will see if I have viewfinder attachments in my Pentax "Stuff" when I dig out the lenses I want to use.
If I was starting out with DSLRs, I would certainly consider the K10D, for many, many reasons.

nick in japan at 10:52am on Friday, December 08, 2006

I've got a newby question that I hope someone can help answer. I'm finding it difficult getting a definitive list of lenses compatible with the "crippled" KAF2 (correct exposure only at "A" aperture-setting or in metered-manual mode using the "green" button) mount.

Specifically as a beginner I am thinking about going with the compact, high power zoom lens Tamron AF18-250mm F/3.5-6.3 zoom lens) covering wideangle to telephoto in one lens. Is this lens (AF mount for Pentax) compatible with the Crippled KAF2 mount restrictions mentioned above?

Can anyone recommend other lenses to consider for the K10D body?

Thanks,
John

John D at 03:54am on Sunday, December 24, 2006

John, Pentax has been very kind to it's dedicated users, that's why all previously manufactured PENTAX lens, and I assume any lens in a pentax type mount will work, INCLUDING the use of a lens attached via an adapter ie: Nikon to Pentax.
Auto focus restrictions are listed in the user manual for the camers. Of matter of course when using an adapter, autofocus and some data transfer is not capable and metering may, indeed be restricred to a certain mode.
Pentax 645 mediun format use via an adapter and the awesome 6X7 lenses too, thos large lenses are intriguing due to the best area of the lens will be used, the center area, which always have higher resolving statistics to begin with, edge abberations and light fall off should not be a problem also.
I am anxious to try some old Penatx lenses, specifically an 85mm and the 17-28 zoom, may even get a Nikon to Pentax adapter to try some Nikon lenses ( I haven't researched that adapter yet, I'm sure someone makes one, I recently got a Nikon to EOS adapter and the 300mm 2.8 Nikor is awesome with the 20D)
I suggest that the quailty of the lens is the prime consideration, better lenses will yeild a better image, zooming feature less important,why, well with a great image you can always zoom in Photoshop, gotta have quality as the prime attraction! IMHO

nick in japan at 08:52am on Sunday, December 24, 2006

Hi Nick,

Thanks for the background. I will try to filter out a recommendation based on my need to purchase a good lens (or couple of lenses) as a base as i am getting back into SLR photography after a decade of absence.

With respect to zooming in Photoshop is it not true that to do so digitally will limit your ability to make high quality prints (8x10 or 11x14) of the zoomed-in area.

For the web, zooming in with PS may be a good option however I still see the need to have a good zoom lens if the option to print is important.

That said, I'd still love to get some good recommendations for a superior wideangle to telephoto lens (if one exists) or a couple of great lenses.

Thanks, John

John D at 11:48pm on Tuesday, December 26, 2006

Wish I could help with the wide/tele lens, other than the obvious being that the Canon "L" lenses are "Pro Level".
I use Sigma, (Bigma) 50-500 for most of my general work, and the dicontinued 22-55 lens, originally designed for the EOS APS camera, alot with good results.
Alot of lens improvements have surfaced lately and I don't keep up with them, sorry, as most of my work involves telephoto.
I use other cameras for wide angle scenic work, panasonic LX-1 and 2, as well as the Sony F828.
Merry Christmas!

nick in japan at 05:19am on Wednesday, December 27, 2006

I have always had Pentax SLR film system with the following AF Pentax lenses: 17-28mm; 28-200; 80-320 and a 135mm 2.8. My question is as I am about to go digital I have been concerned to read comments that using existing non digital lenses with a digital body produces sub standard images ie. soft, restrictions in auto focus and exposure metering, has anyone had any experience of this yet as I am thinking of buying the latest Pentax K10D and would hate to be disappointed.

Lesley T at 03:53pm on Sunday, January 07, 2007

Lesley T: The K10D works well with all of the lens you listed. The restrictions on autofocus are not a big deal, but you should be aware that the DA digital specific lenses incorporate a clutch to allow manual focus after focus lock. This is very helpful and is a feature you will not enjoy on the FA lenses. To my knowledge, there are no restrictions on exposure metering. In general, the FA lenses work better on digital than film because the APS sized sensor sees only the 'sweet spot' of the lens. The downside is the loss of wide-angle. The fisheye zoom will become a ~21 mm with lots of barrel distortion (I have tried it on the K10D). The 28-200 will work but I expect you will notice softness with this lens. The telephotos will work great. I suspect the only disappointment will be at the wide end of the focal length range. If you get the kit lens (18-55) you will be set. Its an OK lens but not as good as the 24-90 or the 16-45. Best of luck. You will not go wrong with the K10D.

John Hanover at 09:13pm on Monday, January 15, 2007

Thanks a lot John you have convinced me to go ahead and I am pleased my 135mm 2.8 FA lens will work well, my fav lens, stunning results with it. One more question tho' you say the kit lens (18-55) is not as good as 24-90 & 16-45 is that in the optical sense? Be very grateful if you cd enlarge on your reasons before I order.

Lesley T at 08:34pm on Tuesday, January 16, 2007

Lesley T: The 18-55 is not bad but not optically in the same league as the 24-90 or 16-45. The main thing you will notice is a dimmer viewfinder image and decreased contrast. It is just as sharp as the other lenses in the center but has greater softness at the corners. It is, in my opinion, the best of the kit lenses for low end DSLRs however so it is in no way a bad lens. If you seek optical quality and want that extra wide angle, the 16-45 has a nice rebate now and is very reasonably priced. Actually, it the wider angle of the 16-45 rather than its superior optical qualities that keep it on my K10D 90% of the time.

Hope this is a help. Enjoy the K10D.

John Hanover at 02:40am on Sunday, January 28, 2007

Neocamera just posted their full-review of the K10D, as usual they go into lots of details about usability and ergonomics, see:
http://www.neocamera.com/review_pentax_k10d_more.html

Itai at 04:13pm on Saturday, February 03, 2007

I am considering K10D to replace my Pentax LX but having problems getting hard info from Pentax re using older SMC Takumar Screw SMC Pentax K lenses at taking apeture in Manual and Av modes and compatibility of older Pentax Flash Units such as AF80C Ring Flash and FTZ400 again in manual mode.
Pentax have indicated that I cannot use the cameras metering if I want to use manual lenses stopped down but dont explain why not!!
Pentax have also indicated that older Pentax flashes "should" be safe to use on the K10D
but I dont want to risk damaging the camera if Pentax are not certain!!!
Any comments would be helpful

Ian Andrew at 06:52pm on Wednesday, February 21, 2007

Ian:

I have some experience with the issues you raised. With the K lenses there is a trick you can use on either the Pentax DS or the K10D to get metering. The metering will be center-weighted rather than evaluative but it does a pretty good job. Probably not unlike the LX. Here is the "trick". First set the appropriate setting in the custom menu which allows operation when the aperture setting is other than A (auto). This setting causes no problem on any other lenses and can be left that way all of the time. Put the camera in Manual mode (M) on the dial and twist the depth of field preview dial to stop down. The meter will operate and you will see an "old-fashioned" meter with which you can adjust for the appropriate shutter speed and aperture setting (with the K-mount lens this is done on the lens itself). With these settings, fire away. If you don't use this approach, the only function at its maximum aperature.
For the flash issues, I have used my FTZ 330 on the K10 and its causes no damage. The problem is that it fires at maximum. You can overide this by using one of the manual settings on the flash (ML or MH) and by using guide numbers and the X-sync setting but it is not exactly
optimal on the K10D. I rather like the FGZ 360 which works beautifully on the camera, can be triggered by the built in flash (now with firmware 1.1) and is rather inexpensive. It is currently a good bargain with the rebate. Hope this is a help. I think you will find the old K-mount lenses work pretty well with the camera.

John Hanover at 02:50am on Thursday, February 22, 2007

John Thanks for your comments these were very useful I'll have another try with one of my K lenses. Any thoughts on using older Pentax flashes like the Autorobo and the Pentax Flash system that went with the LX -
AF200/220/260/280/400 and the AFC80/140 Ring flashes my dealerthought these might fry the electronics of the Pentax K10D because of high trigger voltages???

Ian C. Andrew at 12:52pm on Friday, February 23, 2007

Hi Ian,

Thanks for the response. In my original post, I neglected to mention on other neat feature of the K10D with the SMC lenses. You can just set the aperture you want and push the green button then shoot. This button stops down, meters, adjusts shutter speed to the program line and locks. You then just shoot. Great little addition on this camera. This only works in M mode as I discussed above.

With regards to the flashes, I have only tried the FTZ330 and the AF220 with the K10D. Both work in manual mode with the camera set to X-sync. Neither work in program mode. Neither will hurt the camera, but I am not a fan of these older flashes on your K10D. If you are like me, shooting both film and digital, you will keep the old flashes for your film camera.

Hope this is a help

John Hanover at 01:59pm on Friday, February 23, 2007

John, just a supplementary - does it make any difference whether the lens is an M or an A for your suggestion for using these on the K10D?

Chris Rush at 04:11pm on Sunday, March 18, 2007

Ian:

It will work with both A and M lenses. The A lenses have the advantage of being able to use program mode. Manual mode works with either.

John Hanover at 06:26pm on Sunday, April 01, 2007

could someone / people advise-do you think pentax will release a lighter camera than the K10D as the competion ( nikon D40X and cannon 400) are so much lighter ? i am waiting to join digital SLR world after being disappointed with the OPTIO S5I.
Thankyou.

neil clayden at 03:47pm on Monday, April 09, 2007

Pentax bodies have always been solidly
built using quite a lot of metal parts
that's why they last as ling as they do.

I hope they never make flimsy lightweight,
cheap plastic bodies like some of their
competitors do.

The K10D isn't all that heavy anyway and
is a really superb camera.

Sean B at 06:43pm on Wednesday, April 11, 2007

i bought k10d 10 days ago. a good camera and need many practices to rule over it. but i see 2 difficulty in it:
1)built in flash is so week in comapre with its rivals.
2)AF is some time clumsy. some times it make me crazy.
why is ur idea about these problems?

jahanpour at 06:37pm on Thursday, August 30, 2007

I bought K10D with 18-55 Zoom a month ago to act as a digital body for all my older ES2 LX and P30T lenses and accessories It works beautifully with all my older Pentax S K KA lenses - Pentax should publish more detailed info on how each family of lenses can be used
This would boost sales among Pentax users
You really need to play with the camera to find out how to use it with these lenses.

Does anyone have any experience of the new Pentax Digital SDM Lenses yet?

Have not risked my AF 400 FTZ flash yet Pentax have not yet confirmed its OK
Id like to hear from anyone who has used this flashgun on K10D

Ian C. Andrew at 07:31pm on Thursday, August 30, 2007

I too have a Pentax Flashgun but the AF220T, not tried it yet on the K10D, bit nervous, anyone else tried it yet?

Lesleey at 10:48am on Friday, August 31, 2007

Still can't gwt a definative answer from Pentax, or rather any answer. Take a look at http://www.pentax.co.uk/downloads/photo/uk/K10D/catalog_K10D_GB.. This shows a diagram with FTZ and FGZ flash units which to my mind implies it is OK to use FTZ with 10K.
NIce old lenses are OK to use but why make us users purchase more flash guns the two FTZ500's I hav were not cheap.

Ashley Hellier at 10:34pm on Sunday, October 14, 2007

that web link above needs pdf added to the end or try putting http://www.pentax.co.uk/
to gether with this at the end
downloads/photo/uk/K10D/catalog_K10D_GB.pdf

http://www.pentax.co.uk/downloads/photo/uk/K10D/catalog_K10D_GB.pdf

Ashley Hellier at 10:38pm on Sunday, October 14, 2007

With regard to flashguns, I believe Pentax has made the decision to abandon the older FTZ design in favor of a preflash TTL version that is really necessary for digital sensors. The FTZ 330 and AF220T worked on my DS but were fooled often. The new generation flashes are usually spot on with exposure because of the preflash and TTL metering. As my post suggested above, you can use the AF220T and FTZ330 in manual mode using the X-sync mode of the K10D and guide number for setting aperture. The FTZ330 has a high and low setting in manual mode, I believe.

John Hanover at 08:08pm on Friday, November 16, 2007

I'm disappointed with the indoor performance. I ordered a Promaster TTL flash but have not gotten it yet. I use a generic flash with the AP mode and the pictures are just fine. My Canon A640 takes pictures that are as good or better than the K10D. I hope that if Pentax replaces the K10D they will jump to 17 or 22 MP. Quite honestly I don't think Pentax will continue to produce cameras. Their medium format fizzled and I think they will drop the DSLRs. The support is just not good.

Mike at 06:00am on Thursday, December 06, 2007

I was wondering two things. what is the best settings for out door portraits? and what is the best settings for indoor portraits, open, wide areas?

mandi at 01:49pm on Tuesday, February 26, 2008

Bought mine 18 months ago. One minor fault that has never recurred. Fitted with a Sigma 17-70 lens now and the quality and workmanship is WOW. Taken 2000 + pictures and the exposure is nearly always spot on.
Solid (sore shoulders from carrying the bag) but easy to handhold. Using a Sigma flash that is good but the wireless flash is a bit unpredictable. Thanks Pentax!

Trevor Bradford at 10:55pm on Wednesday, August 06, 2008

@Mike (#37)
"My Canon A640 takes pictures that are as good or better than the K10D."

HA HA HA HA OH MY GOD is this a joke?
I have both cameras, and there's no comparison.
I guess if you're only using the kit lens and shooting in JPEG and never editing your photos you might be disappointed with the K10D, but if that's the case then you shouldn't be buying a DSLR anyway.

The K10D is a solid, excellent camera.
The build quality and overall performance is significantly better than similarly priced Canon, Nikon, or Sony cameras.

But I do agree with folks who wish Pentax would offer more documentation on their accessories. I bought the 360FGZ flash and it came with almost no information at all, which has made trying to use it extremely frustrating and ruined a lot of photos.

Hank at 08:27pm on Thursday, August 14, 2008

Used the kit lens for a year and then splashed out on the faster Sigma lens and found a significant difference. Even when I had a istDS the picture quality was far and away better than my friends Canon but he did have a pretty crap printer though. Dont know about you folks but it seems that their is a lot of snobbery around regarding cameras not supplied by the big two. Went into a couple of camera shops when looking for a 70-300 zoom and when I mentioned Pentax got the impression they were not impressed. Loads of Canon/Nikon lenses on the shelf though. See a lot of people with these types hanging around the neck but too few taking pictures. Want real quality use CS2 and RAW.

Trevor Bradford at 10:04pm on Thursday, August 14, 2008

I am having a problem with my K10D. I need to be able to shoot pictures in very dark conditions, very quickly. I cannot seem to get the camera to do more than focus. The camera will run the pre-light to allow for the focus, but after it shows that it is in focus it will not let me actually snap the photo. With my business, I need to be able to shoot inside dark churches, monasteries, museums, etc. and get high-quality good color photos. What am I missing? My Nikon d40 allows this and I get good photos from it, but I need the all-weather protection of the Pentax.

Jerrid at 09:41pm on Monday, December 22, 2008

Jerrid,

This problem sounds a bit odd and possibly suggests a defective camera. When the camera is set to AF-S, pushing the shutter lightly should trigger autofocus and allow you to trip the shutter. You might also consider separating those functions by using the AF button on the back of the camera instead. One of the custom settings allows you to customize the use of this button. Also, if you switch the camera to AF-C, the shutter will fire whenever you want, and the system continuously autofocuses. In some settings, this might help. In such low light settings, it might be your best bet.

John Hanover at 08:00pm on Saturday, January 24, 2009

I run into the same problem as Jerrid does. My pentax k10d reacts very slowly in dark indoor conditions. The result can not be compared with Nikon d90 which shows objects a dark room as if under the sun even without a flash light. In general, my pentax produces a lot under exposed pictures which do not improve even if I adjust saturation, sharpness, and contrast in the rec. mode. Any recommendations?

amu at 08:17am on Sunday, March 29, 2009

I had similar concerns with my K10D now I have a K20D and have same under exposure concerns. I thought it was me, but, after reading this: http://ricehigh.blogspot.com/2008/06/k20d-exposure-inaccuracy-and.html I see it is a bias to Pentax. Since reading this I now keep my Exp Comp on +7 and check the histogram in differing light conditions. Now I am getting perfectly exposed shots. TBH I wd rather the Pentax under rather than over expose, as in the case of Nikon, you can't retrieve over exposed highlights. Hope this helps you.

LAT at 10:14am on Sunday, March 29, 2009

Many thanks to LAT. The site is thought provocing and some of the issues ring true with the performance of my Pentax K10D. However, the issues can be addressed. LAT's suggestion of Exposure at +7 helps a lot. In my case, true color rendation won my love for Pentax K 10D. In addition, I use it for portrait and landscpe, therefore speed and focus in darkness issues were considered and accepted at purchase. I love the Bulb function. If one got time and experiment with it, one always find the perfect exposure. Hence, discovery about and with Pentax K10D is also a fun quite ignored. Thanks again, LAT, for the direction.

amu at 12:23am on Tuesday, April 07, 2009
Commenting is not available in this channel entry.