Pentax Optio A20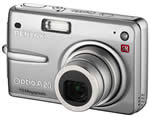 Pentax UK Press Release
August 22 2006, London; PENTAX is pleased to announce the new Optio A20, a compact digital camera featuring 10 effective megapixels and the latest optics and shake reduction technology to produce class leading images in even the most challenging of photographic environments. The Optio A20 is the latest model in the premium Optio A series range. Housed in a tough, lightweight aluminium casing the Optio A20 offers 10 effective megapixels, and has a range of features, including three types of anti-shake function. The Pentax developed SR (Shake Reduction) technology reduces camera shake by using gyroscopic sensors to oscillate the CCD as the camera moves, ensuring crisp images even when the camera is moving. To further improve image quality Blur Reduction optimises the settings for crisp images in any conditions and the Auto Tracking AF function, ensures the subject of the image remains in focus even if it is moving, allowing for perfect action shots.
The Optio A20 features a 3x optical zoom, class leading optics and a 2.5 inch low reflection LCD display. This camera will retail for around £279 and be on sale from early October.
Major Features
1. High Quality Images
(1) 10.0 effective megapixels image quality
Despite its compact dimensions, the Optio A20 produces extremely clear, high-quality images thanks to the high resolution provided by its 10 effective megapixels. This level of resolution makes it possible to produce prints with crisp detail even when the photo is enlarged to A3 size. The Optio A20 uses a large 1/1.8-inch CCD with a wide light sensitive area, which enables superior tone reproduction, fine textures, and greater noise reduction.
2. High performance smc PENTAX zoom lens
The Optio A20 is equipped with a high quality smc PENTAX zoom lens, which is renowned for its clarity and high contrast image performance. Its lens configuration, with seven elements in five groups, including three aspherical elements, effectively corrects for spherical aberration. The lenses are coated using a Pentax developed technique, which greatly reduces ghosting and flare.
3. New ASIC*1
A new ASIC supplies the Optio A20 with increased image-processing power. Thanks to the ASIC's high-speed processing capability, the Optio A20 attains a higher level of tone reproduction and colour correction based on enormous amounts of actual photo data.
*1: Application Specific Integrated Circuit
4. Three Types of Anti-Shake Functions
(1) SR (Shake Reduction)
The SR (Shake Reduction) mechanism, developed by Pentax, features two gyro sensors that detect the amount of shake and moves the image sensor (CCD) horizontally and vertically counteract camera shake. The SR mechanism effectively prevents shake the instant that the shutter button is pressed.
(2) Blur Reduction mode*2
In this mode, the camera automatically adjusts the sensitivity to as high as ISO 1600 according to the brightness of the subject. The higher sensitivities permit faster shutter speeds that reduce camera shake and blurring caused by moving subjects.
*2 The image recording size is fixed to 5 M (2592 x 1944 pixels) when Blur Reduction mode is selected.
(3) Movie Anti-Shake Function*3
Camera shake while taking a movie can also be corrected automatically by software, thanks to an electronic, movie anti-shake function.
*3 Using the movie anti-shake function results in a narrower field of view than during normal recording.
5. Face Recognition AF & AE for beautiful one-step portraits
The camera includes the new Face Recognition AF & AE*4 function, which allows you to take photos of people with perfectly focused faces free of shadows, frequently caused by exposing for the background or for bright clothing. This useful function automatically detects the position of the subject anywhere in the photo frame and then adjusts the focus and optimises the exposure for the detected position.
*4 This camera's Face Recognition AF & AE function uses the Face Tracker face-recognition technology from FotoNation.
6. Auto-tracking AF continuously focuses on a moving subject
The Optio A20's Auto-Tracking AF feature continuously focuses on subjects as they move around. Since the focus frame automatically follows the movement of the subject inside the photo frame, you can be sure to capture those instantaneous photo opportunities. This setting is perfect for photographing kids, pets or sporting events.
7. High quality movies with an anti-shake function
The Optio A20 smoothly captures movies at 30 fps (frames per second) at sizes up to 640 x 480 pixels with image quality rivalling camcorders. Since it employs the DivX® (MPEG-4 compliant) movie format,*5 the Optio A20 can record longer, high-quality movies.
*5 The Optio A20 is DivX® certified. Movie playback is not supported on Macintosh operating systems.
8. Auto Picture mode automatically determines the best settings for the shooting conditions
The Auto Picture mode lets the camera automatically determine the shooting conditions for Landscape, Portrait, Night Scene, and Program modes and choose the optimum settings for each subject. This Pentax developed function makes photography a lot easier for users since it eliminates the need to adjust individual settings. However more advanced users still have the option to manually adjust all settings.
9. A wide range of exposure setting modes
In Programmed Exposure mode, the camera automatically determines the shutter speed and aperture. The camera also includes 'Shutter-Priority AE' mode and 'Manual Exposure' mode, which the user can set freely depending on the effect they are aiming to achieve.
10. Compact and lightweight body
Despite incorporating a large CCD and the SR System, Pentax have created a slimmer and lighter body by using our unique Sliding Lens System*6 together with high-density mounting technology.
*6 PENTAX's proprietary lens system: The central lens group slides upward from the optical axis and the front and back lens groups slip under them. Housing the lens in two steps in the lens cylinder reduces overall lens thickness, thereby minimizing body depth.
11. Supports the SDHC memory card for greater storage of high-quality images and longer movies
The Optio A20 supports two removable storage media: the conventional SD memory card and the new SDHC memory card.*7
*7 SD High Capacity; these memory cards have capacities in excess of 2 GB.
12. Red-eye correction available after shooting
The Optio A20 comes with FotoNation's red-eye correction function, which can correct red-eye problems, a common side effect of flash photography, after the photo is taken. With the ability to manually select the area to correct, this function allows for more precise correction of red-eye photos.
13.Other Features
1) Calendar Display function allows image retrieval based on the capture date
2) Easy image search and arrangement on a PC using a Date Folder function
3) Green Mode enables the use of fixed, automatic settings when taking a photograph
4) Digital zooming provides up to 4X magnification
5) Approximately 22MB of built-in memory
6) Pan-focus function for effortless snapshots
7) ACDSee for PENTAX image viewer/image management software
8) USB 2.0 (HI-SPEED) compatible
9) Supports PictBridge, DPOF functions, Exif Print, and PRINT Image Matching III
About Pentax
Pentax U.K. Limited was formed in 1979 and is a subsidiary of the PENTAX Corporation of Japan. The Imaging Systems Division successfully distributes its products through a number of channels, including independent camera shops and national retailers. The product range is extensive and includes state of the art digital SLR and zoom compact cameras, through to highly sophisticated professional medium format equipment. There is also a superb range of binoculars, suitable for a variety of leisure activities. Today, Pentax is a leading supplier of professional and recreational cameras and photographic equipment world-wide.
Pentax U.K. Limited, Imaging Systems Division, offers an online press lounge, designed to provide the UK media with access to an extensive library of information relating to Pentax's range of cameras and binoculars.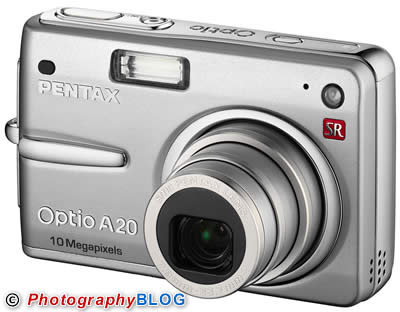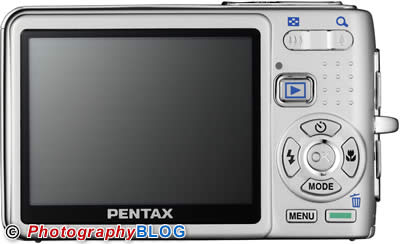 Published: Tuesday, August 22, 2006
Compare Prices
Support PhotographyBLOG: Buy this product from one of our affiliate retailers (US first/red, UK second/blue):
Reader Comments
operating manual downloading ? cant find any information on this. Unable to change the dates of useage.

J. Corlass at 04:14pm on Wednesday, December 05, 2012
Commenting is not available in this channel entry.