Pentax Optio E20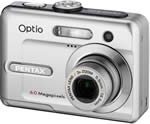 Featuring 6 megapixels and a large 2.4-inch LCD monitor, the Pentax E20 will be on sale from October with a retail price of £119.19.
Pentax UK Press Release
14th September, 2006 - Pentax is pleased to introduce the new Optio E20, a lightweight compact digital camera. The introduction of the Pentax E20 expands Pentax's portfolio of entry-level compacts. With 6 megapixels and a 3X optical zoom lens it is designed to be simply operated and features a convenient mode dial making the Optio E20 the ideal choice for budding photographers. The Pentax E20 offers beginners and novices an innovative camera with technologically advanced optics and a premium photographic experience at a competitive price. The Pentax Optio E20 is the latest in Pentax's Optio E series range featuring world leading optics in an easy-to-use package that is great value for money. In addition the Pentax E20 uses AA batteries, so users can easily buy replacements no matter where they are in the world to take high quality photos anytime or anywhere.
Major Features
1. 6.0 effective megapixels provide outstanding image quality
Enjoy the high-quality photography of the Optio E20 delivered by the high definition of 6.0 effective megapixels. The primary-colour filter produces more natural, vivid colours while the 12-bit A/D converter evenly reproduces all tones from dark to light.
2. AA battery compatible
Since the camera accepts widely available AA-size batteries, users will have no issues in obtaining fresh batteries either at home or abroad.
3. Mode dial for straightforward mode selection
The Optio E20's Mode dial, located on the top of the body, allows a quick and easy selection of the cameras eight versatile modes - six still-image shooting modes, a movie mode, and a setup mode.
4. Simple mode is easy on beginners
The Simple mode takes the guesswork out of taking pictures for first-time digital photographers. Just turning the Mode dial to Simple mode automatically sets all still-image photo settings except for size and quality.
5. Large, 2.4-inch LCD monitor
The Optio E20 even features a large, 2.4-inch LCD monitor despite its compact body dimensions. Not only does the monitor's size make it easy to compose and play back images, but it also provides easy operation and setup, thanks to its large, easy-to-read menu display.
6. 3X optical and up to approx. 12X total zoom magnification
The Optio E20 comes with a 3X optical zoom lens equivalent to a 34-102mm lens in 35mm format. When the optical zoom is paired with the digital zoom function (1X to approx. 4X), the camera can attain up to approx. 12X effective zoom magnification.
7. Other features
1) Supports SD memory cards; approximately 13MB of built-in memory
2) Equipped with an video output terminal that allows playback on TV (compatible with both NTSC and PAL)
3) Built-in auto flash with red-eye reduction*
4) Macro mode allows close-up photography as near as 6 cm
5) Capable of taking QVGA video
6) ACDSee for PENTAX image viewer/image management software
7) PictBridge, DPOF functions, Exif Print, and PRINT Image Matching III compatible
About Pentax
Pentax U.K. Limited was formed in 1979 and is a subsidiary of the PENTAX Corporation of Japan. The Imaging Systems Division successfully distributes its products through a number of channels, including independent camera shops and national retailers. The product range is extensive and includes state of the art digital SLR and zoom compact cameras, through to highly sophisticated professional medium format equipment. There is also a superb range of binoculars, suitable for a variety of leisure activities. Today, Pentax is a leading supplier of professional and recreational cameras and photographic equipment world-wide.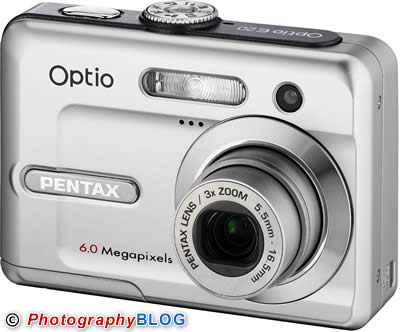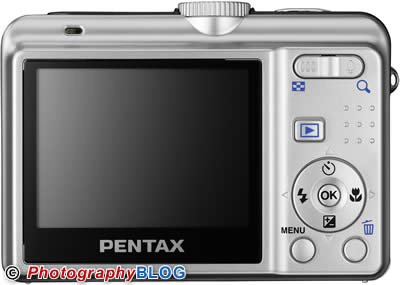 Published: Thursday, September 14, 2006
Compare Prices
Support PhotographyBLOG: Buy this product from one of our affiliate retailers (US first/red, UK second/blue):
Reader Comments
Dear Sirs/Madam, I have a Pentax Optio E20 Camera, but unfortunately I have lost the instructions, is it possible to let me have a copy? I would really appreciate it, many thanks, any cost will be forwarded on to you.

Mrs. M. Steptowe,
19 Pendennis Close,
Basingstoke,
Hants. RG23 8JD will

Mrs. Marguerite Steptowe at 11:17am on Monday, June 23, 2008

i have purchased a SDHC 4GB could you please advise me if this will work in the camera,if so can you send me instructions of how do so.

jane coy at 07:35pm on Saturday, September 06, 2008

Is a SDHC 4GB memory card compatible with the Pentax Optio E20 or must one stick to a straight SD card?
Thankyou Keith

keith.leatherby @ materials.ox.ac.uk at 09:39pm on Monday, March 02, 2009

I have a Pentax Optio E20and have lost the instructions. Can you provide copies and if so, at what cost?

Many thanks

Maureen Wright at 11:13pm on Saturday, March 28, 2009
Commenting is not available in this channel entry.