Pentax Optio M20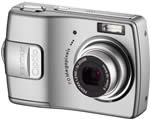 Pentax UK Press Release
Pentax adds to its family of high performance and easy to use digital cameras with the 7 megapixel Optio M20
22nd August 2006, London - PENTAX is pleased to announce the launch of its new Optio M20, the high performance yet user friendly compact digital camera boasting extended battery life and an upgraded 7 effective megapixels. Stylishly designed, lightweight and easy to use, the Optio M20 will appeal to families who enjoy recording events for the family album or those wanting to upgrade their current digital experience - as delivered through a combination of market leading optics, high-end megapixel count and a competitive price. Packed with features, the camera is extremely versatile and perfectly able to cope with a range of photographic situations.
The Optio M20 is the latest in Pentax's Optio M series and is simple enough to be operated successfully by novice photographers, yet does not compromise in its functionality for more advanced users. Using widely available AA batteries, users can easily buy replacements no matter where they are in the world to take high quality photos anytime or anywhere. In addition to offering extended battery life from only two AA batteries, this model features a new Blur Reduction mode, which allows users to take sharper photos without camera shake or subject blurring.
Also featuring an Auto Tracking Auto Focus function, the Optio M20's focus frame continually follows the main subject as it moves around in the image field, ensuring sharp, crisp focus at the shutter release - so taking pictures of kids and pets that move around unpredictably has never been easier.
The M20 features a 3x optical zoom, class leading optics and a 2.5 inch low reflection LCD display and will be on sale from September at a guide price of between £229 and £249.
Major Features
1. Outstanding battery life
Thanks to its comprehensive energy-saving design, the Optio M20 provides exceptional battery life (approximately 220 images with AA-size alkaline batteries,*1 or approximately 700 images with AA-size lithium batteries*1). Since it accepts the widely available AA-size batteries, users will have no issues in obtaining fresh batteries either at home or abroad.
*1 Measured under testing conditions prescribed by CIPA standards.
2. New Blur Reduction mode reduces camera shake and subject blurring
The Optio M20 is equipped with a Blur Reduction mode, a new feature that lets users take photos at faster shutter speeds for sharper images even in dim lighting conditions such as night scenes and indoor sporting events. In this mode, the camera automatically adjusts the sensitivity to as high as ISO 1600 to match the brightness of the subject. The higher sensitivity permits faster shutter speeds that effectively reduce not just camera shake but also blurring caused by moving subjects.
3. Auto Picture mode automatically determines the best settings for the shooting conditions
The Auto Picture mode lets the camera automatically determine the shooting conditions for Landscape, Portrait, Night Scene, and Program modes and choose the optimum settings for each subject. This Pentax original function simplifies shooting for users since it eliminates the necessity of making a number of individual settings.
4. High Quality Movies with Anti-Shake Function
The Optio M20 captures movies at 30 fps (frames per second) at resolutions up to 640 x 480 pixels and with an image quality rivalling that of camcorders. Camera shake while filming can be corrected automatically using the movie anti-shake function.*2
*2 Using the movie anti-shake function results in a narrower field of view than that during normal recording.
5. Face Recognition AF & AE for beautiful one-step portraits
The camera includes Face Recognition AF & AE that allows photographers to take photos of people with perfectly focused faces, free of shadows caused by backlighting. This useful function automatically detects the position of the subject's face anywhere in the photo frame and then adjusts the focus and optimizes the exposure for the detected position.
6. The image quality of 7 effective megapixels permits beautiful, crisp prints even at large-format sizes
The Optio M20 produces clear images with impressive quality thanks to the high resolution afforded by its 7 effective megapixels and to its high-performance smc PENTAX lens. This superlative resolution makes it possible to attain prints with crisp details even when the photo is greatly enlarged.
7. Auto-tracking AF continuously focuses on a moving subject
The Optio M20's Auto-Tracking AF feature continuously focuses on subjects such as kids and pets whose movements can sometimes be unpredictable. Since the focus frame automatically follows the movement of the subject inside the photo frame, users can capture those instantaneous photo opportunities.
8. Easy to View LCD Monitor
The Optio M20 comes with a 2.5-inch LCD monitor, which displays the subject's movements with very little time delay (60 fps). Its easy to view, large monitor and menu display make operation, setting, monitoring, and playback comfortable and easy. The camera also has an auto LCD dimmer function that automatically dims the backlight to optimise the brightness of the screen for indoor or outdoor conditions.
9. Easy to use 3x optical zoom
The Optio M20 includes a 3x optical zoom lens with a focal length from 38 to 114 mm in 35-mm film format, which is ideal for a wide range of subjects from landscapes, through to action shots and portraits.
10. Supports the SDHC memory card for greater storage of high-quality images and longer movies
The Optio M20 supports two types of removable storage media: the conventional SD memory card and the new SDHC memory card.*3
*3 SD High Capacity; these memory cards have capacities in excess of 2 GB.
11. Compatibility with the ImageLink printing system
The Optio M20 is compatible with the ImageLink printing system, which allows wireless connection of a digital camera to ImageLink-compatible printers. By simply placing the Optio M20 on the printer's dock, the user can take advantage of simple, push-button printing of recorded images, without requiring a personal computer.
12. Other features
(1) World time function for 71 cities (28 time zones) worldwide
(2) Calendar display lets you choose photos by date
(3) Mode Palette provides quick access to 15 shooting modes and 13 playback modes
(4) Soft flash function avoids overexposure during close-up flash photography
(5) Macro mode allows close-up photography as near as 5 cm
(6) Digital zooming provides up to 4X magnification
(7) Approximately 21.9 MB of built-in memory
(8) Includes the ACDSee for PENTAX image viewer/image management software
(9) Supports PictBridge, DPOF functions, Exif Print, and PRINT Image Matching III
About Pentax
Pentax U.K. Limited was formed in 1979 and is a subsidiary of the PENTAX Corporation of Japan. The Imaging Systems Division successfully distributes its products through a number of channels, including independent camera shops and national retailers. The product range is extensive and includes state of the art digital SLR and zoom compact cameras, through to highly sophisticated professional medium format equipment. There is also a superb range of binoculars, suitable for a variety of leisure activities. Today, Pentax is a leading supplier of professional and recreational cameras and photographic equipment world-wide.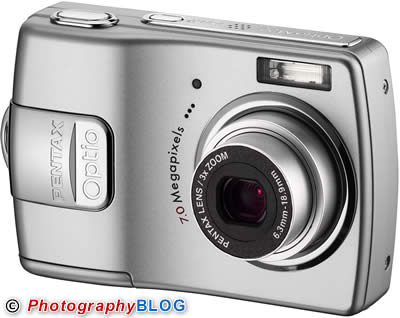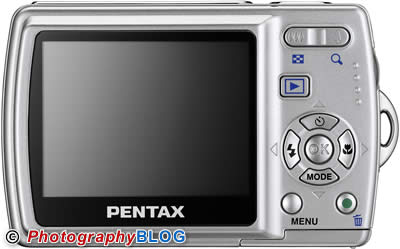 Published: Tuesday, August 22, 2006
Compare Prices
Support PhotographyBLOG: Buy this product from one of our affiliate retailers (US first/red, UK second/blue):
Reader Comments
this is the best camera I have ever used. does it come with memory card and cables to connect to my computer?

Wilbur Wright at 02:39pm on Saturday, October 26, 2013
Commenting is not available in this channel entry.