Pentax Optio T20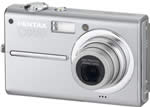 The new Pentax T20 digital camera is announced. Offering 7 megapixels, 3 inch LCD screen and a slim 19.5mm body, the Pentax T20 will arrive in UK stores in October with a retail price of £249.99.
Pentax UK Press Release
14th September, 2006 - Pentax is delighted to introduce the new Pentax Optio T20 compact digital camera. An upgrade to the highly successful Optio T10, the new camera still benefits from a combination of stylish design and innovative functionality - such as touch-screen programming, on-screen image manipulation and high-definition playback - but now boasts a meatier 7 megapixel processing performance. This makes the Pentax T20 ideal for those who want to match cutting edge design, top-end optical performance and leading digital technology. Housed within an extremely slim body, the Pentax T20 is defined by its extra-large 3.0-inch, high-definition LCD monitor, which allows for easy viewing and a touch-screen control system for programming the camera. Using the screen as the main interface in this way, navigation is simplified, more control is given to the user, and the design of the camera is simplified to make it much more aesthetically pleasing. Yet ease of use and stunning design is balanced by high-end performance, with the T20's 7 effective megapixel resolution delivering exceptionally high-quality prints with crisp detail.
Major Features
1. Easy-to-view 3.0-inch over-sized LCD monitor
The Optio T20 boasts a large digital-camera LCD monitor, which measure a full 3 inches and about 230,000 pixels, delivering exceptional clarity and definition. Checking pictures and setting up functions are easier than ever thanks to the large and more defined displays and menus and navigational aids. In addition, since the monitor sports a wide viewing field, the screen remains easy to see and bright and colourful even when viewed at acute angles. This is helpful when monitoring shots at low or high angles or when showing off photos to a group of people.
2. A 19.5-mm body - one of the thinnest in its class
Despite the sleek 19.5-mm body, the Optio T20 features an extra-large 3-inch LCD monitor and a 3x optical zoom. Fitting some much is so little results from the use of the Pentax Sliding Lens System*1 and high-density mounting technology.
*1 Pentax's proprietary lens system: The central lens group slides upward from the optical axis and the front and back lens groups slip under them. Housing the lens in two steps in the lens cylinder reduces overall lens thickness, thereby minimising body depth.
3. Touch display
The Optio T20's touch display allows you to select and confirm functions by directly touching the LCD monitor. Its simple operations such as selecting the icon from the displayed menu and touching the monitor take the stress out of setting up the camera.
4. Excellent image quality
An upgraded 7 effective megapixel resolution delivers images with exceptional definition. The camera boasts the well-regarded smc PENTAX lens, which renders clear, high-contrast images, while our unique lens coating cuts out ghosting and other artefacts. The Optio T20's superb image processing technology produces vivid colours and creates smooth tonal expressions at all brightness levels.
5. 'My Drawing' mode for easy picture design
The Optio T20 comes with a 'My Drawing' mode, which lets you customise your shots on camera. Using the stylus pen, you can create your own original picture by writing directly on the image shown on the monitor or adding a stored illustration with the Stamp function. The camera also has a function for storing your favourite photos as original stamps.

6. 12 shooting modes cover a wide range of scenes
The Optio T20 features 12 versatile shooting modes specialised for conditions such as Portrait, Landscape, Flower, or Night Scene. Just choose the mode matching the subject scene and the camera automatically optimizes the exposure, white balance, and other settings. Selecting the mode is easy with the touch display and the Mode Palette, which displays Pentax's original mode icons on the LCD monitor.
7. High-quality movies with a built-in Movie editing function
The Optio T20 smoothly captures movies at 30 fps (frames per second) at sizes up to 640 ´ 480 pixels with image quality rivalling camcorders. Furthermore, a movie editing function can save a frame from a recorded movie as a still image.
8. Exquisite design
We employed a high-grade aluminium alloy for the camera's exterior. The elegant design is finished off with the soft rounded contours of the top cover that accentuate the unit's thinness and project a friendly image.
9. Other features
1) Approximately 12 MB of internal memory; supports external SD memory cards
2) Frame composite mode adds decorative frames to images when shooting or after shooting
3) Function (Fn) setting permits you to store frequently used settings and recall them from the panel with a single touch
4) Approximately 4X digital zoom function
5) Convenient image-rotation display for confirmation of shots (rotates images 90º, 180º, or 270º)
6) Includes the ACDSee for PENTAX image viewer/image management software
7) USB 2.0 (hi-speed) compatible
8) PictBridge, DPOF functions, Exif Print, and PRINT Image Matching III compatible
PENTAX, Optio are registered trademarks of PENTAX Corporation.
SD logo is a trademark.
All other brands or product names are trademarks of registered trademarks of their respective companies.
QuickTime and QuickTime logo are trademarks used under license. The QuickTime logo is registered in U.S. and other countries.
This product supports PRINT Image Matching III. PRINT Image Matching enabled digital still cameras, printers and software help photographers to produce images more faithful to their intentions. Some functions are not available on printers that are not PRINT Image Matching III compliant.?
Copyright 2001 Seiko Epson Corporation. All Rights Reserved.
Print Image Matching is a trademark of Seiko Epson Corporation.
The PRINT Image Matching logo is a trademark of Seiko Epson Corporation.
Designs and Specifications are subject to change without notice.
About Pentax
Pentax U.K. Limited was formed in 1979 and is a subsidiary of the PENTAX Corporation of Japan. The Imaging Systems Division successfully distributes its products through a number of channels, including independent camera shops and national retailers. The product range is extensive and includes state of the art digital SLR and zoom compact cameras, through to highly sophisticated professional medium format equipment. There is also a superb range of binoculars, suitable for a variety of leisure activities. Today, Pentax is a leading supplier of professional and recreational cameras and photographic equipment world-wide.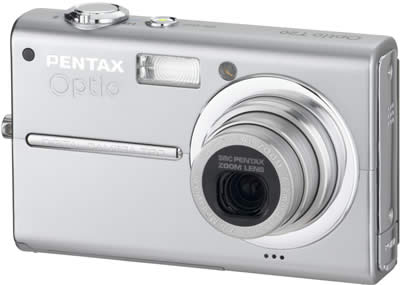 Published: Thursday, September 14, 2006
Compare Prices
Support PhotographyBLOG: Buy this product from one of our affiliate retailers (US first/red, UK second/blue):
Reader Comments
Commenting is not available in this channel entry.