Samsung Digimax L85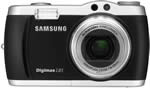 PMA 2006: The Samsung Digimax L85 is unveiled. 8-megapixels, 5x optical zoom (38-190mm - 35mm equivalent), 2.5-inch LCD display (230K pixels), full manual control, 11 preset scene modes. Available in March.
Samsung UK Press Release
Samsung Unveils the New High-Performance Samsung Digimax L85 with the World's First High Definition Multimedia Interface. The new Digimax L85 is the latest addition to Samsung's prestigious line of digital cameras. It is the world's first digital still camera to feature High Definition Multimedia Interface (HDMI) - a revolutionary new feature allowing users to view their photos on a high definition television with outstanding quality. Set to launch in April, the eight-mega-pixel Digimax L85 also includes a top-class Schneider Kreuznach lens with 5x optical zoom and a 2.5-inch LCD display (approximately 230K pixels), which provides the photographer with a greater zoom options and a vivid display.
With a classic body shape and comfortable grip that will suit the more advanced photographer looking for additional control, the Digimax L85's sleek black and silver body will appeal to the most stylish consumers.
Three kinds of manual exposure adjustments give ambitious photographers complete creative freedom. Aperture priority allows more control of depth of field; shutter priority allows better capture of fast motion; and manual adjustment that allows users to set the shutter and aperture themselves - meaning that even the most demanding photographers will be satisfied with the L85's versatility..
Continuous shooting mode including Auto Exposure Bracketing (AEB). This allows users to shoot a series of pictures with slightly different exposures to ensure perfect lighting. Additionally, Auto Focus Bracketing takes several shots which focus on different elements of the frame to ensure that the perfect image is captured.
The L85 provides MPEG-4 video compression, which will give cameras much longer recording time compared to standard video formats. It has the advanced capabilities to capture movie clips in VGA (640 x 480) at 30fps and has several advanced movie shooting functions, including a movie stabiliser, continuous video recording, improved in-camera video editing and the ability to use the 3x optical zoom while recording.
11 scene modes including Night Scene, Portrait, Children, Landscape, Close-up, Sunset, Dawn, Backlight, Fireworks, Beach & Snow and Text Recognition, mean that even the inexperienced photographer will get the perfect shot in every situation.
Various user-friendly functions such as My Set shot mode, allows the user to save customised shooting settings - a great feature for the frequent, enthusiast photographer.
Users will never miss their shot, because the L85 can take pictures as soon as it's switched on, and its faster image-writing speed means that you can keep catching the action for longer.
Improved Graphic User Interface (GUI) ensures faster and smoother menu navigation - menu settings can be accessed quickly and with ease, by using the camera's Move and Set functions.
Other helpful features include 32 MB of built-in memory and a voice recording function. The L85 is supplied with Samsung's exclusive 'Digimax Master' software. This software enables advanced movie and still image editing.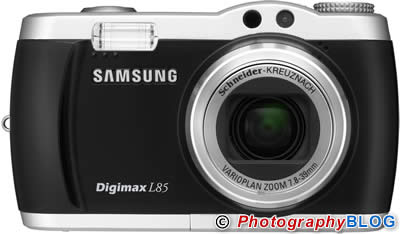 Published: Friday, February 24, 2006
Compare Prices
Support PhotographyBLOG: Buy this product from one of our affiliate retailers (US first/red, UK second/blue):
Reader Comments
Commenting is not available in this channel entry.