Samsung GX-1L DSLR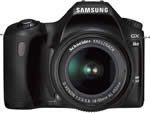 PMA 2006: The Samsung GX-1L DSLR is announced. 6-megapixels, five-point wide-area Auto Focus system, three-mode metering system, 8 scene modes. Available in March.
Samsung UK Press Release
Samsung is introducing a second digital SLR model for 2006 - the GX-1L - developed jointly with Pentax. The Samsung GX-1L is a 6-megapixel model is an interchangeable lens D-SLR that features world-renowned Schneider optics in a compact, lightweight, easy-to-hold body. Set to launch in March, the GX1L will be available with an 18-55mm lens and has been designed to offer fantastic ease-of-use with entry-level DSLR users in mind. The Samsung GX1L features a host of automatic functions including Auto Sensitivity, Auto Picture Mode and a newly designed operation system. This, combined with its full range of advanced manual functions, makes the GX-1L perfect for the beginner through to the more advanced DSLR user.
For exceptional image quality and control, the GX-1L has a five-point, wide-area Auto Focus system. With a choice of AF-single or AF-continuous, this system provides accurate auto focusing in a variety of shooting conditions.
The GX-1L also incorporates a high-precision, three-mode metering system including, 16-segment multi-pattern metering, centre-weighted metering and spot metering. For additional control and creativity, users can choose from eight scene modes including Children, Pets, Candlelight, Museum, Night Scene, Surf & Snow, Text and Sunset and several White Balance settings.
As with many high-end Samsung camera models, the GX-1L was developed for use with Schneider optics. The GX-1L uses the Schneider D_XENON 18mm~55mm lens and is also compatible with the Schneider D_XENON 50mm~200mm lens. For added convenience the GX-1L can be used with many Pentax DSLR lenses and KAF2 and KAF mount lenses.

Other features
Automatic operations including an innovative Auto Picture mode that automatically selects the appropriate picture mode from Standard, Landscape, Macro or Action depending on the subject. When in Auto Sensitivity mode the GX-1L automatically adjusts the camera's sensitivity including brightness and focal length to help reduce camera shake and ensure a steady, clear image. And, for easy selection, all major functions can be accessed from the convenient, easy-to-read mode dial.
A high-speed consecutive shooting mode of 2.8 frames per second; up to 5 frames in JPEG shooting; and up to 3 frames per second when shooting in Raw Mode -allowing the user to catch the subject's action or movement in a series of images.
Easy viewing of images in all lighting conditions, the GX-1L features a large, 2.5-inch LCD monitor (210,000 pixels) and a bright, high-magnification pentamirror viewfinder offering a 96-percent field of view.
Compact and lightweight body measuring just 125x92.5x67mm and weighing 470g* , the GX-1L is perfect for on-the-go shooting.
Powered by four AA-size Lithium, Ni-MH or two CR-V3 batteries.
* Weight excludes batteries and card.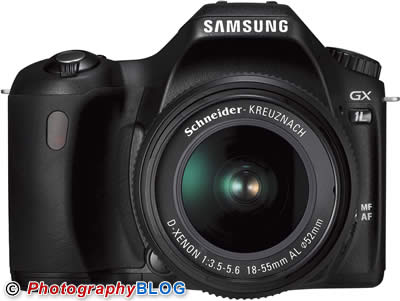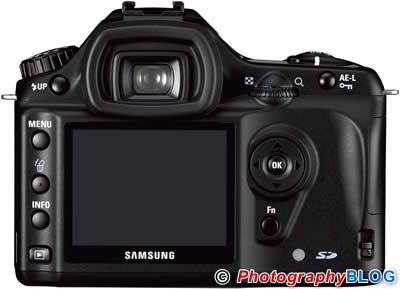 Published: Friday, February 24, 2006
Compare Prices
Support PhotographyBLOG: Buy this product from one of our affiliate retailers (US first/red, UK second/blue):
Reader Comments
What a wonderful camera. Highly recommended.

Gareth White at 09:39am on Friday, February 24, 2006

Mmm, let us see if I got this right. The GX-1S is a re-branded *istDS, while the GX-1L is a re-branded *istDL. Or...?

Zoltan at 02:34pm on Friday, February 24, 2006

Zoltan,

Excellent question. I'm so lost on what is and is not a Pentax camera these days. And now Pentax is planning on showing a new 10MP *ist D-something at the PMA.

I'm worried that the market place will not be able to keep these straight either.

phule at 05:58pm on Friday, February 24, 2006
Commenting is not available in this channel entry.