Samsung SDC-MS61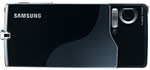 Samsung Press Release
Berlin , Germany - 1st September, 2006 - Samsung Electronics Co., Ltd., a market leader in consumer electronics, is set to launch the SDC-MS61. This very stylish product combines multiple functions with 6 Mega pixel photo quality and the best MPEG4 recording quality available in a digital still camera. The innovative Samsung SDC-MS61 features ISO 1600, which reduces the effects of camera shake and sharpens subjects in low-light situations with high shutter speeds, giving you greater flexibility for shooting. The SDC-MS61 also incorporates a big new 3-inch wide LCD screen with a 16:9 aspect ratio for a truly eye-opening view. This high-resolution screen offers a crisp, clear picture and wider viewing angle to make shooting, playback and producing images and film clips that are perfect for your wide-screen TV or computer monitor.
'What to buy among a digital camera, a camcorder or an MP3 player?' The SDC-MS61 make this decision simple as it supports camcorder, voice recorder, web camera, MP3, and many more functions.
Samsung introduces innovative digital camera packed with multi-functional features.
Digital Camera & Camcorder
The SDC-MS61 is both a camcorder for capturing fast motion images and a digital camera for still images. Now you can produce high-quality photo and the best movies in 640x480 resolution at 30 fps , the best available quality in the digital still camera category. The SDC-MS61 features a 6 Mega pixel CCD with 3x optical zoom and a 3-inch LCD screen with a 16:9 aspect ratio. Capturing the perfect shot and movie-making has never been easier!
MP3 & Voice Recorder
It allows users to download a variety of songs to create their own collection of CD tracks. Using the voice recording function, students can record lectures and employees their job assignments.
Web Camera
There is no need for a web camera. By connecting the SDC-MS61 to a computer linked to the Internet, live video images can be exchanged in real time.
Although it has multiple features, Samsung Electronics' advanced technology made the SDC-MS61 as slim as possible with a full body sliding design. Thus, the concern that 'the larger the number of features, the greater the weight' is not longer a serious issue.
Adopting the refraction optical method, the 3x optical zoom lens is hidden inside the camera body, which dramatically reduces the camera size and weight. It does not pop out. Zooming is allowed by just sliding the cap to the side. Such a stylish multi-function digital camera, with a chic magnesium body, slips easily into any pocket.
Vice President Seungsoo Park of Samsung's Digital AV Division says, "Samsung is always looking to combine stunning design with high functionality. We are bringing to market multi-functional products that change consumers' perceptions over the limitations of a digital device."
SDC-MS61 Specifications
Concept - Multi-function Digital Camera
CCD - 6M, 1/2.5"
Optical Zoom/Digital Zoom - 3X / 5X
LCD - Wide 3.0" /230K
Format (Still / Movie)
Still : JPEG, TIFF
Movie : MPEG4 SP
Audio : PCM/MP3
External Memory - SD/MMC
Function - Digital Camera / Digital Camcorder / MP3 Player / Voice recorder / PC Camera
Size - 107.5 x 58.5 x 20.8
Other Functions - PictBridge, AV out
* Specifications are subject to change without notice.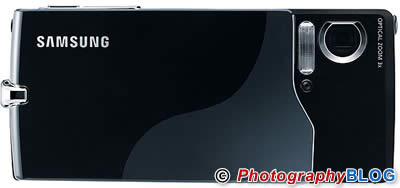 Published: Monday, September 04, 2006
Compare Prices
Support PhotographyBLOG: Buy this product from one of our affiliate retailers (US first/red, UK second/blue):
Reader Comments
Commenting is not available in this channel entry.