Sigma 50-500mm F4-6.3 EX DG/HSM for Four Thirds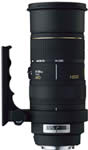 PMA 2006: The Sigma 50-500mm F4-6.3 EX DG/HSM lens for Four Thirds is announced at PMA today.
Sigma UK Press Release
The Sigma Corporation is pleased to announce the new 50-500mm F4-6.3 EX DG HSM for the Four Thirds fitting. This high zoom ratio lens is optimised for digital SLR cameras and capable of covering a wide range of focal lengths from 50mm standard to 500mm ultra telephoto. When used on a Four Thirds camera, the effective focal length will be 100-1000mm. This ultra-zoom lens employs a seven-group zoom system, which provides a high zoom magnification of 10x. Triple-cam Rear Focusing System ensures high precision throughout the whole focus range. The new lens coating reduces flare and ghosting, is a common problem of digital cameras, and also creates an optimum colour balance. This lens uses four pieces of SLD (the special low dispersion) glass for excellent correction of color aberration.
- Most effective coating for minimizing flare and ghost with digital SLR cameras.
- Triple-cam Rear Focusing System ensures high precision throughout the whole focus range.
- Uses four SLD (the special low dispersion) glass elements for superior optical performance.
- Accepts both 1.4X and 2X APO EX Tele-Converters, the lens can be used as a 1000mm ultra-telephoto zoom lens.
A zoom lock switch eliminates 'zoom creep' during transportation, a convenient addition when traveling.
The rear focus mechanism produces a non-rotating front lens element which accepts a bayonet petal shaped hood, included, which prevents extraneous light from degrading the image quality.
THE SPECIFICATIONS
Focal Length (4/3 Format) 100-1,000mm
Minimum Aperture F22
Lens Construction 20 Elements in 16 Groups
Angle of View (4/3 Format) 23.4°- 2.5°
Number of Diaphragm Blades 9pcs
Minimum Focusing Distance 100cm –300cm(39.3"-118.1")
Maximum Magnification 1:5.2
Filter Size 86mm
Lens Hood Petal Hood
Dimensions Diameter 95mm (3.7") x Length 218.5mm (8.6")
Weight 1842gr/64.9oz
SRP £899.99
The appearance and specifications are subject to change without notice.
Published: Sunday, February 26, 2006
Compare Prices
Support PhotographyBLOG: Buy this product from one of our affiliate retailers (US first/red, UK second/blue):
Reader Comments
"Bigma" returns, one of my favorite lenses! Weighing exactly half of my Son's birthweight, packing this beauty is a chore, but well worth the sweat. A big boost for the 4/3rds fans! A great lens!

nick in japan at 12:55pm on Sunday, February 26, 2006

doesn't that mean with a 2x teleconverter you would have a 1000-2000

steve phillips at 04:14pm on Friday, October 20, 2006

I didn't spend 3 years in 7th Grade for nothin!..100x2=200, I think!
200-2000 ain't bad, if you can handle the vibration, in other words, a tripod would be really necessary for the long side!
I use my 50-500, almost, on a daily basis, a wonderful lens for the $, but it is heavy, and a bit slower than it's older brother, the 170-500, which was tested by Popular Photography as actually a 168-554, and, is actually brighter than the Bigma (In Canon mount it tested to 5.6 at the max telephoto setting)
I use this lens too, alot now that it is getting darker as winter sets in. The drawback to the 170-500 is that it dosen't focus as close as the 50-500, and I have to put a 12mm spacer between the lens and camera to get close shots, and, then I also lose infinity because it will focus only out to about 60 ft.
I highly recommend both of these lenses,the original 170-500 was discontinued, a used one at a bargain price would be great. There is no "creep-lock" on the 170-500, solved on the 50-500 with a manual lock to prevent that un-nerving extention when it isn't expected!
Big filters so be prepared to add more $ if you plan on them, I use a UV/ protector on both mine, just can't bring myself to get a PL!
One last thing, the 50-500 actually is a great all-round lens because it focuses so close, shooting stuff as close as your feet on the ground is nice, real nice, a great portrait lens, but if you plan on getting one, better start doing those push-ups now!

nick in japan at 10:53pm on Friday, October 20, 2006
Commenting is not available in this channel entry.