Sigma SD14 Teaser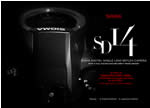 The Sigma SD14 digital SLR camera has been announced today via the increasingly popular teaser website tactic. Consequently, only the SD14 name and the rather cryptic "Full Color Capture Direct Image Sensor" have been unveiled. We have a meeting arranged at Photokina with Foveon on the Sigma stand, so assume that the SD14 will have a Foveon sensor. Also revealed is the official announcement date, which is the first day of the show, September 26th. Thanks to Bob van Ooik for the tip.
Published: Tuesday, August 29, 2006
Compare Prices
Support PhotographyBLOG: Buy this product from one of our affiliate retailers (US first/red, UK second/blue):
Reader Comments
'Tis certainly great to learn Foveon is not dead.

Zoltan at 12:59pm on Wednesday, August 30, 2006

Presume it will be 14 Megapixel....?

mark at 09:21pm on Friday, September 01, 2006
Commenting is not available in this channel entry.