Sony DSC-T10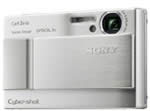 The Sony DSC-T10 is announced today. Available in four different colours (silver, black, white and pink) the Sony T10 is a slim 7 megapixel digital camera with a 3x zoom lens, 2.5 inch LCD screen, optical image stabilization and a fastest ISO speed of 1000. The Cyber-shot DSC-T10 camera will be available in August for about $400.
Sony USA Press Release
SAN DIEGO, Aug. 1, 2006 — Sony is launching a new color strategy with the introduction of its seven-megapixel Cyber-shot® DSC-T10 digital still camera. Premiering this summer in pink, white, black and silver, the Sony DSC-T10 upholds the standard for slim and stylish design. "The number of digital still cameras per household is steadily increasing, up to three or four, which suggests that people are buying cameras to fulfill different needs," said Phil Lubell, director of marketing for digital still cameras and photo printers at Sony Electronics. "The DSC-T10 is so stylish that it can be viewed as a fashion accessory."
Not Just Another Pretty Face
The new T-series camera features double anti-blur protection to deliver great pictures, even in unfavorable lighting conditions, such as low-lit nightclubs or restaurants.
It incorporates Super Steady Shot® optical image stabilization to reduce the chances of taking a blurry picture because of shaky hands. The camera automatically calculates the compensation needed to provide a clear, crisp image.
The model's high light sensitivity, up to ISO 1000, minimizes blurriness when you need to shoot at faster shutter speeds because of low-light conditions or fast-moving subjects. By selecting the high sensitivity mode, you can shoot in available light for more natural exposure or in settings where flash is not permitted, such as museums.
The new camera does not scrimp on performance. It features a 3x Carl Zeiss Vario-Tessar® optical zoom lens, a large, 2.5-inch Clear Photo Plus LCD screen for higher resolution and optimal viewing at any angle, and a dynamic slide show feature with four selectable modes.
Powered by Sony's Real Imaging Processor® circuit, the DSC-T10 model features a quick start-up, fast shot-to-shot times and long battery life—up to 250 shots per charge using rechargeable NiMH batteries.
This camera is equipped with 56MB of internal memory so you can start shooting straight out of the box. Its capacity can be expanded with an optional Memory Stick Duo™ media card or Memory Stick PRO Duo™ card, now available in capacities up to four gigabytes.
Share The Fun
When you want the convenience of printing at home, connect the new Cyber-shot DSC-T10 camera to a Sony DPP-FP55 photo printer. Beyond basic prints, you can also create postcards or calendars using the printer's supplied software.
When tens or even hundreds of pictures are desired, digital prints can be ordered online at http://www.imagestation.com, where you can create online photo and video albums or make customized photo gifts, ranging from coffee mugs and photo books to calendars and T-shirts.
The Cyber-shot DSC-T10 camera will be available in August for about $400 at sonystyle.com, at Sony Style® retail stores (http://www.sonystyle.com/retail), and at authorized dealers nationwide. Optional accessories include the SPK-THC sports pack for about $100, MPK-THC marine pack for about $200, LCS-THC leather carrying case for about $50, and NP-FT1 InfoLithium® battery for about $60. Pre-orders will begin on Aug. 4 at http://www.sonystyle.com/T10.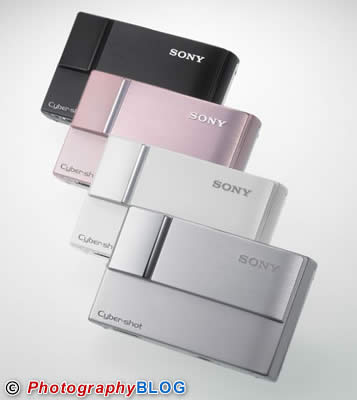 Published: Wednesday, August 02, 2006
Compare Prices
Support PhotographyBLOG: Buy this product from one of our affiliate retailers (US first/red, UK second/blue):
Reader Comments
I don't understand, isn't this duplicating the T30 as it has virtually the same features?

James at 02:04pm on Wednesday, August 02, 2006

The screen on the T10 is 2.5" vs the 3.0" screen on the T30.

The T10 uses NiMHs for (spec) 250 shots per charge where the T30 uses Lithium-Ion at (spec) 420 shots per charge.

The T10 is also about $100 less expensive.

Coupled with the cosmetic changes, maybe this camera should be called the "T30 Jr." ?

phule at 05:49pm on Wednesday, August 02, 2006

Oh and the T10 has 56MB of internal memory whereas the T30 has 58MB.

Why Sony would go through the trouble of reducing internal storage by 2MB is beyond me. But then again, it's Sony....

phule at 05:50pm on Wednesday, August 02, 2006

Honestly I've never felt that sony has stood behind their products on repair for that matter.

Sri Sri's Favorite at 01:35am on Thursday, August 03, 2006

The internal storages of 56MB and 58MB are what is left of a built-in
64MB, chip once you subtract the memory reserved by Sony for the
camera's internal processing.

The T10 requires 2MB more memory for internal processing than the
T30 ... which may, or may not, be a good thing. :)

GARY POGODA at 04:24pm on Thursday, August 03, 2006

I dont understand why Sony would put out the T10 if the T30 has much better specifications! They didnt even fix the lense!Any answers???
Also...why is the DSC T33 not shown anywhere?-By looking at its specs, it looks like a great camera.

Ariel at 02:40am on Sunday, August 06, 2006

The reason they are putting out this camera is that it's a step up from the T9, but for the same price!

Conor at 12:00pm on Sunday, August 06, 2006

ok but they already came out with the t30 which is a step up from the t10 (which isnt even out yet)! Why waist there time coming out with a worse camera than one that is already out?!?!?!Its beyond me.

Ariel at 03:21am on Monday, August 07, 2006

Because its cheaper!

Conor at 11:11am on Monday, August 07, 2006

I have the Sony DSC T-7 and i actually think it is an unbelievable camera. I have the 2 Gb memory srtick but the thing that bothers me the most is that it has NO BATTERY LIFE! There is no point of the 2gig card b/c i dont get to take HALF the amount of pictures i want to!(Btw i dropped it and my screen cracked. If anyone knows a website that can replace it for me for cheap please let me know.)I am looking into buying the Sony DSC t-30. Can someone please give me somne info about the battery life of it compared to the t7 ? Thanks so much!. Also, if anyone knows of a camera in the same category as what im looking for with better battery life, please let me know as well. Thanks so much guys!

Ariel at 05:16pm on Thursday, August 24, 2006

FYI, the new Nikon Coolpix S7c has image stabilization, a 3.0" LCD,
in-camera Red-Eye Fix, Face-Priority AF, and D-Lighting, as well as
built-in Wi-Fi. I would not buy it until it has been reviewed, at which
time the battery life should also be known.

GARY POGODA at 05:21pm on Friday, August 25, 2006

Thank you Gary for your response.I am not understundaing what it means by "built in WiFi". Does that mean that you do NOT need a wire to upload the pictures to your computer!?!?

Ariel at 09:48am on Sunday, August 27, 2006

Yes, it means wireless transfer of images to any computer that also has
Wi-Fi capabilities (which most do these days). But 'Wi-Fi' can also mean
a lot more depending on what features the manufacturer builds into the
camera. It can mean direct internet connection where Wi-Fi is available
for doing things like uploading to photo processing/printing websites, or
to photo viewing/sharing websites, etc. As to whether the Nikon S7c will
have such capabilities remains to be seen.

GARY POGODA at 05:27pm on Sunday, August 27, 2006
Commenting is not available in this channel entry.