Tamron 18-250mm Lens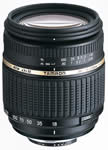 Tamron Press Release
Tamron AF 18-250mm F/3.5-6.3 Di-II LD Aspherical (IF) Macro
September 2006 Photokina in Cologne, Germany: Tamron announces the new AF18-250mm F/3.5-6.3 Di-II LD Aspherical (IF) Macro (Model A18), a lightweight, compact and ultra high power zoom lens designed exclusively for digital SLR cameras with APS-C sized imager sensors. This new AF18-250mm F/3.5-6.3 Di-II LD Aspherical (IF) Macro is the ultimate high power zoom lens boasting the world's greatest zoom ratio(*1) of 13.9X, a milestone that Tamron, the pioneer of high power zoom lenses, has achieved by commanding its technologies to further expand the capabilities of high power zoom lenses.
Photokina Update: We now have some product photos of a prototype lens (nearly the final version) live from Photokina 2006, mounted on a Canon EOS DSLR - just click the link below to view them.
?*1) As of September 2006. Based upon Tamron's research of lenses for exclusive use with digital SLRs equipped with APS-C sized image sensors.
The new zoom lens covers up to a 250mm telephoto focal length, the longest focal length among zoom lenses that start with an 18mm wideangle focal length available on the market for exclusive use with digital SLR cameras. Thus, it provides an impressive telephoto effect that is entirely different from the effect obtainable at 200mm on conventional high power zoom lenses. The new zoom lens will satisfy the expectations of photographers that are used to the 300mm tele-end of Tamron's AF28-300mm Di (Model A061) when used on a digital SLR camera.
Di (Digitally integrated)-II lenses are designed for exclusive use with digital SLR cameras having APS-C size imagers. Di-II lenses are not designed for use with 35mm film cameras nor digital SLR cameras with image sensors larger than 24 x 16mm. The ratio Tamron uses to convert 35mm focal length equivalents is 1.55X.
Delivery date, prices and more information on this model will be available at Photokina 2006.
For further information please contact UK importer & distributor:
INTRO 2020 Ltd. Priors Way, Maidenhead, Berkshire SL6 2HR
Tel: 01628 674411. Fax: 01628 771055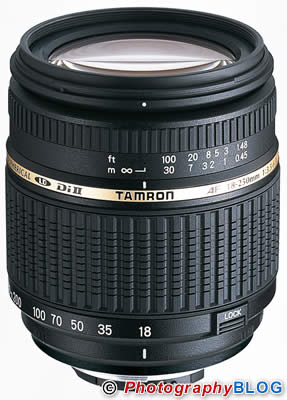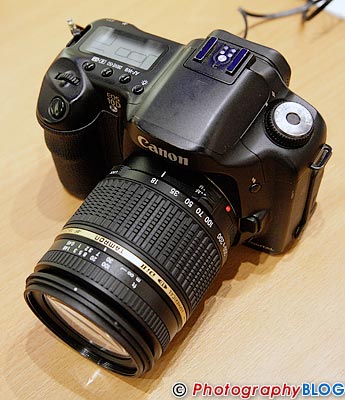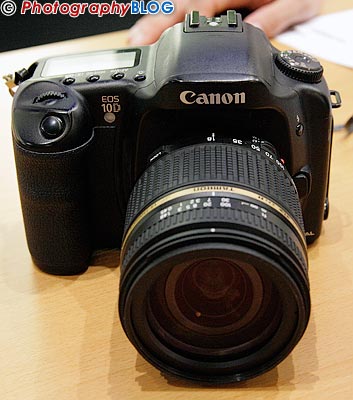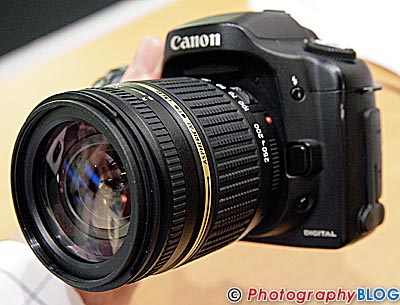 Published: Wednesday, September 27, 2006
Compare Prices
Support PhotographyBLOG: Buy this product from one of our affiliate retailers (US first/red, UK second/blue):
Reader Comments
Wow, this is wild! It's probably going to get buried news-wise between the Pentax K10D after-shocks and the Olympus E400 announcement and limited availability drama.

An interesting risk they are taking, but it makes sense. I know some people are going to be screaming at a 14x zoom ratio :)

digitalrayoflight at 07:15am on Thursday, September 14, 2006

Nice lens for the few folks that still use the APS Nikon and Canon occassionally, too!

nick in japan at 08:06am on Thursday, September 14, 2006

It is interesting, but none of the previous 18-200 lenses (except Nikon VR) provided enough quality to consider them seriously (I'm not saying they not worth the price, but extending an already so-so lens further not the best idea. I put my bet on 50-150/2.8 or similar lenses :)

geonet at 03:18pm on Friday, September 15, 2006

Pretty incredible if it's true. I, too, would love it to be better quality or it's not an option. I guess for a consumer lens it's great. But I doubt I'd buy it if it wasn't ranked up there with the lenses I already have. I'd rather lug two around, than opt for a mediocre shoot.

And I bet most would rather pay more, for better quality, although this length makes it pretty hard to believe in that size.

I love my 17-50 2.8 Tam. Hoping for excellent quality Tamron, again! I think that's what most want. Lots of cheap lenses around that suffice, but don't do the job very well. Hope Tamron steps up to the plate.

Linda at 01:38am on Friday, September 29, 2006

I don't know what is more shocking, the 14x zoom or that Canon is still displaying the 10D at Photokina.

brandon at 07:49am on Friday, September 29, 2006

Any sample photo taken from this len?
thanks!

Jarupong at 11:16am on Tuesday, April 10, 2007
Commenting is not available in this channel entry.