DSLR Camera Reviews 2008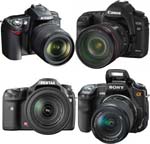 As the end of 2008 quickly approaches, we thought it would be a great idea to round-up all of our DSLR camera reviews from the past year. There are 20 in-depth reviews in total, which is proof of just how quickly the DSLR market is expanding, and how busy we've been this year! You should be able to find the right DSLR camera for you from this round-up.
All of the models are listed by manufacturer, in ascending price order.
Canon
Canon EOS 1000D
Canon EOS 450D
Canon EOS 50D
Canon EOS 5D Mark II
Nikon
Nikon D60
Nikon D90
Nikon D300
Nikon D700
Nikon D3
Olympus
Olympus E-420
Olympus E-520
Olympus E-3
Panasonic
Panasonic Lumix DMC-G1
Yes, we know that it's not strictly a DSLR, but we're including it here anyway…
Pentax
Pentax K-m
Pentax K200D
Pentax K20D
Samsung
Samsung GX-20
Sony
Sony A200
Sony A350
Sony A700
Published: Wednesday, December 17, 2008
Compare Prices
Support PhotographyBLOG: Buy this product from one of our affiliate retailers (US first/red, UK second/blue):
Reader Comments