Olympus Pro DSLR Sighted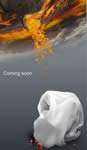 Olympus look like they might finally be taking the wraps off their new professional DSLR camera, dubbed the P-1, which was first shown as a prototype at the Photokina and then the PMA trade show. Olympus Europe are currently running a teaser page with the current E-410 and E-510 shown alongside a mysterious camera shrouded in cloth, with "Coming Soon" promising an imminent launch. It's anyone's guess how soon that actually is, but at least the P-1 has finally made it onto Olympus' product pages (found via Engadget).
"Yes it refers to the E1 replacement. Clues to the design direction were shown at PMA which was widely reported. Clues to certain feature directions are in the E410/510 - also trailed at PMA. We are not able to say more at the moment other than the official line of a 2007 launch. We also have several new lenses to be launched later this year to increase our position as the largest "designed for digital" range - the message is E System is growing and remains the only built from scratch system. As a side note please look out for Chris Bonington taking an E410 up an unclimbed Himalayan peak this summer - a reflection of his Everest trip in the 1970's with the OM1 which was a real breakthrough camera then, and activity like this one highlights what we are looking forward to. Please also note that Olympus are sponsoring a the Lee Miller centenary exhibition at the V&A museum in London starting in mid September. Things all building to a big launch of a big product…." commented Mark Thackara of Olympus UK.
Website: Olympus Europe - P-1 Teaser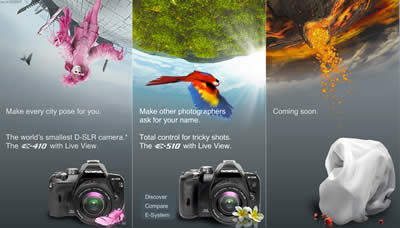 Published: Tuesday, June 12, 2007
Compare Prices
Support PhotographyBLOG: Buy this product from one of our affiliate retailers (US first/red, UK second/blue):
Reader Comments