Panasonic L10 Photos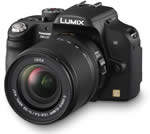 We've published a selection of 25 sample photos from a pre-production version of the new Panasonic L10 digital SLR camera, taken at last week's European press event in Berlin, Germany. Note that these images are resized and are not indicative of the final quality of the Panasonic L10.
Update 20th September: We've now published another set of 25 photos (again resized) which were all taken at a Panasonic event held at the Tower of London, UK, on a bright sunny day.
Published: Thursday, September 20, 2007
Compare Prices
Support PhotographyBLOG: Buy this product from one of our affiliate retailers (US first/red, UK second/blue):
Reader Comments
Hello Mark,
I assume you have seen the full-sized photos. What are your impressions about them and about the camera?

Lutz at 05:42am on Wednesday, September 05, 2007

Hi Lutz.

Yes, of course, but Panasonic have specifically requested that we don't comment on what are still very early pre-production images.

As for the camera, it was very enjoyable to use during the 45 minutes that we had to test it out. The combination of the flip-out LCD screen and the Live View mode was a real joy, resulting in shots that would have been impossible or very difficult to achieve with a regular DSLR.

The body is light due to its all-plastic construction and well built - very like Panasonic's FZ series of bridge compact cameras. The general performance of the L10 was very snappy, even using RAW mode. And focusing was quick and accurate in the grey Berlin weather.

45 minutes obviously isn't long enough to draw any real conclusions, but if they get the price right, Panasonic could be onto a real winner with the L10.

Mark Goldstein at 11:51am on Wednesday, September 05, 2007

Thanks for your website, I appreciate what you do and come to it often. I have wondered for some time now though about the usefulness of online photo samples to those of us who are really concerned about IQ. (A similar comment was recently made by someone on another site I have come to respect a great deal as a writer and photographer). Even at 100% crop, it's so very hard for me to tell much from the shot as it relates to the quality of the camera/lens it came from. I would really have a hard time making any decision about any of the parameters of IQ without downloading and printing a few pictures from the full, original file. (I don't know if that's possible as I haven't tried it.) If we think about evaluating different cameras with an eye toward the purchase of a photographic tool, it would seem that the only real way to do that would be to gets hands-on and shoot a few images and print them, or at least take a look at them 100% crop in photo imaging software. I visited your site today because I am interested in the new Lumix DSLR, but quickly realized that at least for me, hands-on is the only way to even begin the decision process.

Bill Corbett at 06:07pm on Wednesday, September 05, 2007

Yes, I saw Mike's comment on The Online Photographer site :)

As soon as we receive a production version of the L10 for review, we'll provide full size JPEG and RAW images that you can download, print and evaluate.

Mark Goldstein at 06:22pm on Wednesday, September 05, 2007

You cannot comment on the photos from an image processing point of view - fair enough. But can you comment on the lens? Does it live up to Panasonic's / Leica's claims that it is just as good as the earlier, faster 14-50, putting aside the slower aperture speed?

Zoltán at 12:25pm on Thursday, September 06, 2007