10% Off Aaduki Multimedia Insurance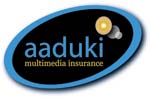 Aaduki Multimedia Insurance is offering 10% off their insurance policies for photographers. The 10% discount will only be available from the Aaduki or SWPP stands at the Focus on Imaging show, and will be valid on quotes issued at Focus up to the end of March 2009. Vince Brown, Sales Manager said, " We are offering the additional discount to attract photographers that may have seen our name but never received a quotation off us to come and get a price to see how it stacks up against their renewal. We are confident that not only do we offer good value for money in these times of economic hardship, but we have a great service too."
Aaduki Multimedia Insurance Press Release
Aaduki Multimedia Insurance announces new "Quote and Buy" facility online and additional 10% discount from its stand at Focus
Aaduki Multimedia Insurance announced today that a new "Quote and Buy" facility is now up and running on their website for professional photographers.
Kayleigh Walker, head of administration services said," Our new "Quote and Buy" online facility will allow professional photographers to be able to go to our website at www.aaduki.com and to be able to get a quote and purchase the cover immediately should they wish. This means that instead of having to call us during traditional office hours, Photographers will be able to take out cover at a time that suits them."
The new facility will offer professional photographers the ability to insure with Aaduki at any time of the day or night. A scheme for Amateur photographers is due to be released online during the middle of April 2009.
Nik Stewert, National Marketing & Business Development Manager said," the new online facility will greatly improve photographers' choice when it comes to searching and purchasing insurance. In addition to this, if they get a quote from us at Focus, we will take an extra 10% off the price to make cover even better value for money."
The 10% discount will ONLY be available from an Aaduki representative on stand S11 or at the SWPP stand at the show and will be valid on quotes issued at Focus up to the end of March 2009.
Vince Brown, Sales Manager said, " We are offering the additional discount to attract photographers that may have seen our name but never received a quotation off us to come and get a price to see how it stacks up against their renewal. We are confident that not only do we offer good value for money in these times of economic hardship, but we have a great service too."
Your Comments