50 Megapixel Hasselblad H3DII-50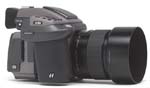 The Hasselblad H3DII-50 is a new 50 megapixel DSLR camera system. The H3DII-50 uses Kodak's 50 megapixel 36x48mm CCD sensor, which is twice the size of the largest 35mm DSLR sensors. The H3DII50 also provides improved controls and functionality, better sensor cooling, a new and more intuitive user interface, and a bright, 3 inch LCD display. Hasselblad has also announced the HTS 1.5 tilt/shift lens adapter, which by enlarging the image circle makes room for +/- 18mm shift and +/-10 degrees of tilt. The H3DII-50 camera will be available from October 2008 at a price of $39,995 excluding tax.
The H3DII-50 is the top model of Hasselblad's H3DII family, and as the fifth generation of our medium format DSLR camera system, sets a new standard for image detail. The 50Mpix sensor is implemented in the 48mm full-frame house also used for the renowned H3DI-39 camera. This 36mmx48mm sensor size has two advantages. It provides the basis for advanced and well balanced lens performance and it allows you to work with our revolutionary HTS 1.5 tilt/shift adapter which by enlarging the image circle make room for +/- 18mm shift and +/-10 degrees of tilt.
With its unique large and bright viewfinders, its wide range of HC and HCD lenses, which match the best of the Hasselblad icon lenses from Carl Zeiss, and its wide choice of accessories, the H3DI-50 is the ultimate camera choice for the discerning professional photographer who will simply not settle for second best. In addition to the added-value options inherent in the Hasselblad camera system, it is Hasselblad image quality that stands out the most. The H3DII-50 has been developed around a new digital camera engine, which delivers increased lens performance and a new level of image sharpness.
By focusing on the integrated digital camera architecture, Hasselblad is able to offer the full benefits of professional medium-format digital cameras with the ease of-use found in the best 35mm DSLRs. With the H3DI architecture as a base, Hasselblad has developed the ultra highperforming HCD 28mm lens, designed and optimized solely for digital image capture. Image quality is lifted to a level yet unseen in digital photography, including automatic digital correction for chromatic aberration, distortion and vignetting. Hasselblad's Natural Color Solution delivers out-of-the-box image quality only
achievable in a true digital camera system. See for yourself by checking out the image quality at: http://www.hasselblad.com/products/hasselblad-star-quality.aspx
Ultimate DSLR Advantage
Integrated 50 Mpix capture units with 3" display
Ultra-Focus: integral optimization of digital lens performance
Hasselblad Natural Color Solution
Integrated CCD cooling sink for lower noise
Direct ISO/WB control
Thumbwheel control of digital menus
GPS accessory option
Full Digital APO Correction for improved image sharpness and detail
Ultimate Flexibility
Market's most versatile lens program
Choice of eye-level or waist-level viewfinders
Field FW upgrade of H3D camera
Choice of media: CF card - Image Bank II
Easy sensor cleaning
View camera option
Un-tethered and tethered operation
Hasselblad 3FR raw - or DNG export
Hasselblad Press Release
8th July 2008
Hasselblad Announces New 50 Megapixel Camera and Upcoming 645 Sensor

High-End Digital Camera Manufacturer Announces The Launch Of Two New Products That Fully Utilize The Latest Developments In Sensor Technology.

Following the success of the Hasselblad H3DII-39, the market's most advanced DSLR, Hasselblad is taking its H camera system even further and today announces the launch of the Hasselblad H3DII-50, featuring a new Kodak 50 megapixel sensor, which is twice the size of the largest 35mm DSLR sensors. A new 645 sensor will also be launched in 2009.

"We are very excited to announce these two ultra-high resolution sensors," says Christian Poulsen, Hasselblad Chief Executive Officer, "but having huge amounts of megapixels does not help your photography much if you are not using a camera system that can reap the benefits of these resolutions. What we are most proud of is the fact that the unique resolution and optical quality of our H-system lens line, combined with our digital lens correction and UltraFocus accuracy, has made it possible for Hasselblad to take our system even further with regards to the accurate capture and recording of image detail." 
Full details on the 645 sensor will be part of Hasselblad's Strategy and Technology seminar at Photokina 2008 (23rd to 28th September, Cologne, Germany). Poulsen continues: "We will discuss the new 645 sensor and other system additions, our overall view of the Medium Format market, its future development, and our role in driving that development, at this seminar." 
Poulsen adds, "Both the H3DII-50 and the new 645 sensor are designed to serve the photographers who require the highest possible image quality and resolution, and are part of Hasselblad's ongoing commitment to continue pushing the boundaries of high-level photography."
The new Kodak KAF-50100 image sensor, which measures 36x48 millimeters, will be implemented in the same size housing as the H3DII-39 camera and will comprise the core of the new H3DII-50. The new sensor size is also optimized to work with Hasselblad's new HTS 1.5 tilt/shift adapter (patent pending), which enlarges the image circle by 50% to bring the benefits of tilt/shift photography into medium format DSLR cameras. An impressive 83 line-pairs/millimeter are resolved over the full, large area of both today's 36x48 millimeter sensor and of the upcoming larger 645 sensor.
Kodak has also added a set of entirely new features on the 50Mpix sensor, such as new dyes, which will result in even better, richer colors and take full advantage of Hasselblad's R&D in the area of color rendering technology. The new sensor also includes a range of other new features, including quick flush technology to enable faster capture and lower power consumption, resulting in longer battery life.
Poulsen concludes, "The H3DII camera line has been specially designed to meet the challenging demands of high-end photographers, and these two new products will take the line even further, providing ultimate resolution for photographers who require the best in image quality, performance and creative freedom."
For further details about the H3DII-50, the 645 sensor, or to sign-up for the Hasselblad Future Technology seminar at Photokina 2008, please contact AD Communications.
The H3DII-50 camera will be available from October 2008 at a price of $39,995 excluding tax.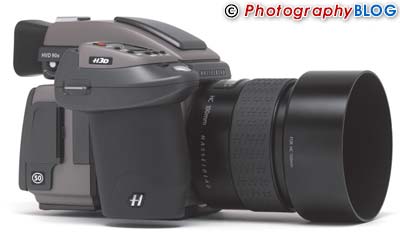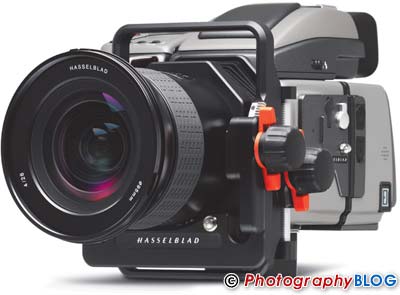 Your Comments